'Troy: Fall Of A City' Trailer: The Trojan War Comes To Netflix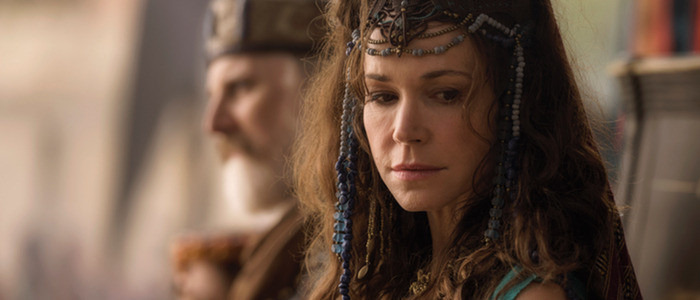 The epic story of the Trojan War gets the Netflix treatment with Troy: Fall of a City. The new series takes a Game of Thrones-style approach to the saga, and throws in some murky cinematography for good measure. Watch the Troy Fall of a City trailer below.
The tale of the Trojan War was once chronicled famously by Homer in The Iliad, and not-so-famously by Wolfgang Peterson's snooze-fest Troy. Now the tale will be told again, on Netflix. That's right – it's time for yet another Netflix original series! Troy: Fall of a City tracks the fallout that arises when Paris, a prince of Troy, elopes with Helen, queen of Sparta. Feast your eyes on the trailer for Netflix's new historical epic.
Troy Fall of a City Trailer
It's clear that this show is going for the Game of Thrones approach of sex-and-swords, which is fine. But yeesh, why is the cinematography so dark here? The first few shots of the trailer are blanketed in almost impenetrable darkness. I get that they didn't have bright fluorescent lights in 12th Century BC, but the murkiness on display here is a bit much.
Troy: Fall of a City began its life as a BBC One show, and has already aired in the UK, so it's not technically a Netflix original – it's what Netflix refers to as an "Global original ex-UK" series. That said, it will still receive the Netflix original treatment, which means it'll be buried along with Netflix's hundreds of other original shows and films. Netflix wants it all, folks. They're planning to release 700 original movies and TV shows this year alone.Troy: Fall of a City series features Louis Hunter, Bella Dayne, David Threlfall, Frances O'Connor, Tom Weston-Jones, Joseph Mawle, Chloe Pirrie and Johnny Harris, and runs for six episodes. All six episodes will drop on Netflix April 6, 2018.
An epic story of love and war, intrigue and betrayal. When Helen and Paris fall in love, they trigger a chain of events that threatens their families and the city of Troy. The myths surrounding the Trojan War are over 3,000 years old but have emotional depths and timeless themes of identity, love, revenge and belonging. Troy: Fall of a City grounds these primal myths in vivid psychological truth and explores the universal questions of human existence- how people battle to retain their love and humanity amidst the chaos and devastation of war.