Great Snakes! 'Tintin 2' Is Still Happening, According To Steven Spielberg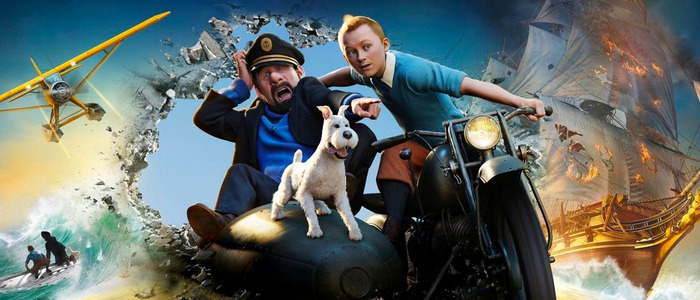 If you're a fan of Steven Spielberg's animated adventure The Adventures of Tintin, and have longed for a sequel, here's some good news. Spielberg says the long-awaited sequel is still happening, and that Peter Jackson will direct. Great snakes! More on Tintin 2 below.
Audiences weren't exactly blown away by Spielberg's 2011 Adventures of Tintin, which is a damn shame because the film is so much fun. The plan was always to turn Tintin, based on the comic series by Belgian cartoonist Hergé, into a series of films. But after the first Tintin failed to generate much buzz, it seemed like the series had died before it could get started. Lord of the Rings director Peter Jackson, who produced the first film with Spielberg, was set to helm the sequel. In 2013, Jackson was still claiming he would direct Tintin 2 when he finished up with the Hobbit trilogy. Since then, however, there's been very little word on Tintin 2.
Until now! Speaking with Premiere, Spielberg reasserted that the sequel is still happening, and that Jackson would definitely be directing. "Peter Jackson has to do the second part. Normally, if all goes well, he will soon start working on the script," Spielberg said. "As it takes two years of animation work on the film, for you, I would not expect to see it for about three years. But Peter will stick to it. Tintin is not dead!"
The sequel will likely incorporate Hergé's Tintin books Prisoners of the Sun and The Seven Crystal Balls. Here are the synopses of those two books.
Prisoners of the Sun
"Tintin discovers that one of the last Incan descendants has kidnapped his missing friend, Professor Calculus. Tintin and Captain Haddock follow the kidnapper to Peru–can they save Calculus?"
The Seven Crystal Balls
"Seven explorers return from an expedition in the Andes, where they unearthed the tomb of an Incan priest. One by one, they fall into a coma. Can Tintin figure out what is causing the mysterious illness?"
The Adventures of Tintin was based on three Tintin stories – The Crab with the Golden Claws, The Secret of the Unicorn, and Red Rackham's Treasure. The film was created via 3D motion capture computer animation, featuring a cast including Jamie Bell, Andy Serkis, Daniel Craig, Nick Frost, and Simon Pegg. Spielberg directed from a script by Steven Moffat, Edgar Wright and Joe Cornish. Bell played Tintin, a young journalist who constantly gets into Indiana Jones-style adventures.
If you've avoided seeing The Adventures of Tintin, I urge you to check it out. It's currently streaming on Netflix.