'Astro City' And 'Street Fighter' To Become TV Shows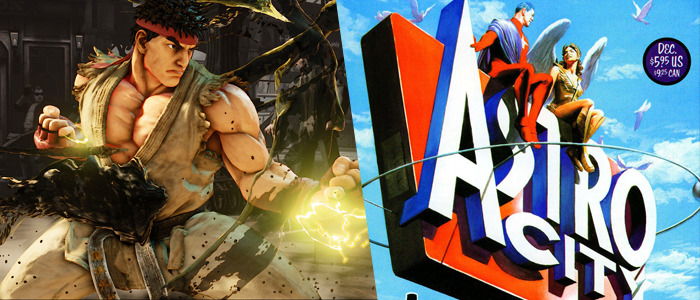 The television arms race continues, as two more adaptations have been announced that will vie for audiences' increasingly fractured attention. The comic book Astro City is heading for the small screen, and after some unfortunate movie adaptations, a Street Fighter TV show is on the way as well.
Astro City TV Show
FremantleMedia, the company responsible for the Starz adaptation of American Gods, is bringing Astro City to life. The show will be based on the comic by veteran author Kurt Busiek. Here's the official synopsis:
A mid-sized American city blessed with, and cursed by, the largest number of superheroes and supervillains in one place on Earth, Astro City is a unique brand of humanistic saga — part superhero epic, part intimate drama — in which the (mostly) good hearted, workaday residents of the eponymous locale come into daily contact with the worrisome, the weird and the wondrous.
Though Astro City comics are currently published by DC, the heroes and villains in its fictional world are completely original and don't have any connection to traditional DC or Marvel characters. The cool part about this is that Busiek, who is also executive producing the show and co-writing the pilot, has made his comic series into an anthology, telling a bunch of different stories set in the same world and creating a roster of over 2,000 original characters.
That sounds perfect for TV, because it should allow the showrunners to dive in and concentrate on worldbuilding while also giving them the opportunity to cast huge actors in small parts that won't be too time-intensive.
Street Fighter TV Show
Meanwhile, Entertainment One and Mark Gordon have signed on to develop, produce, and finance a new TV series based on the Street Fighter video game series. Deadline says Joey Ansah, Jacqueline Quella, and Mark Wooding, the producers of a live-action web series called Street Fighter: Assassin's Fist, will return to produce the new show.
Street Fighter will take inspiration from Street Fighter II and focus on Ryu, Ken, Chun-Li, and Guile as they team up to take down the evil general M. Bison. Like so many martial arts movies of the 1980s, it will involve a global tournament to determine the world's best fighter. In a statement, Gordon explained that the show has an opportunity to set an example in terms of representation:
"A particular strength of Street Fighter is the wide range of ethnically diverse characters and powerful women featured in the game. It will allow us to build an inclusive and engaging TV universe."
Fans will no doubt remember the lambasted 1994 movie starring Jean-Claude Van Damme and cringe at the memory of 2009's Street Fighter: The Legend of Chun-Li, so the good news is there's nowhere to go but up.