'Alita: Battle Angel' Star Will Appear As An Extra In Her Own Movie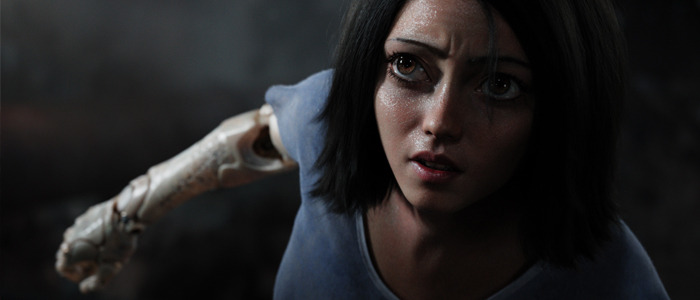 It may not happen every day, but it's not uncommon for the same actor to play multiple roles in a single movie. But how often have we seen the lead actor in a film also play an extra in the same film? That's far more rare, but according to Rosa Salazar, the Alita: Battle Angel star who's headlining Robert Rodriguez's adaptation of the acclaimed Japanese manga, we're going to see it happen when she plays dual roles later this year.
Latino Review points us to a video from a SXSW party at Rodriguez's Troublemaker Studios in Austin, Texas, where the Alita: Battle Angel star reveals that she talked her way into being an extra in her own movie:
Based on the popular manga series Battle Angel Alita by Yukito Kishiro and set in a dystopian future, the film tells the story of a scientist (Christoph Waltz) who discovers a destroyed amnesiac cyborg named Alita (Salazar), fixes her up, and raises her as his own. But powerful forces soon upend their lifestyle and come after Alita, who must reckon with the events of her past.
This is Salazar's first time leading a major movie, and though she jokes about having range in that video, she's already proven she has plenty in her career thus far. She's especially solid in Man Seeking Woman, a brilliant-but-cancelled FXX comedy that not nearly enough people have seen. Even if you're not looking forward to Alita – and I can't really blame you, since those huge anime eyes appear to be a little much – I'd highly recommend watching the three seasons of Man Seeking Woman.
Here's the film's official synopsis:
Visionary filmmakers James Cameron (AVATAR) and Robert Rodriguez (SIN CITY) create a groundbreaking new heroine in ALITA: BATTLE ANGEL, an action-packed story of hope, love and empowerment. Set several centuries in the future, the abandoned Alita (Rosa Salazar) is found in the scrapyard of Iron City by Ido (Christoph Waltz), a compassionate cyber-doctor who takes the unconscious cyborg Alita to his clinic. When Alita awakens she has no memory of who she is, nor does she have any recognition of the world she finds herself in. Everything is new to Alita, every experience a first. As she learns to navigate her new life and the treacherous streets of Iron City, Ido tries to shield Alita from her mysterious past while her street-smart new friend, Hugo (Keean Johnson), offers instead to help trigger her memories. A growing affection develops between the two until deadly forces come after Alita and threaten her newfound relationships. It is then that Alita discovers she has extraordinary fighting abilities that could be used to save the friends and family she's grown to love. Determined to uncover the truth behind her origin, Alita sets out on a journey that will lead her to take on the injustices of this dark, corrupt world, and discover that one young woman can change the world in which she lives.
Alita: Battle Angel arrives in theaters on December 21, 2018.