Rian Johnson Won't Let 'The Last Jedi' Backlash Impact His New 'Star Wars' Trilogy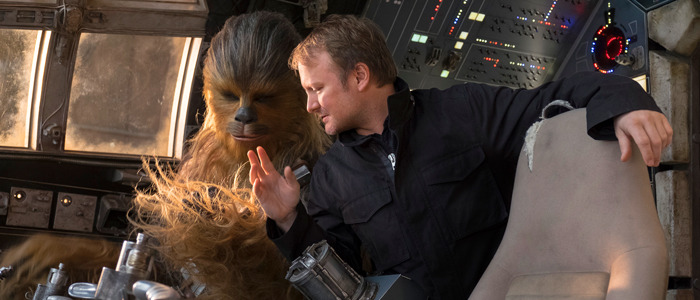 Star Wars: The Last Jedi came out three months ago, but director Rian Johnson will be discussing its intense fan backlash until he's in his grave. Or at least, until his next Star Wars trilogy is released.
Right before the release of Last Jedi, Johnson was given the keys to a new Star Wars trilogy that he gets to shape from scratch. But when Last Jedi was released, all hell broke loose. Fan outcry was all anyone could talk about, and it dominated every interview that Johnson gave about Last Jedi. But in spite of that, Johnson assures that he won't let it affect him or the new trilogy.
In an interview at this year's SXSW, Erik Davis at Fandango asked Johnson if the vitriol directed at him after Last Jedi would influence how he approaches his new Star Wars trilogy. Ever the consummate filmmaker, Johnson said that it wouldn't. He said:
"I feel like every Star Wars thing that ever gets made has a big, loud response because Star Wars fans are passionate and that's what makes them awesome. I don't think it's possible if you're really telling a story you care about and having it come from your heart it's just not possible to be intellectually processing what everyone else wants. Nor would it be a healthy thing, I don't think that's a good way to tell a story.
From #SXSW 👉 Here's director @rianjohnson on whether fan reaction to #TheLastJedi is influencing the way he's approaching those new #StarWars movies he's working on, via @Fandango
Full interview 👉 https://t.co/Qyrl85LAMn pic.twitter.com/LaUqWLvPEg

— Erik Davis (@ErikDavis) March 22, 2018
Johnson has been so admirably diplomatic about the fan outcry, repeating over and over again that he understands why fans are upset, but that this was the way the story unfolded. But predictably, the responses to this interview are flooded by people who are still angry about Last Jedi. Come on people, it's been three months.
Last Jedi star Mark Hamill jumped to Johnson's defense too, suggesting that Star Wars fans may never be happy. "It's the only movie series where people go on Twitter and say 'I swear to god, if x,y, or z happens, I'm totally out of here!'" Hamill said, "So they're anticipating things they're not going to like. I love our fans."
"I've been doing that as a Star Wars fan," Johnson added. "Because you love this stuff so much!"
It's clear that Johnson does love the franchise, especially if you watch the magnificent behind-the-scenes documentary, The Director and the Jedi.
"He looks like a 9-year-old playing with action figures, except it's a giant set," Hamill joked about Johnson in the behind-the-scenes footage.