The 'Ready Player One' Crew Put Spielberg References In The Film Despite Spielberg's Wishes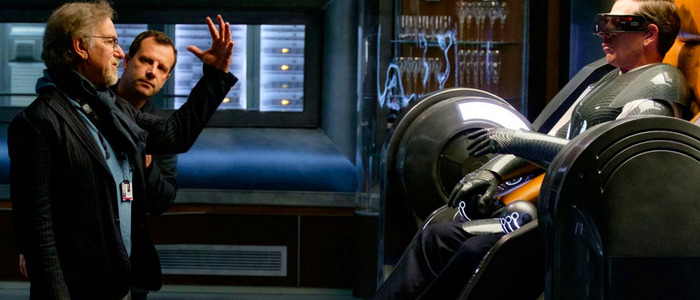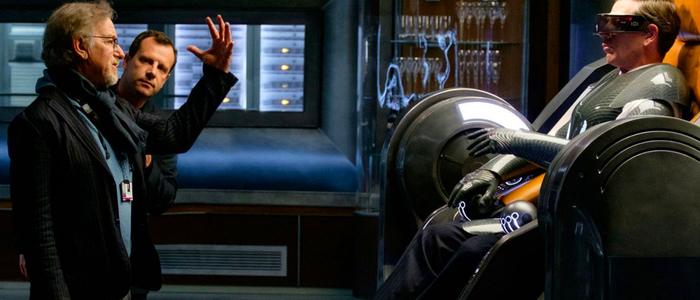 Ernest Cline's Ready Player One is full of references to Steven Spielberg films, which made the news that Spielberg was directing the film adaptation himself raise an eyebrow or two. The blockbuster director planned to cut references to his films from the adaptation, but the Ready Player One movie crew had other ideas.
When Steven Spielberg signed-on to helm Ready Player One, fans of the novel wondered if the filmmaker would keep the book's references to his classic movies intact. Spielberg, however, said he was against the idea. He planned to nix everything except the Back to the Future DeLorean. The spaceship from Spielberg's Close Encounters of the Third Kind almost found its way into the movie, but Spielberg cut that as well.
During a recent junket interview, Spielberg explained his reasoning behind cutting references to his films:
"There comes a point when I would have had to just refer to somebody else who liked my movies and not make a movie about my movies. I let a couple of little iconic characters in from my films – especially the DeLorean, which came from the book directly – but otherwise, there were a lot of things we could have put in but didn't."
The crew behind Ready Player One, however, felt differently.
An Entertainment Weekly story reveals the Ready Player One crew tried everything in their power to sneak Spielberg references into the film, but more often than not, they got caught. "We had a sly Fratelli's Diner, but we got caught," production designer Adam Stockhausen tells EW. "[Spielberg] nixed it."
"Fratelli's" is in reference to the Spielberg-produced The Goonies (I'm sure you already knew that).
There was also a quick shot of Schindler's Ark, the book that inspired Schinlder's List, on a bookshelf. Spielberg caught that as well, and cut it.
While these references ended up on the virtual cutting room floor, one other Spielberg reference made it into the film: a reference to the Spielberg-produced Joe Dante film Gremlins.
"I think a lot of the digital artists were trying to get some of their favorite '80s cultural references in there, you know?" Spielberg tells EW. "And having seen every shot 30 times as we go through all the different steps from pre-viz to animatic to final, I started noticing little things. They snuck a gremlin in...I said, 'Well, I guess it's too late to take that guy out.' So he survived the cut."
I wouldn't be surprised if there are more quick Spielberg references hiding somewhere in the reference-heavy film. I also wouldn't be surprised if one day, some nerd kind soul obsessively points them all out. For now, we'll have to wait until Ready Player One hits theaters March 29, 2018.