'The Predator' Being Converted To 3D, Trailer Coming Soon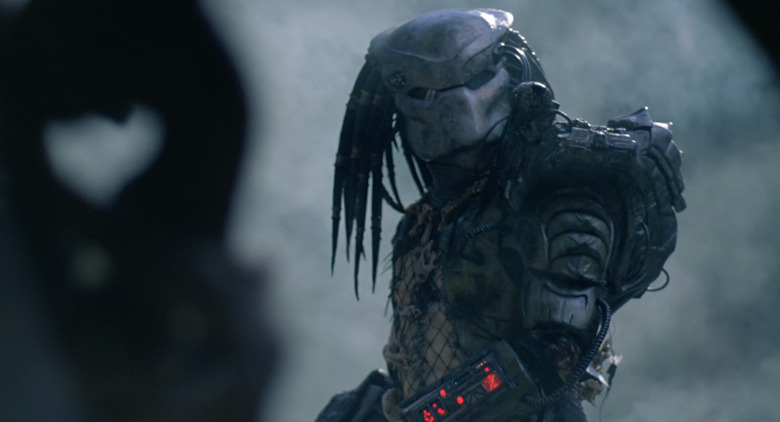 Good news, everyone: we're getting a new Shane Black movie this year. The filmmaker behind Kiss Kiss Bang Bang, Iron Man 3, and The Nice Guys is roaring back with The Predator, a sequel to the stagnant sci-fi franchise about a race of alien hunters perpetually searching for worthy prey. Now we know the action is going to be even more immersive: co-writer Fred Dekker (The Monster Squad) has revealed that the film is getting the 3D treatment.
The Predator 3D Conversion
Dekker is currently in Vancouver working on reshoots ("touch-ups") for The Predator. Earlier this week, he took a quick break to post a photo from the set:
In the comments section, a fan asked if the film would be converted to 3D, and Dekker responded by simply saying, "Yes." The film wasn't shot with 3D in mind, but like Iron Man 3 before it, it will receive a post-conversion to that format. That means you'll be able to see the blood-soaked, 11-year-old Jacob Tremblay (Room) standing atop a pile of alien bodies, thrusting a severed Predator head out of the screen toward you in triumphant defiance. (That's gotta be the ending of this movie, right?)
Elsewhere in the comments of the same post, the filmmaker promised that "a teaser trailer will be coming soon," but failed to provide a more concrete timeline for when that might happen.
Tremblay stars alongside Jake Busey (who's playing the son of Gary Busey's Predator 2 character), Thomas Jane, Keegan-Michael Key, Olivia Munn, Boyd Holbrook, Edward James Olmos, Trevante Rhodes, Augusto Aguilera, Alfie Allen, and Yvonne Strahovski. Busey described the film as being "definitely in line with the original franchise," and Jane revealed some plot details last year that make the film sound pretty wild:
"We play these veterans from like Afghanistan or the Iraq War or whatever. But we're all fucking crazy so we go to the VA hospital to get our meds. We're all like shellshocked, PTSD soldiers. We're at the VA hospital and we're in group therapy and of course, somebody flips out – this is backstory, I don't think we really see this – somebody flips out and we all get arrested and get thrown onto the bus to go down to the hospital and they throw this other guy on the bus too.
And he's a guy they've actually marked to kill him because he's seen a UFO, he's seen the Predator ships come down so they lock him up and throw him in with us lunatics. They're going to take that bus, drive it down to a ditch and shoot us all just to get rid of this one guy. But, of course, we take the bus over and we're all like 'fuck that, man, let's go kill these fucking Predators ourselves.' And we're just crazy enough to believe that this guy really did see a UFO and there's these aliens out there. So that's kinda cool!"
With a description like that, it's no wonder the movie is one of /Film's most anticipated films of 2018.
After a couple instances of reshuffling, The Predator will finally land in theaters on September 14, 2018.