You Can Watch A Double Feature Of 'Cobra Kai' And 'The Karate Kid' In Theaters For One Night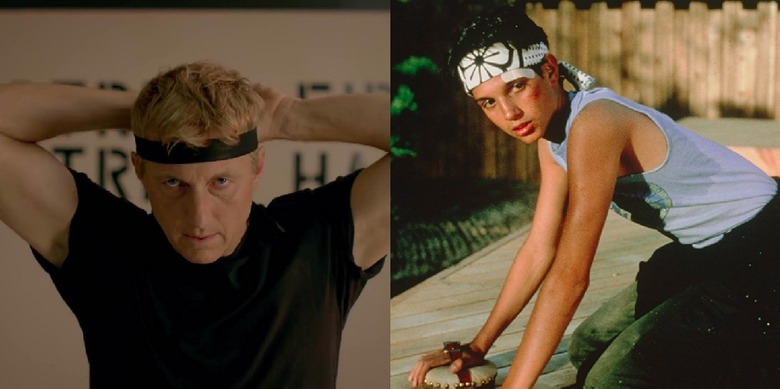 Fathom Events and YouTube have no mercy for The Karate Kid fans who may want to see Cobra Kai in theaters. For those live near the 700 theaters that will show a one-night double feature of the movie and its web series sequel, it's your lucky day.
Fathom Events is hosting a one-night theatrical screening of The Karate Kid alongside an advance screening of the first two episodes of Cobra Kai, the YouTube Red series that follows the misadventures of an aging Johnny Lawrence (William Zapka), according to Variety.
The event will screen at nearly 700 cinemas nationwide on April 25, 2018 at 7 p.m. local time. Ticket sales for the screenings start March 23.
Fans who get a ticket to this one-night event will get to see the first two episodes of Cobra Kai a full week before the web series premieres on YouTube Red on May 2, 2018.
The highly anticipated series features the return of Zapka and Ralph Macchio, as their old rivalry becomes reignited when Zapka's Johnny decides to reopen his old Cobra Kai dojo. But the tables have turned for both of them, with former hotshot Johnny now a deadbeat drunk while Macchio's Daniel LaRusso is a smug celebrity car salesman. But Johnny is spurred back into action by a bullied teen who seeks his help to learn karate.
I'll admit that I wasn't quite excited about another Karate Kid sequel after the franchise had been done to death, along with a misnamed spin-off starring Jackie Chan and Jaden Smith (it should have been called The Kung-Fu Kid!). And the prospect of a YouTube Red series wasn't entirely appealing. But the latest trailer for Cobra Kai may have changed my mind — showing Johnny's compelling arc from deadbeat to inspirational sensei. Cringe-worthy dialoge aside, Cobra Kai may be worth seeing on the big screen.
Here's the synopsis for Cobra Kai:
In the highly-anticipated return of two iconic characters, the arch-rivals from the legendary Karate Kid film series reunite over 30 years after the events of the 1984 All Valley Karate Tournament. Now living in the affluent hills of Encino, Daniel LaRusso (Ralph Macchio) leads an enviable life with his beautiful family, while running a successful string of car dealerships throughout the valley. Meanwhile, his high school adversary, Johnny Lawrence (William Zabka), whose life has taken a rocky turn, seeks redemption by reopening the infamous Cobra Kai karate dojo. Their lives inevitably become intertwined and the rivalry is reignited, setting forth the next generation of "karate kids" in COBRA KAI, a YouTube Red Original Series. COBRA KAI is produced by Overbrook Entertainment in association with Sony Pictures Television.