Westworld Viral Campaign Opens "The Door," Unlocks Hidden Footage And A New Poster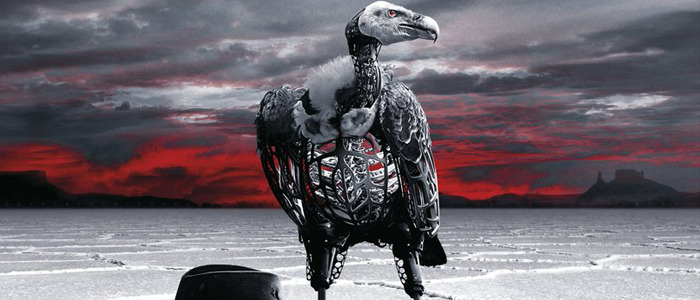 The first season of HBO's sci-fi mystery series Westworld proved to be a breeding ground for fans who loved analyzing the show's smallest details and theorizing about what's to come. Now that the second season is exactly one month away, the Westworld viral campaign is shifting into high gear, and those fans hungry to step back into the maze have uncovered some hidden footage and a brand new poster inside one of the park's websites.
Westworld Season 2 Poster
If you follow the cast of Westworld on Twitter, you may have noticed that many of them sent out tweets this morning with links leading to an artificial intelligence bot named "Aeden" on a Westworld viral marketing site:
#Westworld
CLUES ARE IN CHAOS

Free will isn't free.
Aeden knows:https://t.co/44MVcvkSXC pic.twitter.com/4FoB9KcJ8x

— Jimmi Simpson (@jimmisimpson) March 22, 2018
The loops are branching onto a new path.https://t.co/gaFnzTeNSb #Westworld pic.twitter.com/18WaJclaSZ

— Louis Herthum (@Louis_Herthum) March 22, 2018
"Aeden" is a guest services host at Westworld that answers questions about the park, and he appeared as a minor background character in the season one finale "The Bicameral Mind." (Actor Nick Ballard was credited in the role.) When you type "Chaos takes control" into the site's chat window, Aeden responds with the words "Welcome to the New Frontier" and provides a link to a new section of DiscoverWestworld.com. There you'll find a brand new poster, featuring an android vulture standing over a bloody black hat. Is this the actual Man in Black's hat?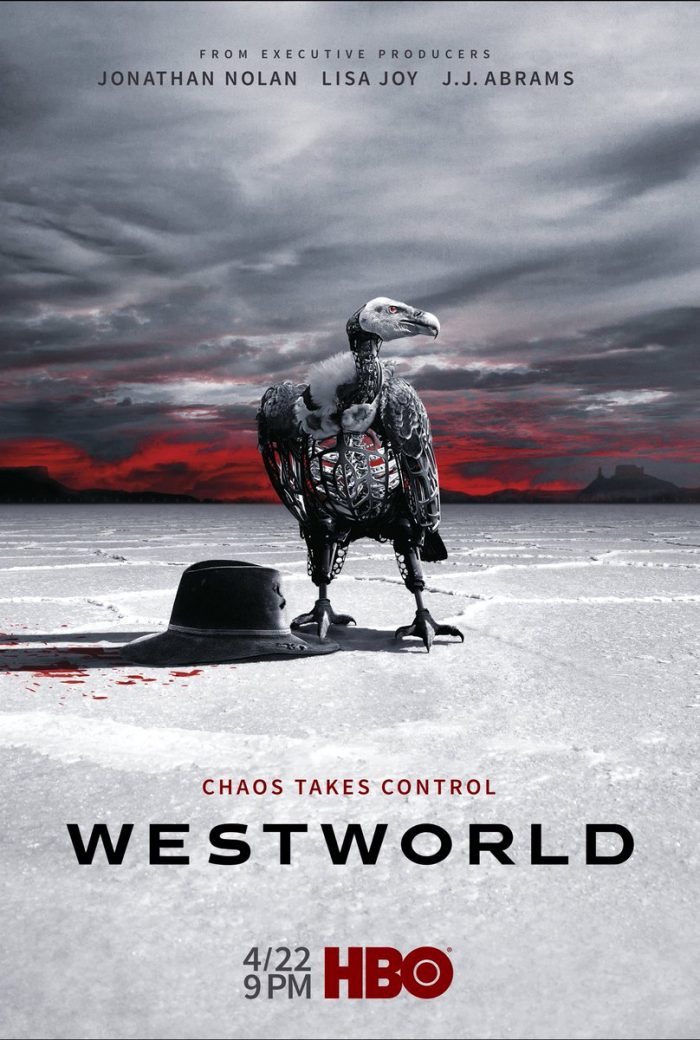 Here's a motion version of it from the show's official Twitter account:
Chaos takes control.#Westworld premieres 4.22 at 9PM on @HBO. pic.twitter.com/IA3FEXUs3n

— Westworld (@WestworldHBO) March 22, 2018
But as with everything in Westworld, things are not what they appear to be on first glance. Reddit has discovered that there is a line of code hidden where the red of the sky meets the white of the ground:
Westworld Hidden Footage

The code, a combination of letters and numbers, leads to a new page of the website – DiscoverWestworld.com/FindTheDoor – where you'll find this video of footage from the show:
That sounds like it could be the voice of a young Robert Ford (Anthony Hopkins). But what's up with this fascination with doors?
Those who have been paying close attention to Westworld info over the past few days will recall an interview in which showrunners Jonah Nolan and Lisa Joy revealed that they use internal nicknames for each individual season. The first season was called "The Maze," and the second season is called "The Door." That explains why we're seeing all this footage of practically every time a character approached a doorway in season 1.
But we're still not done here, folks. Someone on Imgur helpfully pulled the quick flashes of footage that appear to be from season 2, and there are plenty of references to Shogunworld:
There's nothing super revealing in these screengrabs, but hey – any new Westworld footage is better than nothing, since we haven't seen a new episode of the show since December of 2016.
Westworld season 2 premieres on HBO on April 22, 2018.