'Frozen: The Musical' Trailer: The Hottest New Musical Is Finally On Broadway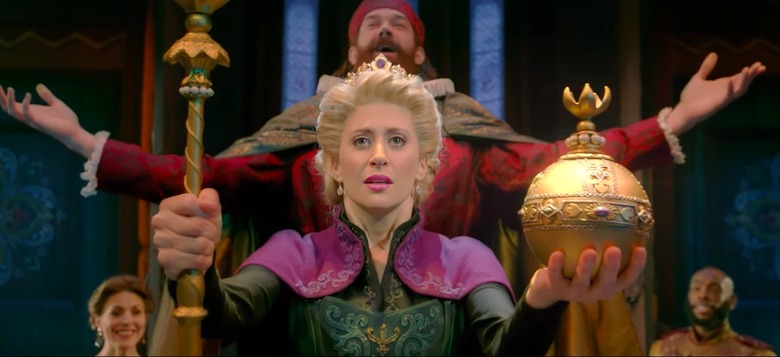 For the first time in forever, Frozen will be coming to the Broadway stage. Nearly seven months after the Disney stage musical adaptation underwent pre-Broadway tryouts in Denver, Frozen is finally making its Broadway debut. And it couldn't come too soon. Watch the trailer for the show below.
We've been talking about the Broadway premiere of Frozen for a while now, so forgive us if this sounds like old news. But this is all part of the Disney marketing machine, and boy, do they know how to build anticipation. There were music videos, stage rehearsals, and song explainers. The only thing that was missing was a Frozen musical trailer. And well, here you go.
Frozen Musical Trailer
The trailer has no dialogue or songs, keeping that experience a surprise for audience-goers who get to see Frozen on its debut today, March 22, 2018.
But many of the scenes are familiar to fans of the 2013 Disney animated movie: Elsa being coronated as queen of Arendelle, the bright and bubbly Anna marveling at the celebratory feast, Kristoff with his reindeer Sven, and of course, a puppet version of Olaf. Hilariously, the puppeteer for Olaf even looks a little like Josh Gad.
But this is a stage musical, and some things are vastly different from the movie. The special effects, for one, are gorgeous. The ice crystal bridge that Anna and Kristoff precariously dangle off is a work of art and there are some stunning lighting effects. And the number of fog machines used for Frozen the Musical must be through the roof.
It's all thanks to the work of the incredible design team, which includes scenic and costume design by Tony and Olivier Award winner Christopher Oram (Evita), lighting design by six-time Tony Award winner Natasha Katz (Aladdin), sound design by four-time Tony nominee Peter Hylenski (The Scottsboro Boys), video design by Tony winner Finn Ross (The Curious Incident of the Dog in the Night-Time), puppet design by Michael Curry (The Lion King), and special effects design by Jeremy Chernick (Harry Potter and the Cursed Child).
Frozen stars Broadway veterans Caissie Levy as Elsa and Patti Murin as Anna. They are joined by principal cast members Jelani Alladin (Kristoff), Greg Hildreth (Olaf), John Riddle (Hans), Robert Creighton (Weselton), Kevin Del Aguila (Oaken), Timothy Hughes (Pabbie), Andrew Pirozzi (Sven), Audrey Bennett (Young Anna), Mattea Conforti (Young Anna), Brooklyn Nelson (Young Elsa), and Ayla Schwartz (Young Elsa).
The Frozen Broadway musical is directed by Thomas Schumacher, with music and lyrics by Kristen Anderson-Lopez and Robert Lopez and a book by Jennifer Lee.