'Terminal' Trailer: Margot Robbie Is Mad As A Hatter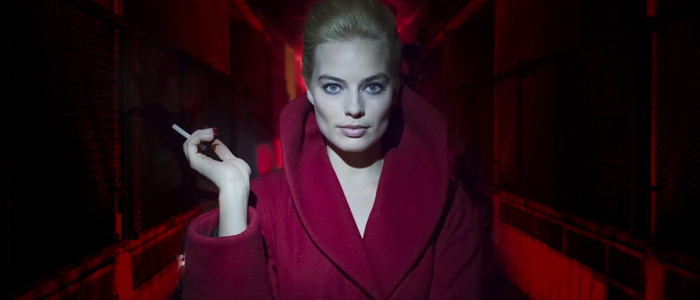 Please sit back and let the alluring neon-lit visuals of this Terminal trailer wash over you. Margot Robbie stars in Vaughn Stein's thriller about two assassins in an anonymous city. This is a teaser trailer, so there's not a whole lot of detail, but one thing is for sure: Terminal looks stylish as hell.
I don't know a whole lot about Terminal, but I do know that Margot Robbie is throwing off some serious Kim Novak in Vertigo vibes in the above image, and I am here for it. Terminal marks the directorial debut of Vaughn Stein, and RLJ Entertainment recently picked up the film for a Spring 2018 release. We'll get a more detailed, full trailer eventually. For now, we have this eerie, stylish teaser trailer full of John Carpenter-esque music and neon, neon everywhere.
Terminal Trailer
In addition to Robbie, Terminal stars Simon Pegg, Max Irons, Dexter Fletcher, and Mike Myers (!). That's a stacked cast, but I'm dying to see what the hell Mike Myers is doing in this movie. The last feature film Myers appeared in was 2009's Inglourious Basterds. That makes Terminal Mike Myers' first film in nine years. Welcome back, Mike!
Here's the Terminal synopsis, via Deadline:
Terminal is set in the dark heart of a sprawling anonymous city and follows the twisting tales of two assassins carrying out a sinister mission, a teacher battling a fatal illness, an enigmatic janitor, and a curious waitress leading a dangerous double life. Murderous consequences unravel in the dead of night as their lives all intertwine at the hands of a mysterious criminal mastermind hell-bent on revenge.
Back in 2016, when the film was first announced, it had a slightly different synopsis (via Collider):
"Two hit-men (Fletcher and Irons) embark on a borderline suicide mission for a mysterious employer and a high paycheck. Along the way, the unlikely pair come across a dynamic woman named Annie, (Robbie) that may be more involved than they had originally suspected."
I hope Terminal won't end up being a case of style over substance. If it is, though, this trailer shows that at the very least, the film will look really cool. The cinematography comes via Christopher Ross, who shot the upcoming FX series Trust.
There's no Terminal release date, but the film is expected to hit theaters sometime this spring. Technically, that means now, despite the snowstorm I see outside my window.