Trailer Round-Up: 'Nightflyers', 'Wildling', 'The Last O.G.', 'An Ordinary Man', 'The Miracle Season', 'Adventure Time'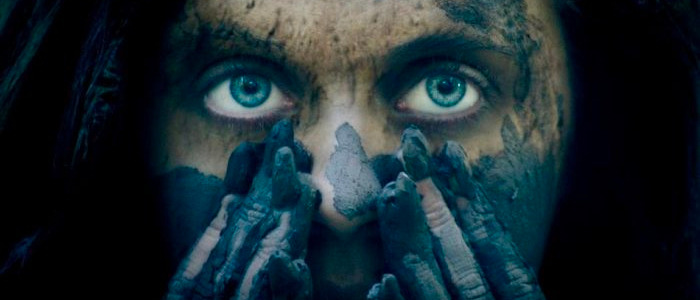 Attention, citizens: do not panic. It's time for a trailer round-up. We've cast a wide net into the sea of trailers, and hauled back some keepers for you. Thank us later. Below you'll see new trailers for the Syfy series Nighflyers, the horror movie Wildling, the TBS series The Last OG, the drama An Ordinary Man, the uplifting sports movie The Miracle Season and the Adventure Time series finale.
Nightflyers First Look
When George R.R. Martin isn't busy not finishing his Game of Thrones books, he's lending his talents to new shows. Like Syfy's Nightflyers, based on a novella by Martin. Blending horror and sci-fi, Nightflyers is described in this first-look by Martin as both "a haunted house story on a starship" and "Psycho in space." Sounds neat! The show stars Eoin Macken, Sam Strike, Maya Eshet, Angus Sampson, Jodie Turner-Smith, Gretchon Mol, David Ajala and Brian F. O'Byrne. The above video serves as both a trailer and a behind-the-scenes look at the show. Nightflyers premiers sometime this fall.
NIGHTFLYERS follows eight maverick scientists and a powerful telepath who embark on an expedition to the edge of our solar system aboard The Nightflyer – a ship with a small tightknit crew and a reclusive captain – in the hope of making contact with alien life. But when terrifying and violent events begin to take place they start to question each other – and surviving the journey proves harder than anyone thought.
Wildling Trailer
Diary of a Teenage Girl break-out Bel Powley stars in Wildling, a new horror flick from IFC Midnight. Powley stars as a young woman who spent most of her life locked away in a single room. Her father (Brad Dourif) warned her about a monster on the outside called the Wildling. Liv Tyler co-stars as a small-town cop who takes Powley's character in. Needless to say, scary stuff happens. This looks atmospheric and eerie, and best of all, it features Brad Dourif, a genuinely great actor who has spent most of his career voicing the killer doll Chucky. Reviewing the film for /Film, Meredith Borders wrote, "Wildling works on its surface as a cool and spooky monster movie with great performances and some extremely effective gore." Wildling opens in theaters in NY and on VOD April 13, 2018.
WILDLING is a dark fantasy tale centered on young Anna (BEL POWLEY) who spends her entire childhood in a single room under the care of a mysterious man she only knows as "Daddy" (BRAD DOURIF). He makes her fear the "Outside" by telling her of the "Wildling". At age 16, Anna is freed by small-town sheriff Ellen Cooper (LIV TYLER) with whom she finds a temporary home. For the first time in her life, Anna experiences the Outside, soon learning there's no such thing as the Wildling. But as she begins to flourish as a young woman, a series of unsettling events unfolds...
The Last OG Trailer
Tracy Morgan is back in his first lead role since his near-fatal accident. In The TBS series The Last O.G., Morgan stars as an ex-con who returns to his Brooklyn neighborhood and finds things are very different. The extremely-popular Tiffany Haddish co-stars as Morgan's ex-girlfriend, who is now married and raising twins. Plenty of situation comedy follows! The Last O.G. premieres on TBS April 3, 2018.
Tray (Tracy Morgan) is an ex-con who is shocked to see just how much the world has changed when he is released from prison for good behavior after a 15-year stint. Returning to his newly gentrified Brooklyn neighborhood, he discovers that his former girlfriend, Shay (Tiffany Haddish), has married an affable, successful white man (Ryan Gaul) who is helping raise the twins (Taylor Mosby and Dante Hoagland) Tray never knew existed. Wanting nothing more than to connect with his kids, but having neither the money to support them nor himself, Tray falls back on the skills he learned in prison to make ends meet while treading unfamiliar territory.
An Ordinary Man Trailer
Ben Kinglsey looks to be in full Sexy Beast mode in this trailer for An Ordinary Man. Kinglsey plays a war criminal in hiding who develops an awkward relationship with a maid (Hera Hilmar). As the two grow closer, however, it becomes clear the maid isn't who she says she is. An Ordinary Man hails from Lemony Snicket's A Series of Unfortunate Events director Brad Silberling. Look for it in limited release April 13, 2018.
An infamous war criminal and former general (Ben Kingsley) spending his life on the run from international authorities is suddenly moved to a new hideout, where he develops a relationship with the maid that looks after him. But when he discovers that she is actually an agent hired to protect him, he makes a decision that will drastically change both of their lives.
The Miracle Season Trailer
The Miracle Season looks like it's tailor-made to illicit tears. The film is based on the true story of a high school volleyball team who band together after their star player is killed in an accident. Helen Hunt stars as the coach, and William Hurt, Danika Yarosh, and Erin Moriarty round out the cast. It looks a little weepy, but that's not always a bad thing. The Miracle Season opens April 6, 2018.
Based on the inspiring true story of West High School girls' volleyball team.  After the loss of the school's star player, Caroline "Line" Found, in an accident, the remaining team players must band together under the guidance of their tough-love coach in hope of winning the state championship.
Adventure Time Series Finale Trailer
Fan-favorite animated series Adventure Time is coming to an end, which will no doubt make several people sad. Ahead of the series finale, Cartoon Network has released a teaser trailer that will look absolutely insane to anyone who has never seen the show (like me).
The ultimate adventure awaits.
Unlikely heroes Finn (a silly kid with an awesome hat) & Jake (a brassy dog with a big kind heart), are the best of friends and always find themselves in the middle of heart pounding escapades as they traverse the mystical Land of Ooo.