'Cobra Kai' Trailer: The 'Karate Kid' Saga Continues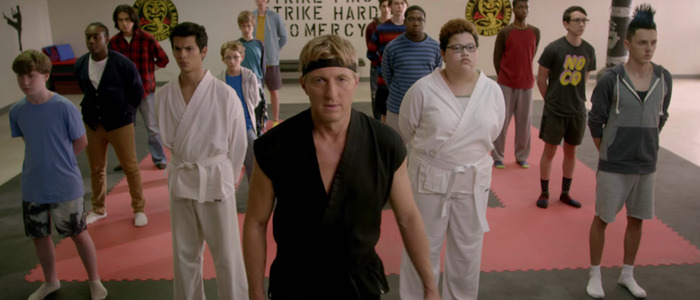 Whatever happened to Karate Kid Daniel LaRusso and his rival Johnny Lawrence? They grew up, of course. And now they're together again for the YouTube Red series Cobra Kai. The new, full Cobra Kai trailer is here to get you pumped-up on nostalgia.
The Karate Kid series spawned four films – The Karate Kid (1984) The Karate Kid Part II (1986) The Karate Kid Part III (1989) and The Next Karate Kid (1994) – and a 2010 remake starring Jackie Chan. Now, the saga continues with Cobra Kai, a new YouTube Red series that reunites original Karate Kid stars Ralph Macchio and William Zabka. Cobra Kai finds Macchio's Daniel grown-up and successful, while his former rival, Johnny (Zabka) has hit the skids a bit. Now, Johnny seeks redemption by reopening the Cobra Kai dojo and training a new generation of fighters. The full Cobra Kai trailer is here, and it's loaded with some questionable dialogue! Check it out.
Cobra Kai Trailer
What to make of this trailer? On one level, I dig this premise – it's sort of like Creed, if Creed had been told from the point of view of Ivan Drago (and if Creed were also a lower budget YouTube Red series). At the same time, some of the dialogue in this trailer gives me pause. "You want all those kids at school to think you're a wangless dork?" someone yells at one point. Later, Johnny says he wants to train his fighters in a "method of fighting your pansy-ass generation desperately needs." I know that Johnny's origins are as a villain, but do we really need his character throwing around lines like "pansy-ass" here, in the year 2018? Don't worry, I'm sure someone will tell me I'm being overly sensitive and that I should just shut up and enjoy this new series.
Then again, Johnny's abrasive nature does seem to be built into the plot. As Johnny says at one point, "That guy may have changed, but he's still the same prick."
Cobra Kai will arrive on YouTube Red on May 2, 2018.
In the highly-anticipated return of two iconic characters, the arch-rivals from the legendary Karate Kid film series reunite over 30 years after the events of the 1984 All Valley Karate Tournament. Now living in the affluent hills of Encino, Daniel LaRusso (Ralph Macchio) leads an enviable life with his beautiful family, while running a successful string of car dealerships throughout the valley. Meanwhile, his high school adversary, Johnny Lawrence (William Zabka), whose life has taken a rocky turn, seeks redemption by reopening the infamous Cobra Kai karate dojo. Their lives inevitably become intertwined and the rivalry is reignited, setting forth the next generation of "karate kids" in COBRA KAI, a YouTube Red Original Series. COBRA KAI is produced by Overbrook Entertainment in association with Sony Pictures Television.