Rare Cut Of Stanley Kubrick's 'The Shining' Up For Auction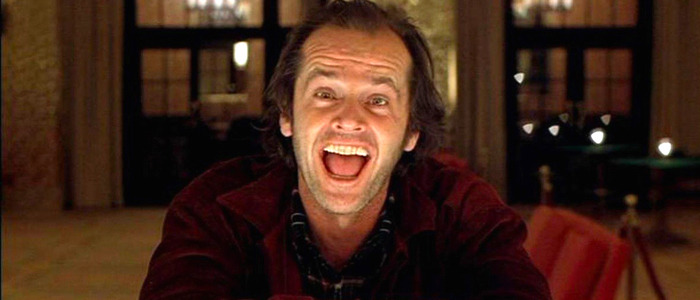 A rare cut of Stanley Kubrick's The Shining, featuring a deleted scene, is currently up for auction. For almost $4000, you could own a piece of film history, and make a bunch of Kubrick fans very jealous. More on The Shining alternate cut below.
Kubrick's adaptation of Stephen King's The Shining is one of those films people obsess over. There's an entire documentary – Room 237 – specifically about how obsessed people are with the film, so much so that they've conjured up wild theories about nearly every scene. If you're like me, you've watched the film dozens upon dozens of times, and you know nearly every single scene by heart. I'd love to experience The Shining in a fresh, new way. And if I had $4000 to burn, I could make that dream come true! The Playlist has pointed out that there's an auction going on right now for a rare alternate cut of The Shining.
The auction currently lists the starting price for the cut at € 3.000, which is $3,687.87. Here's how the auction page lists the cut:
Long cut of the original film The Shining containing the scene in which Wendy, played by Shelley Alexis Duvall, carries Danny, played by little Danny Lloyd. These cuts, given by Kubrick to D'Alessandro, are particularly rare because the director notoriously burned all the leftovers at the conclusion of the editing.
The auctioned cut comes courtesy of Kubrick's long-time assistant Emilio D'Alessandro, so it's the real deal.
The Shining Alternate Cut
While the scene as described – Shelley Duvall carrying Danny Lloyd – doesn't sound very exciting, there's probably more to it than meets the eye. This also isn't the first time an alternate cut of The Shining has materialized.
Three days after The Shining was originally released in theaters in 1980, Kubrick had projections cut about two minutes off the film's ending. In this alternate ending, after Jack Nicholson's character Jack freezes to death in the snow, the film cuts to a hospital. There, Shelley Duvall and Danny Lloyd's characters Wendy and Danny are visited by Mr. Ullman, the manager of the Overlook Hotel, who tells them they were unable to find Jack's body. Cue the spooky music.
This video reconstructs the deleted ending using script pages.
The Shining Alternate Ending
There was also a shorter "European" version of the film, which cut the runtime down to 113 minutes (the most common version of the film runs 144 minutes). All of this just goes to show that the version of The Shining we're all familiar with isn't the ultimate version.
If you would like to experience a piece of film history and have money to burn, head on over and bid on the cut. You'll make obsessive Kubrick fans everywhere jealous!