'The Spy Who Dumped Me' Trailer: Kate McKinnon And Mila Kunis Are In Over Their Heads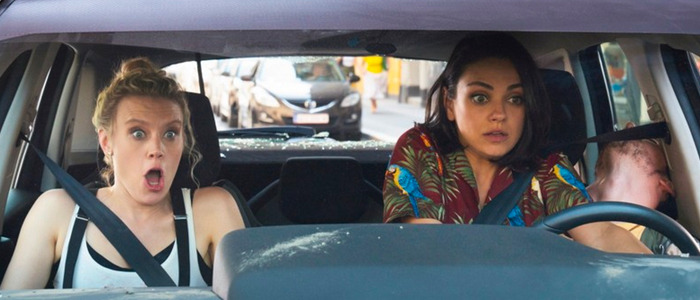 Kate McKinnon and Mila Kunis are best friends caught up in a dangerous spy game in the very funny The Spy Who Dumped Me trailer. This action-comedy looks to use McKinnon and Kunis' individual comic stylings to great effect, and throws in a heavy dose of action to boot. Watch the trailer below.
Perhaps I'm jaded, but I wasn't expecting much from the Spy Who Dumped Me trailer. The title alone made me slightly cringe. But surprise, surprise! This trailer is a blast, and it's surprisingly action-packed. Somehow, there's more action in this trailer than in trailers for most straight-up action movies. See for yourself.
The Spy Who Dumped Me Trailer
While I wouldn't say I'm a big Mila Kunis fan (I'm indifferent; she's fine, I guess!), I am a fan of Kate McKinnon, so I'm all for her getting more big film roles. Kunis and McKinnon play best friends who get caught up in an espionage adventure after Kunis finds out her ex (Justin Theroux) is a spy. How effective is this trailer? It's so effective that it actually manages to make a joke about Minions funny! Amazing.
Will The Spy Who Dumped Me be a modern classic? Probably not! But if the film itself can keep up this level of action and humor for its whole runtime, it could turn out to be something special.
"We were at lunch one day and one of us said, 'Broad City meets Bourne,'" director Susanna Fogel told Entertainment Weekly. "Our jumping-off point was, What would we do if we had to run from the cops in, like, my Toyota Prius? What would we do if we were confronted with an assassin? We'd probably make fun of something he was wearing."
Of the action set pieces in the film, Fogel says: "It was really important that it felt legitimate. We were going for stunts that weren't ironic, for real action-movie action." Per EW, the stunts in the film were handled by veteran stunt coordinator Gary Powell, who has worked on several James Bond films and also served as Pierce Brosnan's stunt double.
In addition to Kunis, McKinnon and Theroux, The Spy Who Dumped Me stars Sam Heughan, Hasan Minhaj, and Gillian Freakin' Anderson. Alright, I'm sold. Give this movie to me.
The Spy Who Dumped Me opens on August 3, 2018.
The Spy Who Dumped Me tells the story of Audrey (Kunis) and Morgan (McKinnon), two best friends who unwittingly become entangled in an international conspiracy when one of the women discovers the boyfriend who dumped her was actually a spy.