'Come Sunday' Trailer: Chiwetel Ejiofor Stars As A Preacher Who Stops Believing In Hell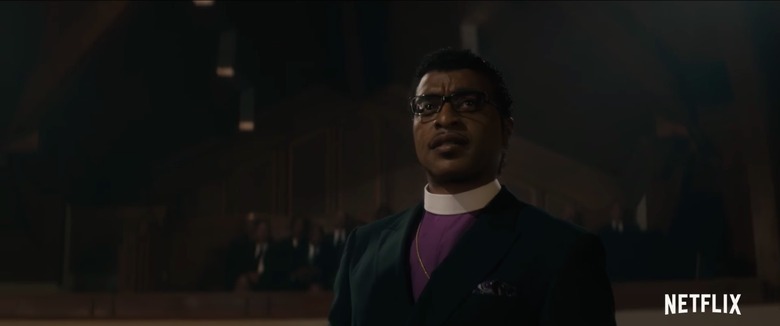 At first glance, Come Sunday is nothing we haven't seen before out of Hollywood. There's a tormented man in a position of authority, a deeply religious story about a church community, and a powerful performance from an underrated actor. But little did you know, Come Sunday is actually the beginning of a burgeoning new genre of films: podcast adaptations.
That's right, Come Sunday is one of the first prolific films to be adapted from a podcast. And it won't be the last.
Come Sunday Trailer
Chiewetel Ejiofor stars as Bishop Carlton Pearson in Come Sunday, a feature film adaptation of the This American Life story, "Heretics." Bishop Pearson is a celebrated preacher at Higher Dimensions, a church that draws in 5,000 people every Sunday. But scandal engulfs his career when he makes the radical decision to announce that he doesn't believe in Hell.
His congregation is scandalized and his fellow preachers denounce him, but Come Sunday is not simply about this preacher's downfall. It's an inspirational story about a man battling against the odds for what he believes in. In essence, it's a perfect Netflix film — too heavily religious for a studio to pick it up, but not overly preachy to alienate viewers looking for an uplifting film on a Friday night. The film will come directly to the streaming service after making its premiere at the 2018 Sundance Film Festival.
The most interesting aspect of Come Sunday though, is its place in the wave of podcast-to-movie adaptations. Hollywood is increasingly looking at the popular audio medium for stories to mine, and Come Sunday is one of the first high-profile projects to come out of this trend. Whether it will be successful or not, is another story.
Here is the official synopsis for Come Sunday:
From director Joshua Marston, Come Sunday stars Academy Award-nominee Chiwetel Ejiofor, Lakeith Stanfield, Jason Segel, Condola Rashad, and Martin Sheen. It's the moving story of Bishop Carlton Pearson's personal journey from leading a religious congregation to being labeled a heretic.
Directed by Joshua Marston, Come Sunday also stars Martin Sheen, Condola Rashad, Jason Segel, Danny Glover, and Lakeith Stanfield.
Come Sunday premieres on Netflix on April 13, 2018.