'The Titan' Trailer: Sam Worthington Becomes An Alien Or Something All Over Again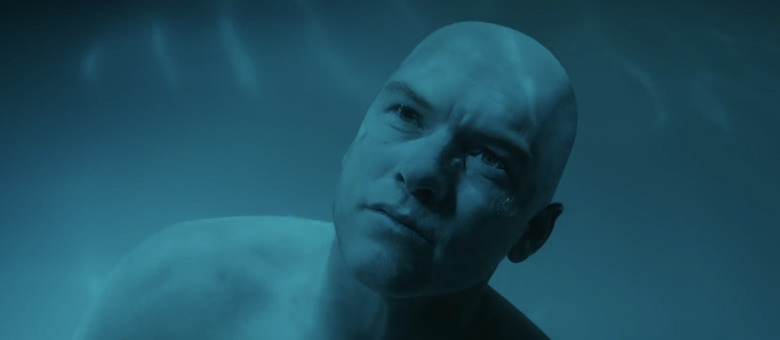 In James Cameron's box office monster Avatar, audiences saw Sam Worthington sent to the stunning planet of Pandora to partake in a new experiment that put his consciousness into the body of an alien race known as the Na'vi. Now a new Netflix sci-fi thriller will have him becoming an alien in a much more terrifying way.
The Titan proposes a premise we're all too familiar with by now: Earth is dying and we need to find a new planet to live on. However, in this case, our prospective new residence isn't a new planet, but instead Jupiter's moon of Titan. But before we can get there, the astronauts being sent to start a new civilization there need to improve their bodies by forcing genetic evolution. Basically, imagine if Captain America went wrong and resulted in an alien transformation along with superhuman traits. You'll see what we're talking about in The Titan trailer that just debuted online.
Watch The Titan Trailer
Unfortunately, everything about this movie feels recycled, including both primary plots. Initially, it makes you think this will be about exploring Titan, but then it takes a turn into a different, more derivative story.
How many sci-fi movies have we seen where some kind of genetic experiment goes wrong and creates some kind of monster from within their subjects? In this case, the result appears to be a human that has turned into an alien from Alien Nation or Babylon 5. The only difference seems to be that it's combined with the drama that comes from military-style training.
Not helping the situation is the presence of Sam Worthington, the most bland actor on the planet, and the last choice I'd want for any attempt at starting a new civilization. Meanwhile, Taylor Schilling seems to be doing the best with what she's given, which includes dialogue like "There's something alive inside him."
Bringing up the rear is Tom Wilkinson, who appears to be the makeshift villain of the story as the leader of this new scientific endeavor. And then there's Nathalie Emmanuel, who doesn't seem to have much to do.
Look, I'm not prepared to write off The Titan entirely until I get a chance to see it for myself, but this looks like a straight-to-video sci-fi movie through and through. I really wish Netflix would try to branch out beyond movies like this and get pickier with what they buy, but it doesn't seem like they're going to do that anytime soon.
The Titan is directed by Lennart Ruff and written by Max Hurwitz (Hell on Wheels, Manhunt: Unabomber) and Arash Amel (Grace of Monaco). The movie hits Netflix exclusively on March 30, 2018.