Judd Apatow On 'The Zen Diaries Of Garry Shandling' And Speaking Out Against Industry Abusers [Interview]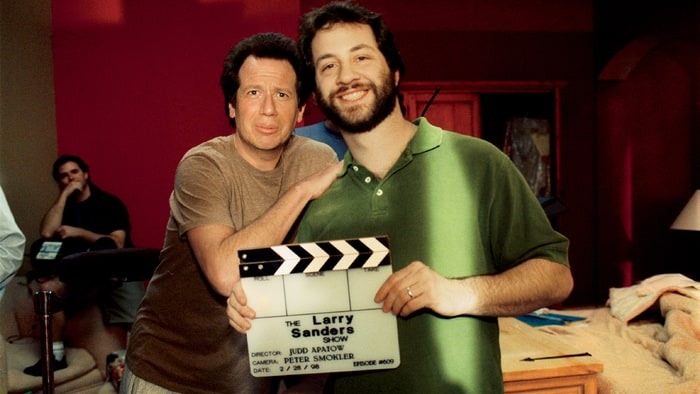 Garry Shandling may be best known for The Larry Sanders Show, his landmark comedy about the world of late night talk shows. It was his second TV series, after the meta, fourth wall-breaking It's Garry Shandling's Show. Shandling was also a successful standup comic, guest host of The Tonight Show, and actor. To a younger generation, he was Senator Stern in Iron Man 2 and Captain America: The Winter Soldier.Judd Apatow got his start on The Larry Sanders Show. Shandling picked him up from the short-lived The Ben Stiller Show, giving Apatow his first chance to direct television. After preparing Shandling's memorial service following his death, Apatow decided to make a documentary about his mentor. The Zen Diaries of Garry Shandling is a two-part HBO film covering Shandling's life and career. Shandling kept personal diaries, which appear in the film.
Apatow spoke with /Film by phone this week and our conversation begins with Garry Shandling and branches outward, eventually touching on Apatow's outspoken support of the #MeToo movement and his condemnation of Hollywood abusers. The Zen Diaries of Garry Shandling premieres Monday, March 26 on HBO.
Garry passed away rather suddenly. Had you begun a documentary while he was still alive?
No. I started working on it after his memorial. I cut some short documentary pieces for the memorial and when I was working on it, I thought that there clearly was enough material to make a long form documentary. I spent about a year looking at material and searching for material and just under a year editing the documentary.
I think I got the answer from Zen Diaries, but I always wondered, why wasn't It's Garry Shandling's Show as revered as The Larry Sanders Show?
I think it's because Garry found a way to end The Larry Sanders Show which gave it the feeling of a completed thought, that the entire series was almost like one story. So I think the fact that he won the Emmy for writing for the finale with Peter Tolan and that there was a lot of fanfare at the end of the show gave it a little more prestige, but It's Garry Shandling's Show is equally as influential. A lot of the staff from the show went on to create and run The Simpsons. In the documentary, they talk about how Garry's DNA really was in The Simpsons. At a time when TV wasn't that imaginative, It's Garry Shandling's Show really broke down a lot of walls. I think he showed people what was possible if you just opened up your mind a little bit more.
It blew my mind when I saw it, and I can see from Zen Diaries that Larry Sanders became more personal for him and he had more control over it, so maybe it overshadowed It's Garry Shandling's Show.
Yeah, and I think a lot of it also has to do with how accessible seeing the shows is. Which ones are available to watch? Are they on DVD? Are they streaming? That tends to change.
What was his obsession with his hair?
A very good question. I never asked him directly how he felt about his hair. I think his hair was a metaphor for his concern about how he looks generally. It all turned into "How's my hair?" but it really was, "How am I looking?"
My sister met him once and told him his hair looked great. He turned around and said, "Will you marry me?" 
[Laughs] That's hysterical. Garry later said, "It doesn't matter how you look. It's the hair on the inside that matters."
Larry Sanders makes sense as the halfway point to end part one, but did that throw off your timing since part two covers a lot more material?
No, I tried to think of a logical place to end the first part. I think that The Larry Sanders Show was the beginning of another era for Garry. When I started the project, I didn't know how long it would be. I thought maybe I could fit it in in about two hours. Then it became clear that without time limitation, you really could explore the depths of Garry and that he deserved the treatment that was closer to what people like Bob Dylan, Elvis and Frank Sinatra get. So I called Richard Plepler at HBO. He loves Garry so much. He said, "Whatever the best way to tell this story is, that's what you should do." I was very lucky to have that kind of support.
Was culling all of this Garry footage at all like your comedies where you have long takes of improvisation and decide which pieces to use?
I just had to look at it the same way I would look at a film which is it's the story and there are certain movements. What footage do I have available to me to get a certain time and certain ideas across? So much of making a documentary is about what is the best way to explain a moment or a feeling. Luckily, Garry had done a bunch of podcasts in the last few years of his life, with people like Pete Holmes, Marc Maron and Pauly Shore. They really grilled him about his life and his choices. He also did a very long interview for the Television Academy, a three hour interview. Those were very helpful in guiding me as to how to lay this out.
I always liked What Planet Are You From? and I never knew it had such behind the scenes troubles for him, but the behind the scenes weren't why the movie wasn't a success, were they?
That was a very difficult situation for Garry because he worked hard on the script. It was -something he was very passionate about. Mike Nichols came on as the director and for whatever reason, they were not a good pair of collaborators. Mike Nichols lost faith in the project very early and seemed to mail it in the rest of the way. Garry was frustrated. He wanted to work long hours and grind the scenes and do a lot of takes. Mike Nichols was doing very few takes and wrapping for the day 4:30. Garry really didn't know how to navigate that relationship. It certainly resulted in a movie that wasn't what Garry hoped it would be.
Had he had a different director on that film, someone maybe more like yourself, do you think Garry might have done more movies?
I do think the fact that he had a bad experience broke his spirit a little bit. He was very excited about it and when it went so badly, it led to him never writing a movie again. He talked in the documentary about how he was so surprised by the toxicity of that relationship that it made him feel like he didn't know who he could trust. I think that is a sad part of Garry's story. He was such a brilliant writer and it seemed to drain him of his belief that he could succeed in that arena.
At what point did you start reading all of the diaries?
I started reading them when I was working on his memorial service. I put a book together to give out to the people who attended, scanned some pages which had funny or inspirational writings on them. And then when we decided to make the documentary, I got permission from his estate to read everything. He had been working on a few projects which would have used the diaries. He had shot some test footage for a documentary or potentially a series which would use his diaries as a jumping off point. He also wrote in the diaries that he was considering putting out a book of the diaries. So I took that as a kind of permission to explore those ideas and I tried to be as sensitive as possible about what to use. But, it does give you a window into his mind that he was a person that was private and didn't share what he was thinking with an enormous amount of people. It allows the documentary to be as personal as documentaries can get.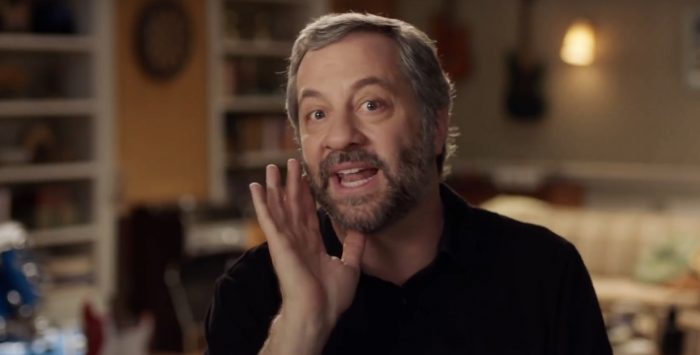 Is there anyone else that you would consider doing this deep a dive about?
I was thinking about that recently. I'm not sure. Part of what makes it work is I knew Garry so well for so long that I felt like I understood enough about him to take this on. I don't know that many people as intimately as I knew Garry.
How does it feel to reach a point where now you can make films about your mentors?
I really enjoyed making this film because I felt like there were things that Garry wanted to say to the world that he didn't get a chance to say. I think this documentary gives him the opportunity to do that. I'm really excited for people to see this to get to know him better, and so that they can consider some of his thoughts about life and how we all can evolve in a more loving way.
While I have you, I want to ask about using your platform to speak out. Last weekend you tweeted about Terry Gilliam's Harvey Weinstein comments, as you've always spoken out. Even before #MeToo, you were vocal about Bill Cosby. As more women come forward and some of the #MeToo stories involve your colleagues, has it gotten trickier and more complicated to navigate how you speak out?
I think that it's certainly a messy time and there are aspects of this that everyone is trying to navigate. Much of it hasn't been worked out yet. How do we get to the truth? How are people judged? What should happen to people who commit crimes vs. what happens to people who have made mistakes both small and awful? For me, what's most important is that women speak up and that we have these conversations and that we realize that there are large changes that need to be made and we do have to deal with everything that's happened. But, we also have to make it clear to all industries how people should be treated and what should happen when people are mistreated. What's most important to me is that we protect each other and take care of each other.
Have you by any chance spoken to James Franco since his students came forward?
Well, I'm not going to go into all my conversations with everybody. Oddly enough, I know an enormous amount of accusers and people who are being accused. I feel like in brief articles you can't really get into the depth that you need to in order to be thoughtful and honest about it. Everybody wants that because it's all click bait, but these situations are very complicated and they raise an enormous amount of questions. That doesn't mean I let anybody off the hook for anything, but they're not simple. We have a long way to go to figure out how we want to handle all of it.
That was my only specific question, so I do have more Garry questions we can go back to. 
Let me just say one more thing about the Terry Gilliam situation. What is troubling about that is that he is basically saying that people were getting things out of their interactions with Harvey Weinstein, like it was some financial transaction for some of these people. When in fact, he doesn't know anything about any of these situations. It's a big leap to "this is how the business works and sometimes people get hurt but sometimes it works out for them." That's a bunch of nonsense.
I agree and I myself am navigating how to speak out and how to ask questions about this in my interviews, so I'm glad we spoke about it. What were some things you still had to leave out of The Zen Diaries?
I found hundreds of hours of hilarious conversation and performances. I'm such a comedy hoarder that I want to show everybody everything. Luckily I have an amazing editor, Joe Beshenkovsky who edited the Kurt Cobain documentary Montage of Heck and the Jane Goodall documentary Jane. He's a very disciplined editor and was the perfect person to collaborate with me about what footage to use to tell this story. I'm the kind of person, it breaks my heart that I can't just show you 20 of his sets from the Comedy and Magic Club where you could see everything he was doing because there's so much magic in him.
You said a year of going through footage and almost another editing. Is that more than you usually spend on your comedy movies?
It really is. You usually get about six months to edit a movie. We did have the time to be very thoughtful and to do screenings for friends. I was able to get my friend, the composer Mike Andrews, who did movies like Bridesmaids, to do this beautiful score for the film. I was very lucky. There was no timetable given to me by HBO so we just worked on it until we thought it was everything we wanted it to be. We had a premiere the other night. It's very emotional watching the film because it's hopefully not just about comedy or Garry. It is about what we all go through in trying to figure out how to get over our wounds and how to evolve as people and decide how we want to live our lives. The best compliment I got was from a friend who said, "It felt like this movie was about me and it also felt like this movie was about everybody." People are having a very profound reaction to it. I think it's because Garry was trying so hard to be a better person and to heal himself from some very difficult times. Like everybody, he didn't get all the way there but his goal always was to figure out how to be kinder, how to be more loving and just the fact that that's what he worked so hard on is very inspiring.
Did this take you out of writing another screenplay and are you writing one now?
Well, I was working on Crashing and Love at the same time. I'm doing more film writing this year and hopefully I'll get another movie going soon.
Has Netflix by any chance asked for another Pee-Wee Herman movie?
We haven't talked about that but I did have the best time ever working with him, and I miss not thinking about Pee-Wee Herman every day. There's nothing more fun than having that be what's on your desk every day.
Did you get to interview anyone for Zen Diaries that was not in your circle or that you had not interviewed when you were in high school?
I really enjoyed talking to Bob Saget. He had a complicated relationship with Garry as a result of the Brad Grey lawsuit. He was very open about it and very emotional and I thought it was a real gift for him to talk me through all of it. Jim Carey's interview about Garry is really insightful about what it's like to be a comedy person and to deal with both your life and the challenges that you have when you're trying to do great work but also trying to evolve as a person.