'Under The Silver Lake' Trailer: Andrew Garfield Follows The Girl Who Got Away In Wacky Neo-Noir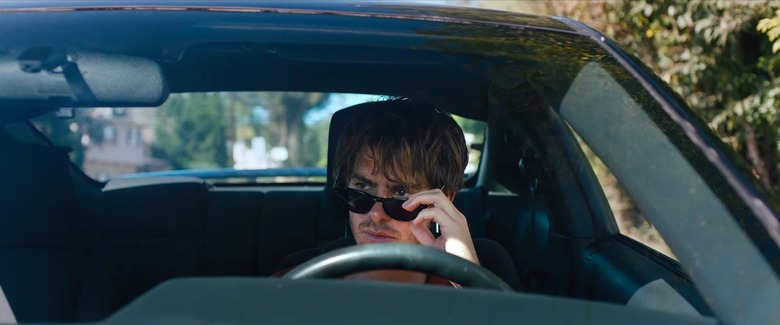 After his breakout success with It Follows, it would not have been a surprise if director David Robert Mitchell rode the wave of critical acclaim with another high-concept horror film. Instead, Mitchell has delivered a wacky, surreal neo-noir.
The first Under the Silver Lake trailer is a kooky ride, featuring Andrew Garfield playing against type as an awkward deadbeat who bumbles across Los Angeles looking for his beguiling next-door neighbor (Riley Keough), who has mysteriously vanished.
Under the Silver Lake Trailer
The Under the Silver Lake trailer is all twists and turns. At first presented like a moody romance as Garfield's Sam and Keough's Sarah meet at the apartment swimming pool one night, Under the Silver Lake immediately switches gears to become a quirky neo-noir comedy.
After Sarah's mysterious disappearance, Sam becomes a man obsessed, looking for clues to her whereabouts in pop songs, billboards, and postcards. The movie seems replete with striking, decadent imagery — L.A. noir in a nutshell, essentially.
The Inherent Vice parallels are obvious, though I also get whiffs of Shane Black's The Nice Guys, itself a seedy, hypersexual homage to '70s neo-noir starring A-list stars playing bumbling caricatures of themselves. It's an unexpected third feature for Mitchell, who is steadily proving with his short catalogue of films that he is a director to watch. This feels like a hard left turn from his previous movie, but It Follows itself was a hard left turn from Myth of the American Sleepover. His refusal to get pinned down by a single genre is exciting.
Under the Silver Lake also stars Topher Grace, Laura-Leigh, and Zosia Mamet.
Here is the official synopsis for Under the Silver Lake:
From the dazzling imagination that brought you It Follows comes a delirious neonoir fever dream about one man's search for the truth behind the mysterious crimes, murders and disappearances in his East L.A. neighborhood.
Sam (Andrew Garfield) is a disenchanted 33-year-old who discovers a mysterious woman, Sarah (Riley Keough), frolicking in his apartment's swimming pool. When she vanishes, Sam embarks on a surreal quest across Los Angeles to decode the secret behind her disappearance, leading him into the murkiest depths of mystery, scandal and conspiracy in the City of Angels.
Under the Silver Lake hits theaters on June 22, 2018.