Amy Poehler Will Direct, Produce And Star In Netflix Movie 'Wine Country'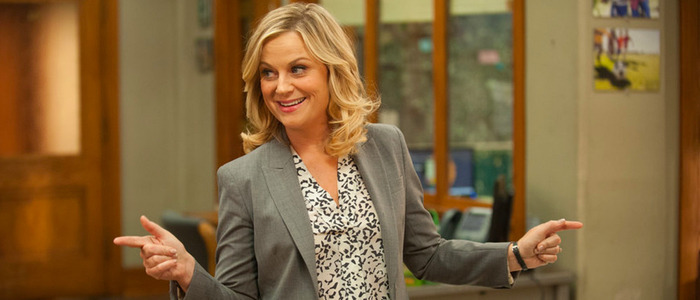 Good news, everyone. The extremely funny and talented Amy Poehler is getting in on that sweet Netflix original action. Poehler will produce, direct and star in the Netflix film Wine Country. And in case you were wondering – yes, Tina Fey is involved. More on the Wine Country movie below.
Amy Poehler is one of the funniest people on the planet, yet her film career has been a little wobbly. Despite continuously killing it for seven seasons on Parks and Recreation, Poehler's unique brand of comedy never quite transferred to the big screen. Perhaps the problem was that the comedian and actress was working with other people's material. And perhaps Wine Country is the solution. Poehler will make her feature directorial debut with Netflix's Wine Country. Poehler will also produce and star in the film, with a script by Parks and Rec writer Emily Spivey.
The Hollywood Reporter says "Wine Country tells of longtime friends who go to Napa for a weekend getaway to celebrate a 50th birthday."
Rachel Dratch, Ana Gasteyer, Paula Pell, Maya Rudolph, Emily Spivey and Poehler's long-time friend and frequent Golden Globes co-host Tina Fey will also star. That's a whole lot of funny people, folks.
While Wine Country will be Poehler's feature film directorial debut, she's been behind the camera before. The actress helmed three Parks and Recreation episodes, including the fantastic season 4 episode "The Debate." Here's an excerpt from a Paley Fest talk with Poehler talking about directing.
Amy Poehler on Directing
I'm a big fan of Poehler's work. I watched Parks and Recreation religiously, and was sad to see it end. I also loved her work on the Upright Citizen's Brigade show and SNL. That said, I've been continually disappointed by her recent film output. I want to like the films she appears in, but more often than not I come away let down. I'm very optimistic about Wine Country, though, just because it's clear she'll be calling the shots on the film. Principle photography on Wine Country begins this month.
Poehler is just the latest big name to join Netflix's constantly-growing line-up of talent. Netflix wants their original content to grow – what better way to thrive than by owning your own programs rather than purchasing them from others? In recent months, the streaming giant has signed deals with American Horror Story creator Ryan Murphy  and TV mega-creator Shonda Rhimes. Comic book writer Mark Millar also joined the Netflix business last year, and a few weeks ago, indie producers and filmmakers The Duplass Brothers re-upped their previous deal with Netflix to distribute more films. Luc Besson and his EuropaCorp are also mulling over a deal, and then there's Martin Scorsese's highly anticipated The Irishman, which is currently filming and racking up a hefty production budget in the process. Dope director Rick Famuyiwa is also crafting a superhero movie for Netflix, with Keanu Reeves possibly starring. Netflix deals for everyone!