Marvel Land Coming To Disney California Adventure In 2020; See The First Concept Art (Including Black Panther)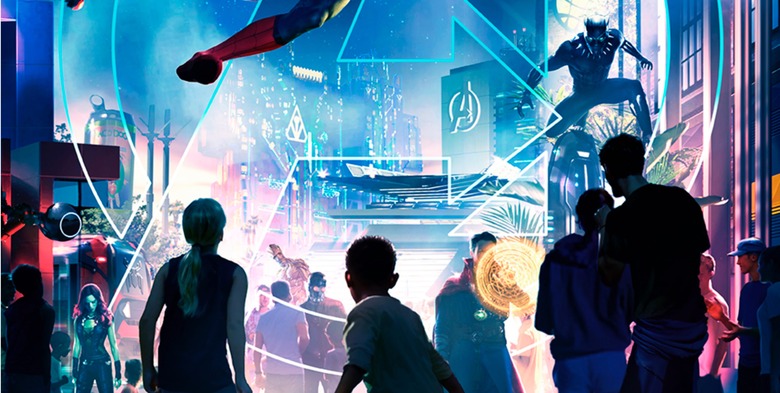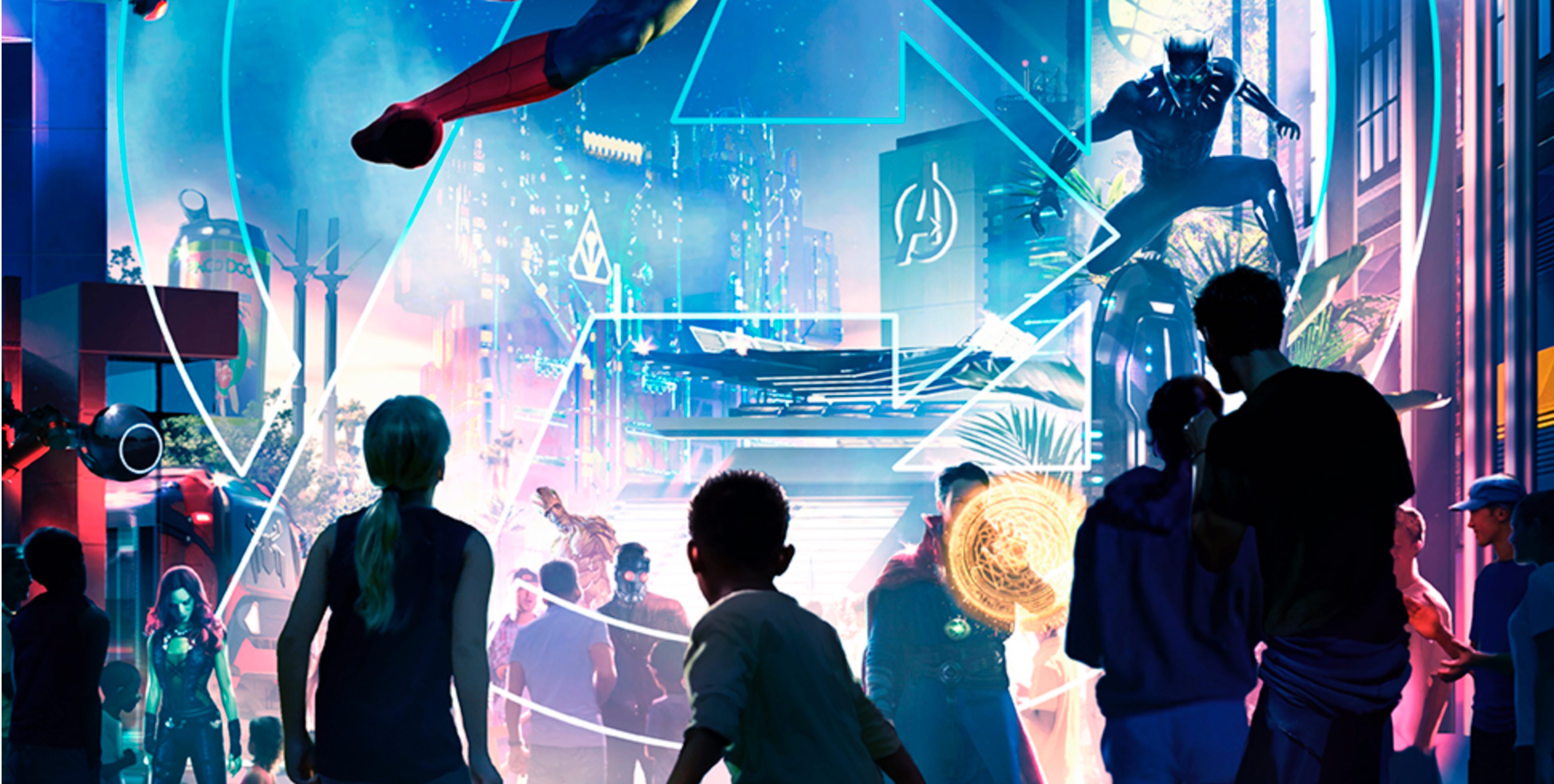 When Guardians of the Galaxy – Mission: Breakout was announced to be taking over The Twilight Zone Tower of Terror ride, Disney Imagineers not-so-subtly hinted that this would be the beginning of a new Marvel-themed land coming to the Disneyland Resort's Disney California Adventure theme park. It's taken a while to get around to it, but today, Disney has finally confirmed that a Marvel-themed land will be coming to Disneyland Resort, and two other international Disney parks.
The three Marvel-themed lands have been confirmed for Disneyland Resort, Disneyland Paris and Hong Kong Disneyland. Disney says that the additions "will champion the next generation of Super Heroes." Here's more:
At Disneyland Resort, the new Super Hero-themed land will begin recruiting guests in 2020, with even more new experiences to follow. The Guardians of the Galaxy will be joined by Spider-Man and the Avengers in what will become a completely immersive Super Hero universe, furthering the evolution of Disney California Adventure park. This new land will be anchored by the popular Guardians of the Galaxy – Mission: BREAKOUT!, in the adjacent space that is currently occupied by "a bug's land." "It's Tough to Be a Bug" closed March 19 to make way for this new heroic experience; the rest of the land will close in late summer.
It's no surprise that the area occupied by A Bug's Land will be used for this new Marvel world. While the bug-sized theming was always fun, the kiddie rides were not-so-spectacular and the 3D film It's Tough to be a Bug has been showing its age – the theater was never crowded and has been mostly used for movie previews. And with Pixar taking over Paradise Pier on the other side of the park, it seems uneccessary to have a whole land dedicated to one of Pixar's least appreciated early films.
Disney has yet to confirm what Marvel attractions will be coming to Disneyland resort, but the rumors include an Avengers-themed indoor dark ride rollercoaster (think something similar to Harry Potter and Escape From Gringotts over at Universal). I'm guessing another ride will be centered around Spider-man, as the wording in the announcement keeps the webslinger seperated from the Avengers.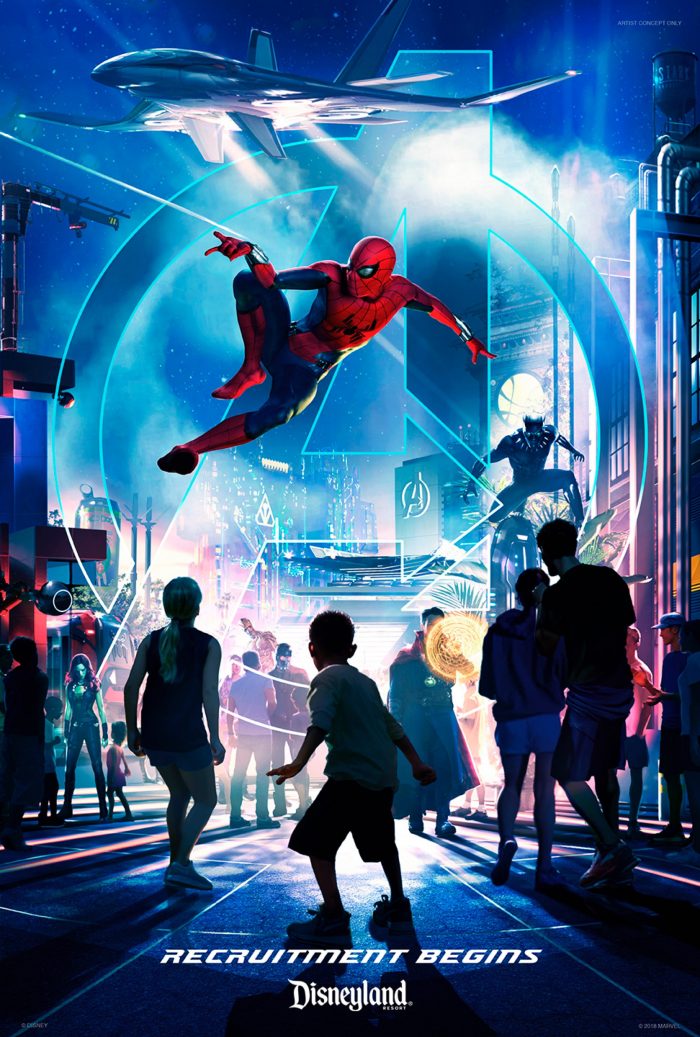 Above is a look at the newly revealed teaser poster for Disneyland Resort. Notice the recreation of Avengers headquarters, standing in front of The Collector's Museum, in the background. It's also interesting to note the inclusion of Black Panther and Doctor Strange alongside the Guardians of the Galaxy, while Tony Stark and Captain America nowhere to be seen. It's probably not a big deal, as they appear in the international posters below. You can also see some kind of Spider-man show building on the right of the illustration. I wonder what that attraction will be, especially since Spidey already has his own celebrated ride at Universal's Islands of Adventure park in Florida. (As we wrote about yesterday, legal issues may keep these characters from coming to Florida's Walt Disney World.)
Another detail you may have not noticed is the beverage stand in the background, which uses the Pingo Doce soda drink that Stan Lee was seen drinking in The Incredible Hulk. Will this be the Butterbeer of MarvelLand?
Disney Parks also announced that the new Marvel-themed area coming to Disneyland Paris' Walt Disney Studios Park will include "a reimagined attraction where riders will team up with Iron Man and their favorite Avengers on a hyper-kinetic adventure in 2020." Here's more, including some details on the expansion in Hong Kong Disneyland:
"This will follow an epic experience launching this summer, when Disneyland Paris hosts Marvel Summer of Super Heroes from June 10 to September 30. Favorite heroes will take the stage for a brand new, live-action super-production featuring cutting-edge special effects and spectacular projections. Multi-year expansion plans are also underway at Hong Kong Disneyland, including a new themed area that will include an exciting attraction where guests team up with Ant-Man and The Wasp. This new attraction will join the Iron Man Experience, which opened in 2017 and is already the most popular attraction at the resort."
With Star Wars Land opening at Disneyland Resort sometime in 2019, the Marvel offerings will open only a year later in 2020. This is a pretty exciting time to be a Disneyland annual pass holder!