There's A Lazy Error In The 'Avengers: Infinity War' Poster, Plus Check Out Six New Magazine Covers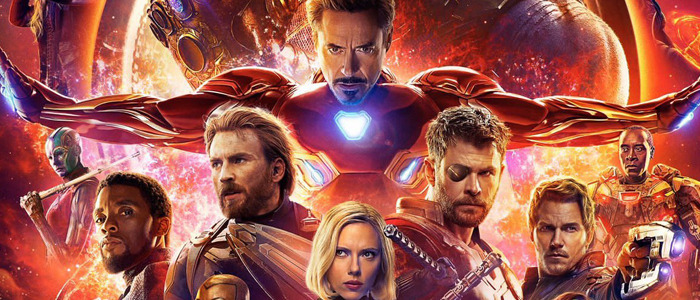 If you've paid attention to studio-produced movie posters over the past couple of decades, you've probably noticed that many of them are hideous images that are basically Photoshopped to oblivion. While Marvel Studios tends to make enjoyable, crowd-pleasing movies, the studio is often one of the worst offenders when it comes to creating posters. For a movie with as many characters as Avengers: Infinity War, it was practically a given that the poster would be overcrowded and kind of an eyesore – but we didn't expect it to have an easily-preventable error in plain sight.
Take a look at the flaw below, along with a batch of new Empire Magazine covers featuring some of the film's heavy hitters.
Avengers Infinity War Poster Error
CBM points out that the scar over Thor's eye has mistakenly moved to the opposite side of his face, even though the eyepatch is on the correct side.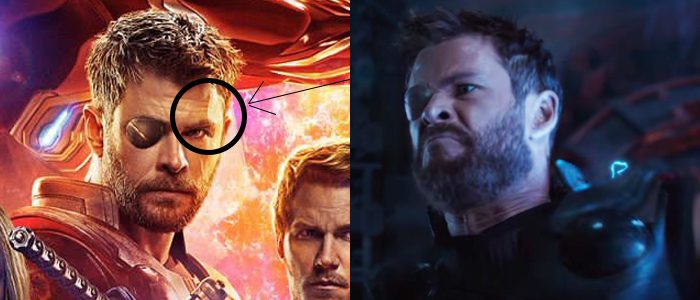 Spoilers for Thor: Ragnarok ahead, but in that film, we saw Cate Blanchett's villainous Hela rip out Thor's right eye. The image above compares Thor as he appears on the poster with a screenshot of him from the most recent trailer. As you can see, Thor still has a patch on what appears to be his right eye, but the accompanying scar is on the left side of his face and over a totally normal eye in the poster image. It's likely that whoever designed this poster decided to horizontally mirror the image of Chris Hemsworth – presumably to establish better placement or a better flow among the many characters on the poster – and while they remembered to move the patch, they probably just forgot to move the scar along with it. This kind of thing may not happen if studios regularly hired artists to create their posters instead of relying on in-house designers.
Empire Magazine's Avengers Infinity War Covers
Meanwhile, Empire Magazine has unveiled six new covers dedicated to the film.
I don't know the circumstances under which these photos were staged and taken, but whatever happened, they have to do a better job of matching Downey and Cheadle's heads to their suits. Those heads don't look like they're even close to properly fitting in with the rest of their body in those images. There's some weirdness going on with Tom Holland's face, too. And what did they do to Elizabeth Olsen? Oh, well – most of them look just fine, and we'll see them all in action when Avengers: Infinity War arrives in theaters on April 27, 2018.