'Tag' Trailer: Jeremy Renner Is A Man Who Can't Be Tagged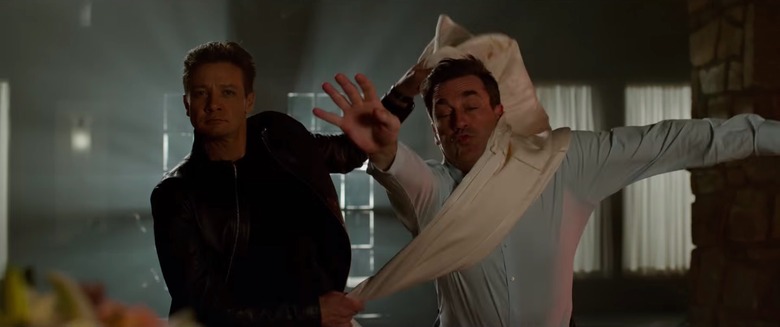 The internet was in an uproar when Jeremy Renner was nowhere to be seen in the latest Avengers: Infinity War trailer. And I, along with the the 12 other Hawkeye fans, were not assuaged by the Russo brothers' promises that Renner would play an "important part" in the Marvel film.
But no matter. Because we have another movie coming out that's all about Renner. And judging by the Tag trailer, he has more screen time in this than he ever received in any of the Marvel movies.
Tag Trailer
Do you want to see a movie where Jeremy Renner is the star and all the other characters are merely supporting roles to his powerful presence? Well, meet Tag.
Tag is a comedy based on a "true story" about a group of friends who have been playing a 30-year game of tag — one that has only escalated as they've entered their 30s and 40s. And the one kid in their group who has never been "it"? Renner.
It's a story about friendship, the landmarks of life, and most importantly, the ridiculous hijinks that Jon Hamm, Jake Johnson, Hannibal Buress, and Ed Helms get into while trying to catch their elusive classmate played by Renner. And because it's Renner — an Oscar nominee who has made a career out of playing battle-worn hotshots and whose face looks like it's seen some shit — these hijinks start to spiral dangerously out of control.
It's a silly trailer that has shades of the crass humor that we've seen in the Hangover series, but at least it appreciates the talent that is Renner. And it'll help us bide the time until Hawkeye gets his due.
Tag is directed by Jeff Tomsic and written by Rob McKittrick and Mark Steilen. It also stars Isla Fisher, Rashida Jones, Leslie Bibb, and Annabelle Wallis.
Here is the official synopsis for Tag:
For one month every year, five highly competitive friends hit the ground running in a no-holds-barred game of tag they've been playing since the first grade—risking their necks, their jobs and their relationships to take each other down with the battle cry: "You're It!" This year, the game coincides with the wedding of their only undefeated player, which should finally make him an easy target. But he knows they're coming...and he's ready. Based on a true story, the New Line Cinema comedy "Tag" shows how far some guys will go to be the last man standing.
Tag is set to hit theaters on June 15, 2018.