John Musker, Co-Director Of 'Aladdin,' 'Moana,' And More, Retires From Disney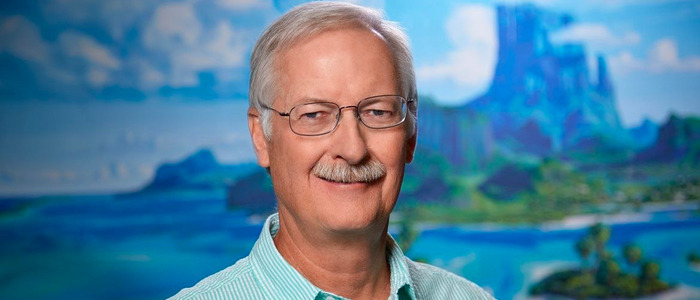 After nearly four decades with Disney, director John Musker is retiring. Musker co-wrote and co-directed seven feature films throughout his 41-year career at the House of Mouse, including The Little Mermaid, Aladdin, Moana and more.
You may not be familiar with the name John Musker, but he's had a hand in creating some of the most iconic animated Disney films of the last 40 years. Musker, along with co-director Ron Clements, helmed The Great Mouse Detective in 1986, The Little Mermaid in 1989, Aladdin in 1992, Hercules in 1997, Treasure Planet in 2002, The Princess and the Frog in 2009, and, most recently, Moana in 2016.
In 1977, Musker started at Disney as a character animator. The first film he worked on was 1981's The Fox and the Hound. On that film, Musker was mentored by Eric Larson, one of the "Nine Old Men" – the key Disney animators from the studio's early years. "Animation is a craft that you learn in a master-apprentice way," Musker told EW. "Eric [Larson] would literally put a drawing down, put a piece of paper over it, and then put another over that and show you specifically how you could communicate something better. It's a craft that's passed on. You couldn't learn some of it otherwise, without the one-on-one thing with someone who had done it for 20 or 30 years. Their experience guides you. Now, to a certain extent, we're passing the torch to these other younger people."
Musker and Clements Interview
Eventually, Musker teamed with Clements to helm films. The pair worked in traditional animation for years, before moving on to CG in 2016 with Moana.  "I never worked with Walt [Disney]," Musker also told Entertainment Weekly, reflecting on moving from traditional animation to CGI with Moana, "but I somehow feel that he was always looking at the next technological hurdle. Every one of his movies was looking for some way forward. Whether that was going from black and white to color, or the multiplane camera. I just feel that Walt Disney, if he saw CG animation, would have embraced it as a way of using technology to get an immersive experience for an audience. That's what he was always really about."
"When people say they got into animation because they saw Little Mermaid, that's always nice to hear," Musker also said. "But moreover, I see there's a ton of talent here. Young people everywhere. If animation continues to be financially and creatively successful and something the public embraces, I foresee wonderful films coming out, and we won't have anything to do with it in the future, but they will continue."
With Musker's retirement, it seems as if one of the last links to the age of traditional animation at Disney is severed. While Disney will continue to pump-out eye-popping, technologically stunning animation created by computers, there's a part of me – perhaps it's the nostalgic part – that pines for a return to traditional animation. The type of traditional animation that made those now-classic films like The Little Mermaid and Aladdin seem so magical when they first graced the silver screen.
The Great Mouse Detective Trailer
The Little Mermaid Trailer 
The Princess and the Frog Trailer