Video: /Film Enters The Oasis At Hollywood's 'Ready Player One' Challenge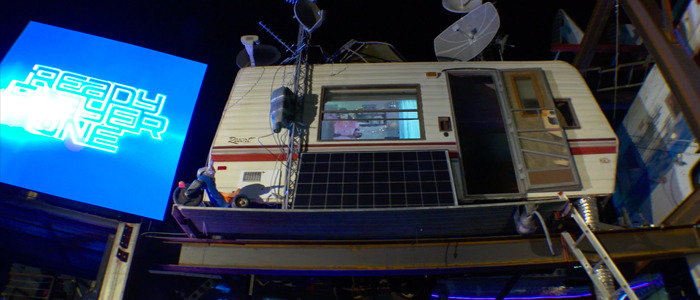 When Los Angeles residents pass the corner of Hollywood and Vine, there's normally nothing to see but an empty parking lot. But from now until April 1, that lot has been transformed into the Ready Player One Challenge, a huge interactive maze modeled after Steven Spielberg's upcoming movie.
/Film was on hand to check out an early look at the event, and we've compiled a video highlighting the coolest aspects of the experience.
Ready Player One Challenge
Welcome to Columbus, Ohio, circa 2045. "The Stacks" – essentially a vertical trailer park – serve as the home of Wade Watts (Tye Sheridan), the protagonist of Ernie Cline's popular 2011 novel Ready Player One and Spielberg's upcoming movie adaptation. As you probably know by now, the book and the movie tell the story of Wade's journey into a detailed virtual world called the Oasis, created by a genius inventor named James Halliday (Mark Rylance). When Halliday dies, he initiates a contest: find three keys, unlock a hidden Easter egg, and win control of the entire Oasis.
The Ready Player One Challenge, which is free and open to the public, mimics the story's setup. When you arrive, you're given an RF tracker to wear and asked to create a username; the names of the fastest people to make it through the maze go up on a leaderboard like the one in the movie. (Pro tip: I'd recommend taking your time and absorbing all of the little details instead of racing through as fast as possible.) There are three keys hidden throughout the maze, and discovering each one will earn you a blacklight stamp on your wrist. You make your way through themed rooms, past pop culture characters like Care Bears, Harley Quinn, and Beetlejuice, and through very Instagram-friendly photo ops – you can even stop to play Galaga at a full-size arcade cabinet.
Once you've collected all three "keys", you show your stamps to an employee dressed in an IOI uniform (the evil corporate company in the story), and he'll unlock a door that leads you into a room with tons of props from the film. Outside, there are vehicles from the movie on display – including a DeLorean (customized with Knight Rider front-mounted scanner bar).
The experience is totally free and open to the public. It runs from now until April 1, 2018, and you can reserve your free ticket at ReadyPlayerOneChallenge.com. Warner Bros. did something similar when they recreated the Neibolt House from Stephen King's It at this same location last year, but the Ready Player One experience is far more photo-friendly and interactive – they've outdone themselves with this one. We'll see if they'll be able to top this in the months to come.
Ready Player One hits theaters on March 29, 2018.