The 'Stranger Things' Kids Are Making A Lot More Money Than You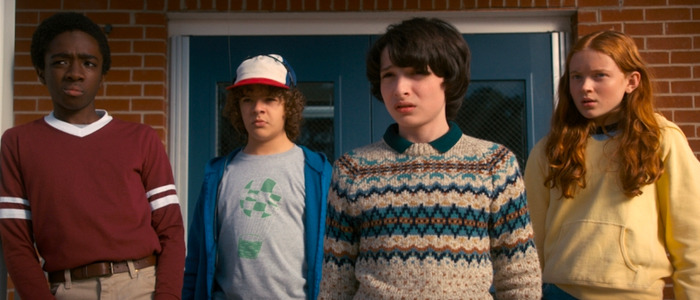 You probably already knew this, but the Stranger Things kids are making some serious bank. And now they're about to cash-in on the Netflix hit and get some more of that fat cash. Ahead of the third season, Netflix has signed new, lucrative deals with the Stranger Things cast.
It's best not to obsess over how much money big stars make, because the answer will likely put you in a depressive funk as you comb over your credit card debt. But if you were curious about how much moola those Stranger Things kids make for their Netflix hit, the answer is: a lot, especially now. The Hollywood Reporter confirms that after an "intense renegotiation" ahead of the show's third season, the kid actors at the center of Stranger Things will be making "12 times their previous salaries." As for the adult actors, Netflix has committed to $350,000 an episode for each of them.
Here's the breakdown, per THR:
According to sources, the main actors are divided into different pay tiers. Winona Ryder (Joyce) and David Harbour (Jim Hopper) make up the "A tier" and are making up to $350,000 an episode. The "B tier" consists of the young stars — Finn Wolfhard (Mike), Gaten Matarazzo (Dustin), Caleb McLaughlin (Lucas) and Noah Schnapp (Will) — who are each collecting $250,000 per episode. Meanwhile, the actors in the "C tier" — onscreen teenagers Natalia Dyer (Nancy), Charlie Heaton (Jonathan) and Joe Keery (Steve) — are each pocketing roughly $150,000 an episode.
Millie Bobby Brown, who plays the Eggo-loving telepath Eleven, isn't lumped in here because the actress separated herself from the rest of the cast during renegotiations. Exact numbers aren't available, but rumors indicate Brown is at least making the $250,000 the other young actors are making, but it's very possible she's landed a deal that gives her $350,000-per-episode like the adults. Such a big deal is to be expected. While Stranger Things is an ensemble, and Winona Ryder takes top billing in the credits, Brown is the show's breakout star. Her Eleven is more or less the face of the series, so it only makes sense that Brown's people would go all-in to get her the biggest payday possible.Stranger Things is one of Netflix's biggest hits, and the streaming giant likely wants to keep everyone involved with it as happy as possible, for as long as possible. Now that these deals are in place, I'd expect movement on Stranger Things season 3 to pick up speed, and for more details about the highly-anticipated season to start flooding in.
Meanwhile, if Netflix wants to pay me $350,000-per-episode to watch Stranger Things, I'm open to the idea. Drop me a line, Netflix.