'Cloak & Dagger' Trailer: Could This Be Marvel TV's Next Big Thing?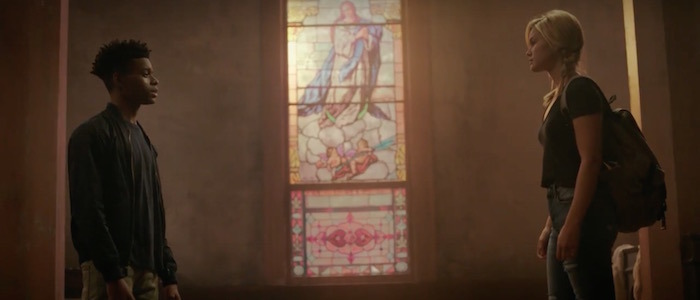 An early trailer for Marvel TV and Freeform's Cloak & Dagger left me wondering if it might be the cheesiest show the company had produced in years, but subsequent marketing seems to indicate I may have cast judgment a bit too hastily. Freeform brought the show's pilot to this year's South By Southwest film festival, and our writer on the ground was extremely impressed with it. Now the network has released a new trailer, and you can judge for yourselves below.
Cloak & Dagger Trailer
The show follows Tandy Bowen (Olivia Holt) and Tyrone Johnson (Aubrey Joseph), two teenagers from divergent walks of life who discover they share a mysterious bond with one another. Oh, and they have superpowers, too. In the comics, Tyrone (aka Cloak) wears a giant cloak and has the power to engulf villains in darkness, while Tandy (aka Dagger) has the ability to produce shards of glowing light from her body. Andrea Roth, Gloria Reuben, Miles Mussenden, Carl Lundstedt, James Saito, and J.D. Evermore co-star in the series.
Meredith Borders reviewed the pilot for /Film from SXSW, and she had very nice things to say about the chemistry between the two leads:
Joseph and Holt have tremendous chemistry onscreen. The first hour of what will be a two-hour pilot brings them together very sparingly, but the moments they share onscreen are electric. In an intriguing departure from the comic, here Tandy's the street kid while Ty's living at home with his wealthy and (at least so far) seemingly attentive parents. But they have a shared tragedy in their past, an offshore rig explosion that robbed each of them of someone they love and first brought them together when they were just kids. The performers are so compelling on screen, separately and together. In such a short amount of time, I found myself deeply invested. They're wounded, and angry, and lovely, the kind of broken that only becomes whole when they're together.
Meredith also praised the episode's pacing, describing how it "moves much faster than most Marvel shows, while never feeling frenetic." That's a huge plus, because in addition to running too long for their own good, Marvel shows have a tendency to be too slow, as well. Here's hoping Cloak & Dagger can maintain that high level of quality throughout its ten-episode first season.
Freeform will premiere the two-hour Cloak & Dagger pilot on June 7, 2018.