Sequel Bits: 'Tomb Raider 2', 'Jurassic World: Fallen Kingdom', 'Incredibles 2', 'Rampage', 'Godzilla', 'Bumblebee'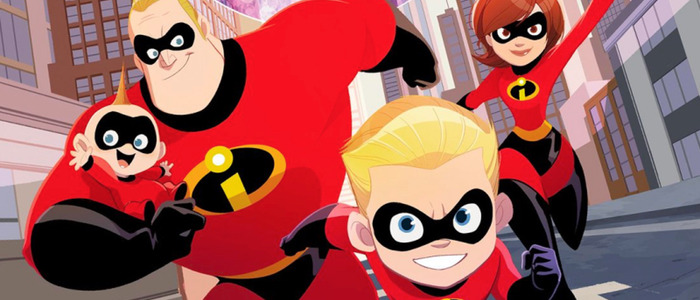 In this edition of Sequel Bits:
Alicia Vikander is down for a Tomb Raider sequel
Watch a video of Jurassic World: Fallen Kingdom being scored
Incredibles 2 tie-in comics will explore the lives of Parr family
The Rampage producers are already talking about Rampage 2
Behold the first poster for Netflix's Godzilla anime sequel
Steven DeKnight says Bumblebee is "fantastic"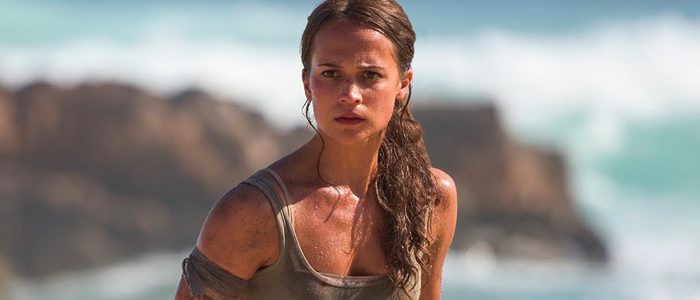 Tomb Raider wasn't a massive blockbuster over the weekend, taking in about $23,525,000. Obviously, Warner Bros. were hoping for more, but that doesn't mean they're going to give-up on a sequel just yet. And if Warner Bros. does greenlight a Tomb Raider sequel, star Alicia Vikander is definitely interested in returning. Speaking withET Canada, Vikander said that if the audience wants more of her take on Lara Croft, she'd be "privileged" to be back:
"It's with the audience. If they want to see another adventure, if they have the hunger for it, then I would be privileged to be back. I've never really had the chance revisit a part, so if that were to happen, it would be amazing."
Old memories (not so old).
Live from Abbey Road studios.#JurassicWorld#FallenKingdom @m_giacchino pic.twitter.com/ed3EYchE4t

— JA Bayona (@FilmBayona) March 14, 2018


Jurassic World: Fallen Kingdom director J.A. Bayona posted a cool video showing the scoring session for his dino-sequel. Composer Michael Giacchino ? got in on the action as well, posting his own video.
This...@AbbeyRoad @FilmBayona @JurassicWorld #JurassicPark #FallenKingdom pic.twitter.com/D1e6OAUhtz

— Michael Giacchino (@m_giacchino) March 15, 2018
While Giacchino's score will no-doubt be entertaining, and is clearly borrowing themes from John Williams' iconic original Jurassic Park score, it probably won't hold a candle to the music Williams created. This isn't intended to knock the supremely talented Mr. Giacchino – it's just rather hard for anyone to compete with John Williams. Jurassic World: Fallen Kingdom opens June 22, 2018.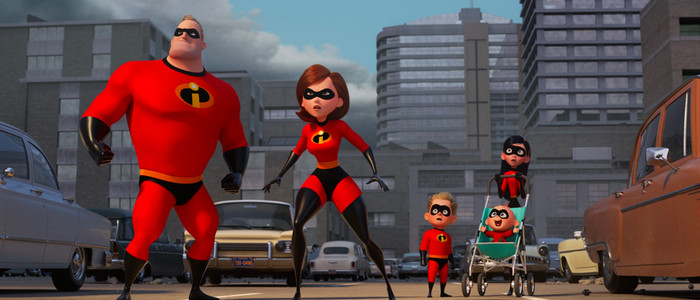 We've waited years for The Incredibles 2, but the highly-anticipated Pixar sequel is almost here. If the film itself won't be enough to satiate your Incredibles cravings, you're in luck. Disney will launch a series of tie-in comics that will offer background info on everyone's favorite super-family, the Parrs. As EW reports:
Each of the three issues of Disney•Pixar's Incredibles 2: Crisis in Mid-Life! & Other Stories contains two parallel stories: "Crisis in Mid-Life!", in which Mr. Incredible fights to stop the supervillain Bomb Voyage from ruining a new submarine dedication ceremony (causing the hero to question his own powers), and "Bedtime Story," in which Mr. Incredible tells Jack-Jack a story from his glory days that Dash and Violet have never heard before. Each issue will also feature backup stories about Jack-Jack. The series will be written by Christos Gage, and Landry Q. Walker, and illustrated by Gurihiru, J.Bone, Andrea Greppi, and Roberta Zanotta.
There will also be another comic, "Heroes at Home", described as  "an all-ages graphic novel that features Dash and Violent taking care of housework while their parents are busy with new jobs." The comics should be out later this year. Incredibles 2 arrives in theaters June 15, 2018.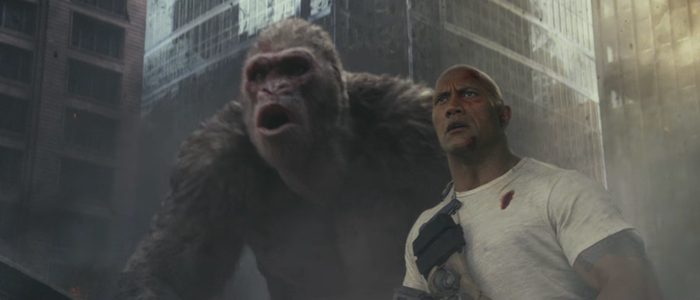 Rampage, the big-screen adaptation of the '80s arcade game, hasn't hit theaters yet. But that's not stopping the film's producers from talking about a sequel. During an interview with JoBlo, producers John Rickard and Hiram Garcia reveal they've considered turning Rampage into a full franchise. Rickard says:
"I think you always have a hope for...I don't want to say creating a new universe, but being able to start a story and kind of world that you can go deeper into. So everything's going great and we're very thrilled with the stuff we're getting, and ultimately, the reception and how it's received always kind of dictates that next dance. Ultimately, our hopes are we're setting a relationship up between Davis and George that, hopefully, if things work out, I would love to see that go on."
Garcia adds: "And we have left room for other opportunities for other things to happen." I'd say it's safe to assume that if Rampage is a hit, a sequel will follow. Has there been a Dwayne Johnson movie in recent memory that hasn't resulted in a sequel?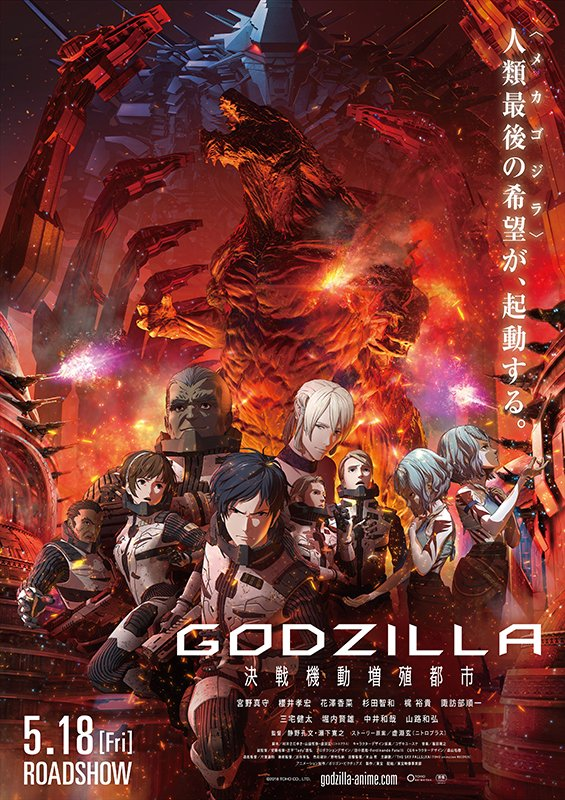 Above you'll see the poster for the Godzilla anime sequel coming to Netflix. This is the follow-up to Netflix's GODZILLA: Planet of the Monsters, set in a future where Godzilla and other monsters have taken over the planet, and humans are trying to escape earth. There's not a finalized American title for the film yet, but rumored titles include Godzilla: Battle Mobile Breeding City to Godzilla: The City Mechanized for the Final Battle. Personally, I'd go with Battle Mobile Breeding City. Has a nice ring to it.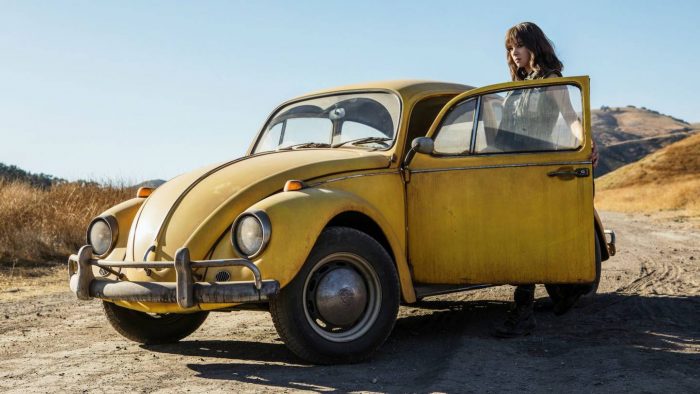 Steven DeKnight has a big, destructive robot movie hitting theaters very soon – Pacific Rim Uprising. But the director took some time away from promoting his giant robot movie to promote someone else's giant robot movie. During an interview with Uproxx, DeKnight calls the story of the Transformers spin-off movie Bumblebee "fantastic." Of course, it's worth noting that DeKnight was part of the original Transformers cinematic universe writer's room, so he's not exactly an impartial source. But here's what the filmmaker had to say:
Uproxx: You were part of the Transformers writers' room. I'm so curious: What's a Transformers writing room like?
Steven DeKnight: It was a blast.
Uproxx: I imagine.
Steven DeKnight: It was a room full of incredibly talented, interesting, really wonderful people. I've got to say, my time spent in there was just, more than anything, was just so much fun. Everyone was so much fun and interesting. And we actually wrote, I think it was, I want to say 12 different movies. Every one of us took a different idea and developed it into like a full 30-page outline, so there were like 12 movies. And also, in complete honesty, my absolute favorite movie of the bunch was the Bumblebee movie that they're making right now.
Uproxx: I've heard good things about it.
Steven DeKnight: The idea was fantastic.
There you have it: Bumblebee is "fantastic."