Watch 'Star Wars: Forces Of Destiny' Season 2, Featuring 'Last Jedi' Stars Daisy Ridley, Mark Hamill, Kelly Marie Tran, John Boyega & Lupita Nyong'o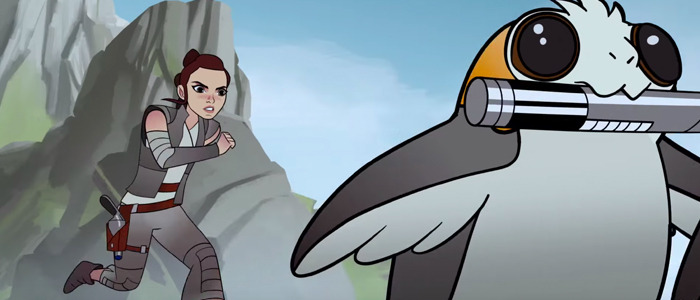 Of the many ways Disney builds their Star Wars brand outside of the theater, Star Wars: Forces of Destiny may be one of the best. It's a campaign made up of animated shorts, toys, and kids' books that are all intended to bring some extra attention to the franchise's female characters. We wrote about the first season of animated shorts last year, and now Disney is back with Forces of Destiny season 2.
Star Wars actors Daisy Ridley, Lupita Nyong'o, Kelly Marie Tran, and more lend their voices to the animated versions of their characters, and this batch is especially notable because it features the return of Mark Hamill voicing Luke Skywalker. Check out all eight episodes below.
Star Wars: Forces of Destiny Season 2
Talent from across Star Wars films and TV reprise their roles in these canonical stories – Mark Hamill (Luke), Daisy Ridley (Rey), Lupita Nyong'o (Maz), John Boyega (Finn), Kelly Marie Tran (Rose), Tiya Sircar (Sabine), Ashley Eckstein (Ahsoka), Vanessa Marshall (Hera), Catherine Taber (Padmé) and Matt Lanter (Anakin), among others.
Hasty Departure
Hera and Sabine liberate an Imperial shuttle only to find they have unexpected cargo – troopers!
Unexpected Company
Upset when Ahsoka joins a mission set for just he and Padmé, Anakin puts them on a dangerous path. Working alongside the secret couple, Ahsoka helps save the day.
Shuttle Shock
On their approach to Canto Bight, Finn and Rose learn to work together to navigate a pod of dangerous creatures.
Jyn's Trade
Jyn helps a young thief learn a valuable lesson.
Run Rey Run
While scavenging inside a Star Destroyer, Rey is cornered by competition on the hunt for a valuable part.
Bounty Hunted
Maz Kanata helps Leia, Chewbacca and R2-D2 with a clever plan to free Han from Jabba the Hutt.
The Path Ahead
Training with Master Yoda in the swamps of Dagobah, Luke learns an important lesson.
Porg Problems
Rey has her training interrupted by some very mischievous porgs.
***
It's cool to see a little more of Luke's training with Yoda on Dagobah,  and getting a peek at more of the dynamic between Rose and Finn helps to build upon their relationship from The Last Jedi – even though the situation in which they find themselves in this video seems a little too cartoonish, even for a Star Wars animated short. But on the plus side, now it's canon that Rey used the Force to stop a porg from leaping off a cliff after it stole her lightsaber. Those things rule.