'Rick And Morty' Season 4 Is Being Held Up By Contract Negotiations [Updated]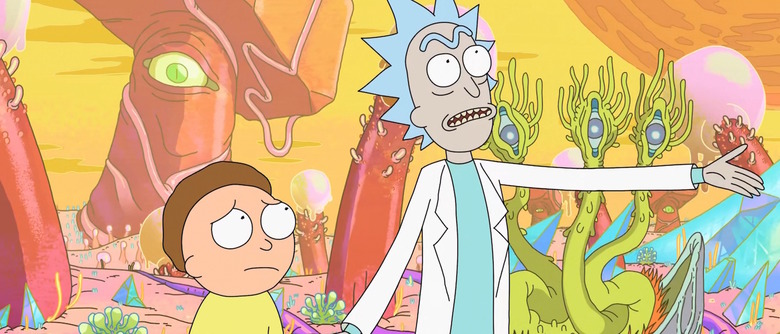 Update: Series co-creators Justin Roiland and Darn Harmon say that the Rick and Morty season 4 hold-up is due to "complicated" contract negotiations. Roiland said his piece on Twitter and Harmon spoke about it while guesting on Kevin Smith's SModcast (via ScreenCrush).Dan Harmon has spilled the sauce: Rick and Morty could be in trouble.
The cult animated TV series has seen delay after delay for its fourth season and according to co-creator and writer Harmon, Rick and Morty still has not been picked up by Adult Swim.
Delays are par the course for Rick and Morty fans. Fans were treated to an excruciating two-year wait between seasons 2 and 3, and it looked like they would have to wait even longer for season 4 after series writer Ryan Ridley suggested the series likely wouldn't return until 2019.
However, co-creator and writer Dan Harmon has confirmed that Adult Swim, Cartoon Network's adult-oriented programming block, has yet to renew Rick and Morty for its fourth season.
In a discussion with a rude Rick and Morty fan who lashed out against Harmon for delaying the fourth season, Harmon suggested that the series hasn't yet been picked up by Adult Swim.
It's possible that there's no cause for alarm — Adult Swim has a reputation for unusual management practices that allow greater freedom for its creators. The network's other critically acclaimed series, The Venture Bros., has only produced 6 seasons over the course of its 15-year run. And it appears that Harmon, co-creator Justin Roiland, and Adult Swim are all equally to blame for Rick and Morty's numerous delays.
"They really take their time," Ridley told Detroit Cast. "I never understood why everybody — all parties, Dan [Harmon], Justin [Roiland], and Adult Swim — didn't get their shit together, and make the show fast; I just don't get it. It doesn't make any sense to me. I'm sure they all have their reasons."
But while Rick and Morty remains off the small screen for now, the show keeps popping up in the news. The characters recently appeared in a music video for the Run The Jewels' song "Oh Mama" — a testament to the show's huge cult following.
The animated series is probably best known for its ardent fanbase, whose feverish devotion could put Zack Snyder fans to shame. You know the incident I'm talking about: the McDonald's Szechuan sauce saga. Fans were whipped into a frenzy when several McDonald's chains ran out of the packets of sauce that appeared in the show, creating such an uproar that they appeared on local news.
It's unfortunate that a critically acclaimed and beloved series could be marred by fan nonsense like that. However, those riots probably didn't play a part in the ongoing delays from Adult Swim.
We'll keep you updated on the status of Rick and Morty's future.