Win A 'Downsizing' Prize Pack, Including A 4K Blu-Ray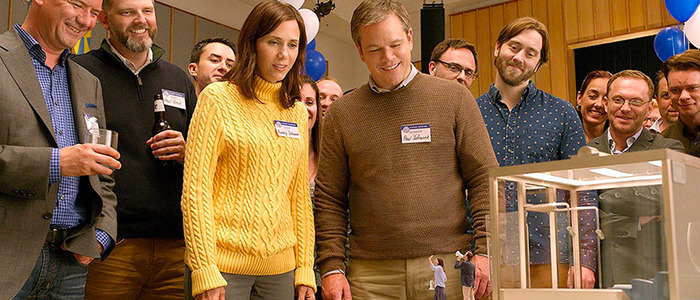 Alexander Payne's Downsizing hits Blu-ray this week. In honor of the release, we have a prize pack for those of you who enjoy free things. See the details for the Downsizing contest below.
If you'd like to get your hands on a Downsizing Blu-ray, or some other Downsize-related items, today is your lucky day. In honor of the film's Blu-ray release, we're giving away a grand prize that includes several Downsize promotional items, as well as a 4K Blu-ray (and mini .4K). We're also giving away three 4K Blu-rays as secondary prizes.
Behold the grand prize pack below.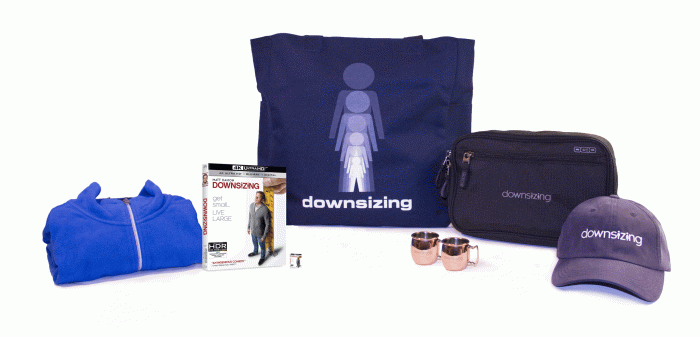 If you're curious about what the mini .4K Blu-ray is, I've included an image (quarter for scale).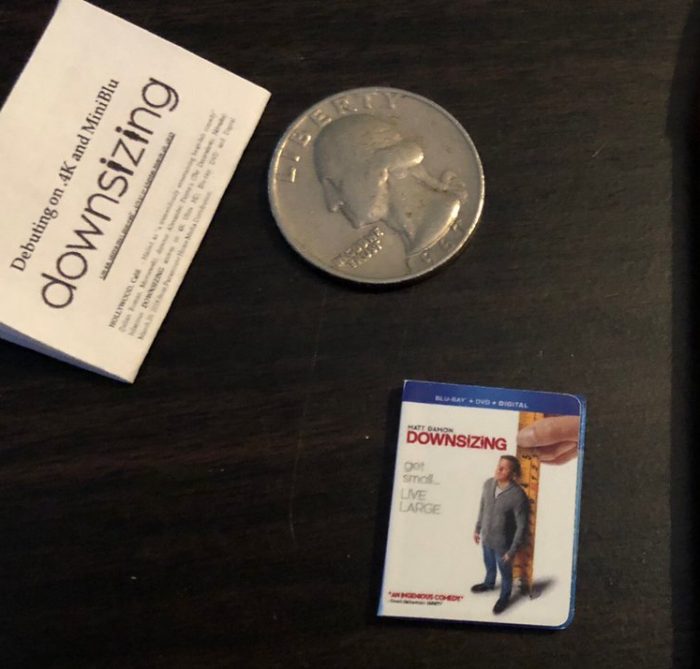 You will, of course, need a mini .4K Blu-ray player to play that (note: this is a joke; it's not a real Blu-ray).
To enter the contest, jump down to the comment section and tell us what your favorite Alexander Payne film is. U.S. residents only (sorry). Four winners (one grand prize, three secondary) will be chosen at random. Full details for the Blu-ray release are below. Good luck!
Downsizing Blu-ray Features
When scientists find a way to shrink humans to five inches tall, Paul Safranek (Academy Award winner Matt Damon) and his wife Audrey (Kristen Wiig) decide to ditch their stressed out lives in order to get small and live large in a luxurious downsized community.  Filled with life-changing adventures and endless possibilities, Leisureland offers more than riches, as Paul discovers a whole new world and realizes that we are meant for something bigger.
The DOWNSIZING 4K Ultra HD and Blu-ray Combo Packs include nearly an hour of fascinating bonus content with six behind-the-scenes featurettes. Join the incredible cast including Matt Damon and Kristen Wiig, plus Academy Award-winning director Alexander Payne to see how his unique vision was brought to life. Take a journey on set and check out the production design and visual effects behind the miniaturized world of Leisureland, and much more!Blu-ray Features
Feature film in high definition
Bonus Content:
working with Alexander
the cast
a visual journey
a matter of perspective
that smile
a global concern
Downsizing Trailer
When scientists discover how to shrink humans to five inches tall as a solution to over-population, Paul (Matt Damon) and his wife Audrey (Kristen Wiig) decide to abandon their stressed lives in order to get small and move to a new downsized community–a choice that triggers life-changing adventures.