New 'Westworld' Season 2 Images Take Us Back To The Park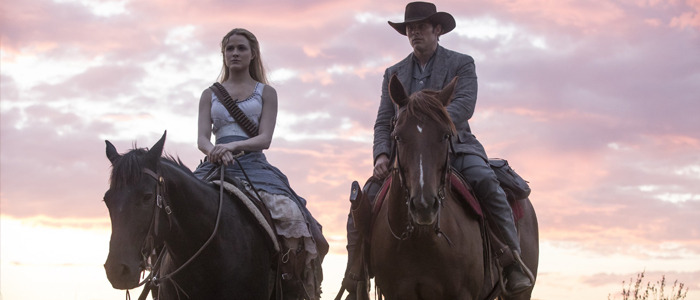 HBO has released a new batch of Westworld season 2 images. There are plenty of familiar faces, but these photos also give us our first look at Get Out actress Betty Gabriel in the show. She's about as far from Georgina as possible here: she's traded her maid outfit for some body armor and a high-powered rifle. Let's take a closer look and see what these images might tell us about the new season. Giddy up.
Let's go through these one by one, shall we? But be warned: there will be spoilers ahead for the events of season one. (Photo credits for all belong to John P. Johnson and HBO.)
Westworld Season 2 Images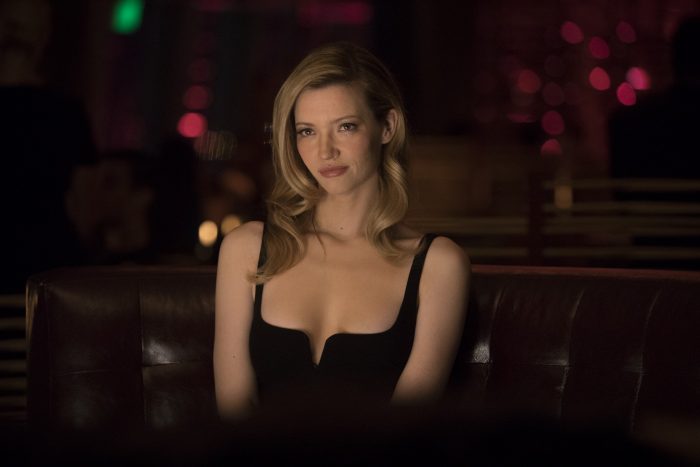 First up is a new look at Talulah Riley as Angela, the host who first greeted William upon his entrance to the park. In season one, Angela revealed herself to belong to a cult led by Wyatt – a villainous host whose storyline was merged with Dolores Abernathy's (Evan Rachel Wood). Who is Angela meeting here? Is she working with/for Dolores now?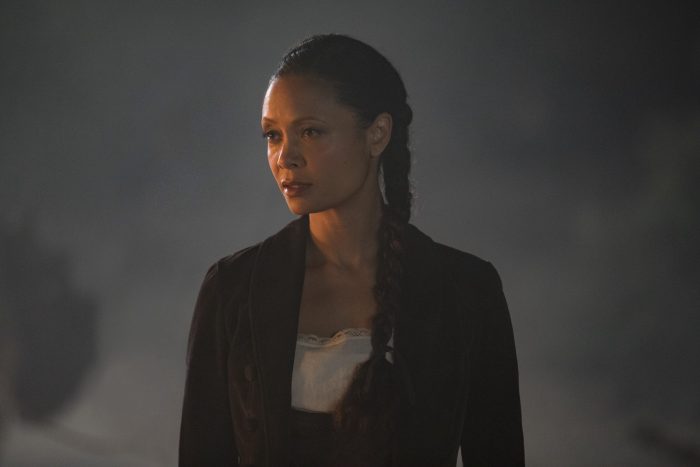 There's Thandie Newton as Maeve, Westworld's brothel overseer. While she spent some of the first season attempting to escape the park, she changed her mind in the finale in order to go after her "daughter."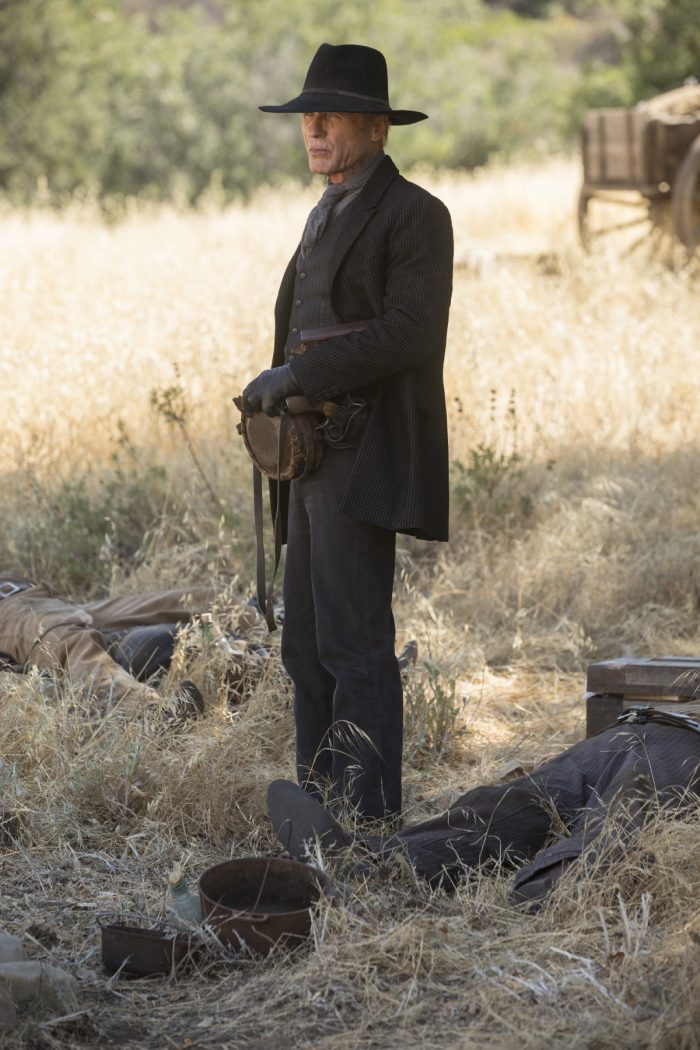 Ed Harris is back as William/The Man in Black. Looks like his arm is doing OK after taking a bullet in the season one finale, and those corpses on the ground indicate he hasn't exactly turned over a new leaf in season two.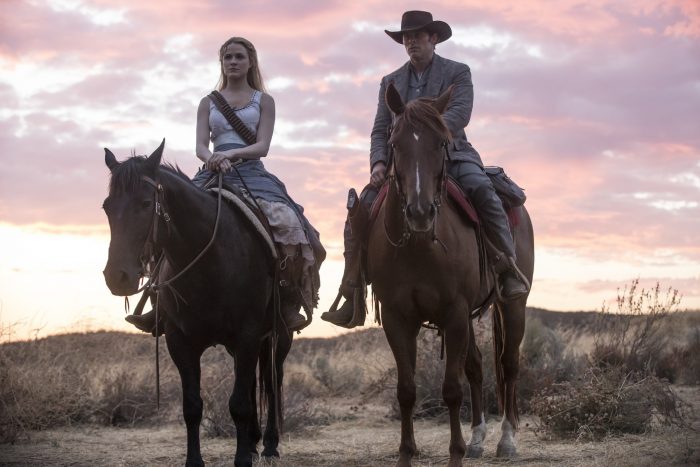 Now that Dolores and Teddy Flood (James Marsden) know they were only programmed to want to be together, it should be fascinating to see how that relationship evolves for the self-aware hosts.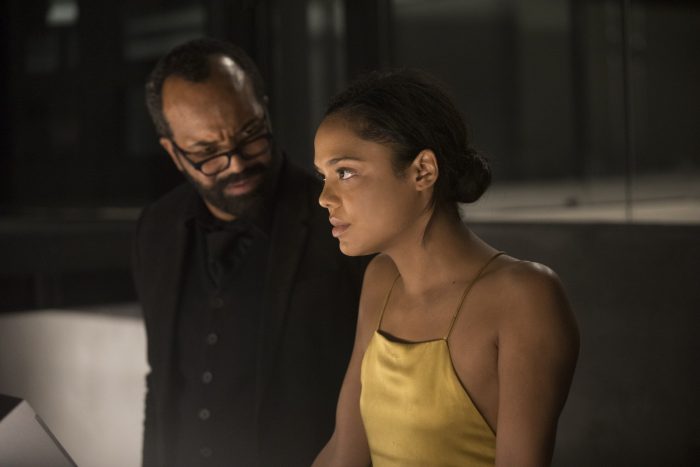 You've gotta love the look on Bernard (Jeffrey Wright)'s face as he reacts to something Delos Executive Director Charlotte Hale (Tessa Thompson) just said or did. Personally, I like to imagine she just did a killer Nic Cage impression ("I'm going to steal the Declaration of Independence") and Bernard's all like, "Huh?"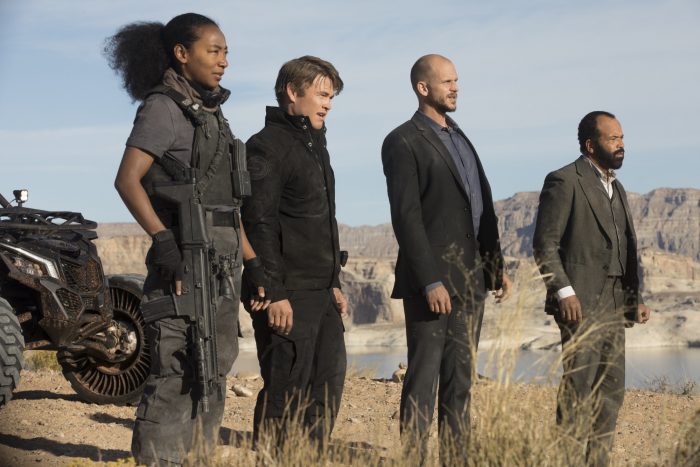 There's Betty Gabriel, playing a recurring character named Maling who is trying to restore order on the ground in the aftermath of the robot uprising. The other new face is Vikings actor Gustaf Skarsgard as Karl Strand, a white collar guy comfortable in the field. Oh, and there's Stubbs (Luke Hemsworth) and Bernard, too, looking out over what I assume is a scene of total carnage.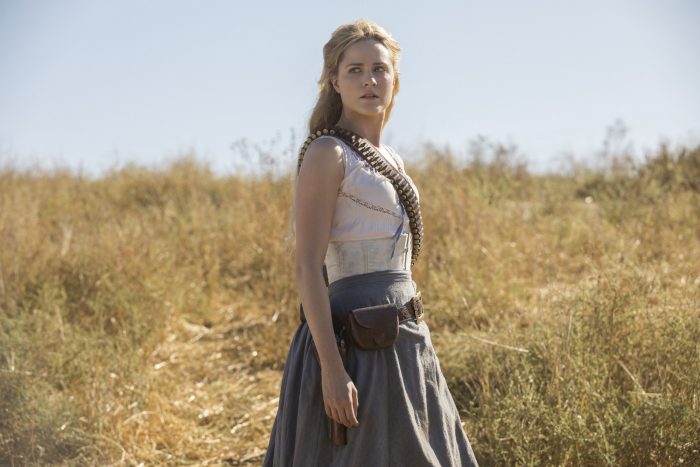 Dolores, adorned with a cross-body bandolier bullet belt and with her trusty gun on her hip, looks off into the distance with a face that says, "I shot Anthony Hopkins in the back of the head. Don't mess with me."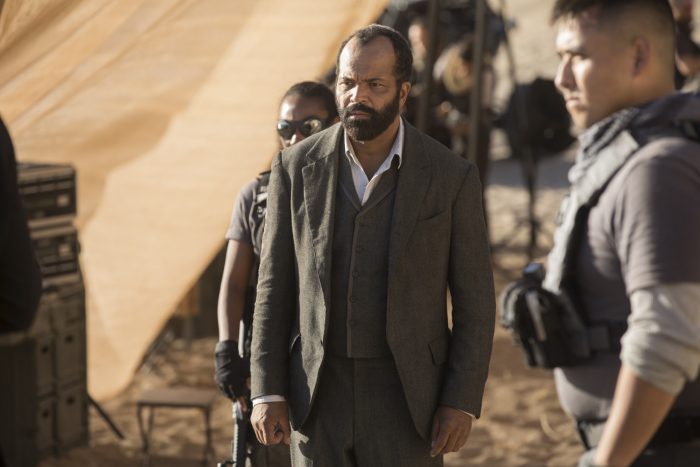 Poor Bernard. Always so confused. It looks like he and Maling are in a makeshift camp out in the field – perhaps a temporary base for the security team to figure out their next move.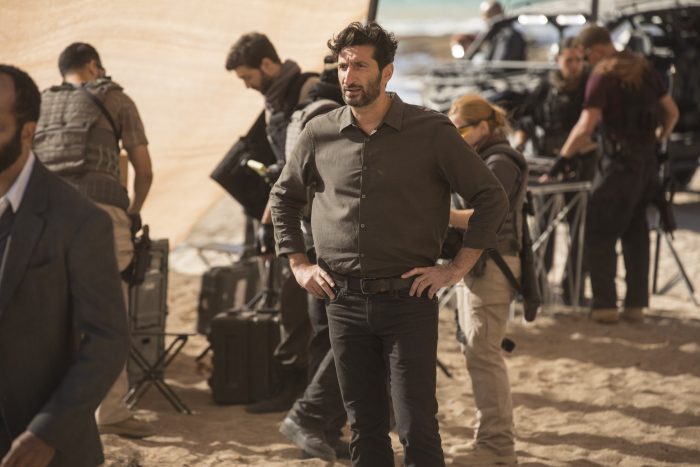 At the same location, we see Tyrant actor Fares Fares in character as Antoine Costa, "a tech expert with an objective perspective." Sounds like a third party freelancer, and it'll be interesting to see where his allegiances lie once he understands the enormity of what's going on inside the park(s).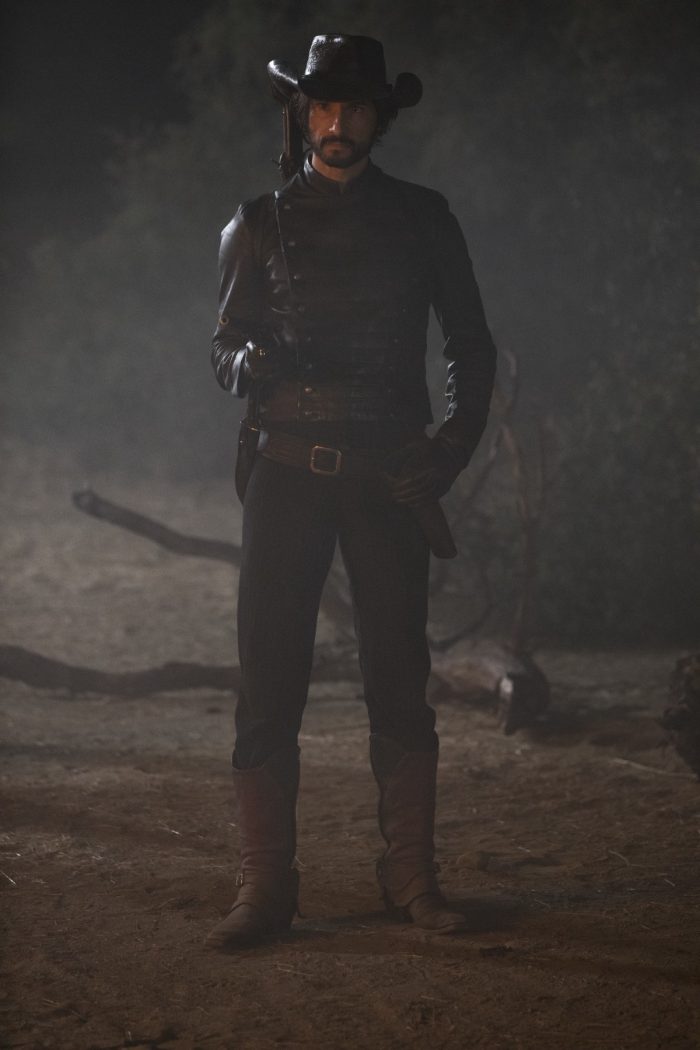 Here's a shadowy new look at Rodrigo Santoro's Hector Escaton, Westworld's most wanted bandit. We last saw him part ways with Maeve and enter a stand-off with armed guards inside the Delos facility, so it's clear he made it out of that situation alive – or if he didn't, he was eventually resurrected.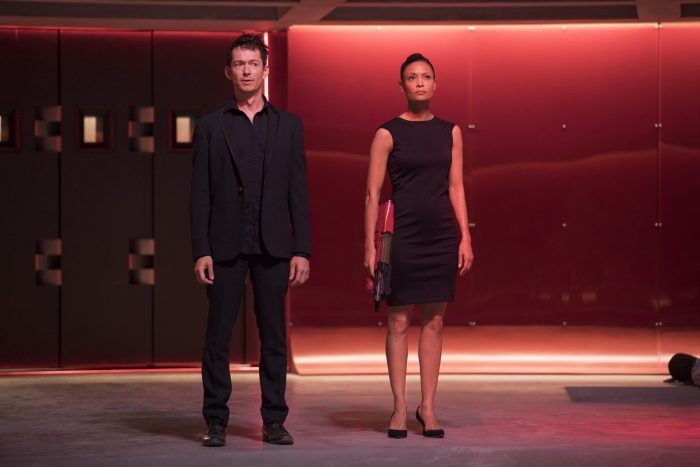 And finally, here's a shot of the sniveling Lee Sizemore (Simon Quarterman) standing alongside Maeve, who's carrying a red gun that almost blends into the background. From the color of the walls, it seems as if they're standing in the Westworld control room. Is Maeve taking Sizemore captive and forcing him to help her find her daughter? It sure looks that way.
We'll find out for sure when Westworld season 2 premieres on HBO on April 22, 2018.