James Mangold's Ford Vs. Ferrari Movie Eyes Matt Damon And Christian Bale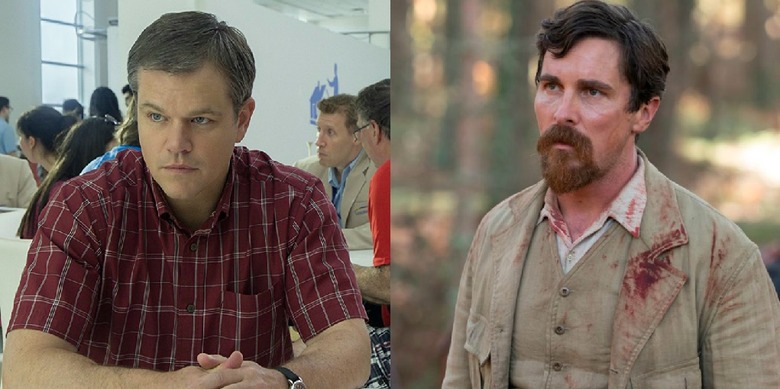 James Mangold's untitled Ford vs. Ferrari movie is starting to kick into gear. Two A-listers are circling the lead roles in the film following the battle for dominance between the two motor companies at the 1966 Le Mans World Championship.Matt Damon and Christian Bale are reportedly interested in playing the lead roles in the Logan director's next project. But no, they won't be playing "Ford" and "Ferrari," respectively.
According to Deadline, Damon is in talks to play Mustang designer Carroll Shelby while Bale is eyeing the role of his driver, Ken Miles, both of whom are ordered by Henry Ford II to build the world's fastest car.
This isn't the first time Bale has circled a role related to Ferrari. The actor was once attached to play the Italian automobile entrepeneur Enzo Ferrari in a Michael Mann-helmed biopic, Ferrari, but was replaced — ironically — by Hugh Jackman, the star of Mangold's phenomenal superhero film, Logan.
But this Ford vs. Ferrari movie is an entirely different beast altogether.
Here's how Variety describes the movie:
"Based on a true story, the film follows an eccentric, determined team of American engineers and designers, led by automotive visionary Carroll Shelby and his British driver, Ken Miles, who are dispatched by Henry Ford II with the mission of building from scratch an entirely new automobile with the potential to finally defeat the perennially dominant Ferrari at the 1966 Le Mans World Championship. The project doesn't have a formal title, but is known internally as the Untitled Ford vs. Ferrari Project."
It has shades of the now-delayed Current War, a biopic following the race for dominance over the electricity industry. But the Ford vs. Ferrari film wasn't actually Mangold's first choice at 20th Century Fox. The director was initially interested in helming a drama about the abduction of heiress Patty Hearst, but the film was canceled after Hearst objected to the source material.
However, Mangold has yet to choose his follow-up project to Logan. Mangold has been attached to direct an adaptation of Don Winslow's novel The Force for a while now, and the project recently brought on Mangold's Logan co-writer Scott Frank.
Whatever the case, all eyes are on Mangold as he follows up Logan, a genre-defying comic book movie that garnered critical acclaim and a Best Adapted Screenplay Oscars nomination. And with A-list stars Damon and Bale vying to work for him, his future projects are looking all the more exciting.