'Patrick Melrose' Clip: Benedict Cumberbatch Has Dinner With Voices In His Head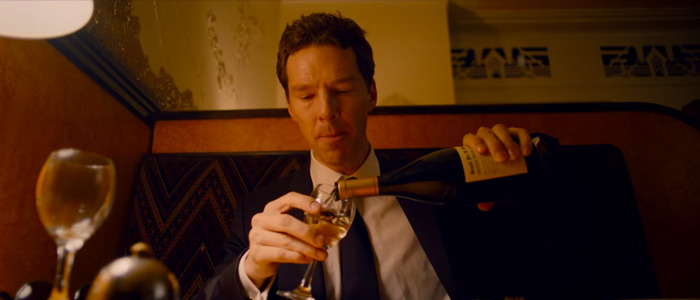 The most recent season of the BBC's Sherlock wrapped up in January of 2017, so if you've been waiting for star Benedict Cumberbatch to play another socially maladjusted misanthrope, Showtime's new drama series Patrick Melrose is here to help.
A new Patrick Melrose clip has arrived, as well as an official premiere date for the show. Watch Cumberbatch lose his cool at a fancy restaurant in the clip below.
Showtime has unveiled a brand new clip for the five-part limited series, as well as a release date of Saturday, May 12, 2018 at 9pm. Deadline has a quote from Showtime president David Nevins about why they decided to debut this show on a Saturday, one of the nights of the week that's traditionally been considered a dead zone for television:
"As the size of our programming slate continues to grow, it makes sense for Showtime to offer another night of premieres – allowing us the opportunity to eventize series like Patrick Melrose. Offering original content on Saturdays not only enables us to fully service our subscribers with diverse offerings, it gives viewers enough time to enjoy them all. And a series with the ambition and quality of Patrick Melrose is the perfect place to start."
Take a look at the new clip to get a sense of what we're in for with this one:
Patrick Melrose Clip
Well, that's certainly very...Cumberbatch-y, isn't it? I'm not entirely sure why the actor would be interested in taking on a role that, at least on the surface, appears to be so similar to a few he's played already. The memory of his Sherlock performance hangs over this clip like a specter, and the idea of him playing another narcissistic playboy (also recalling Doctor Strange) isn't super appealing to me. But I admittedly have not read author Edward St. Aubyn's award-winning series of novels on which this limited series is based, so perhaps there's more there than meets the eye.
There is one element of this series that stands out to me, however. Across its five episodes, the show will go from the south of France in the 1960s, to New York in the 1980s, and to Britain in the early 2000s. That's a lot of ground to cover, so maybe seeing Cumberbatch battle with these demons across multiple decades will prove more appealing than I'm giving it credit for.
Here's the show's official synopsis:
In a tour de force role, Benedict Cumberbatch plays the titular character who struggles to overcome the damage inflicted by a horribly abusive father and the mother who tacitly condoned his behavior. Academy Award nominee Jennifer Jason Leigh (The Hateful Eight) and Screen Actors Guild® winner Hugo Weaving (The Matrix trilogy) also star as the parents of Patrick Melrose. Rounding out this accomplished cast are Anna Madeley (The Crown), Blythe Danner (Meet the Fockers), Allison Williams (Girls), Pip Torrens (The Crown), Jessica Raine (Call the Midwife), Prasanna Puwanarajah (Doctor Foster), Holliday Grainger (Bonnie & Clyde), Indira Varma (Game of Thrones) and Celia Imrie (Bridget Jones's Baby). Each episode, devoted to one of the five novels, is written for television by BAFTA Award® nominee David Nicholls (Far from the Madding Crowd, One Day) and directed by celebrated film director Edward Berger (Deutchland 83, Jack). A co-production between SHOWTIME and Sky Atlantic, this gripping and humorous saga encompasses the South of France in the 1960s, New York in the 1980s and Britain in the early 2000s.
Patrick Melrose arrives on Showtime on May 12, 2018.