'Avengers: Infinity War' Trailer Breakdown: Perfectly Balanced, As All Things Should Be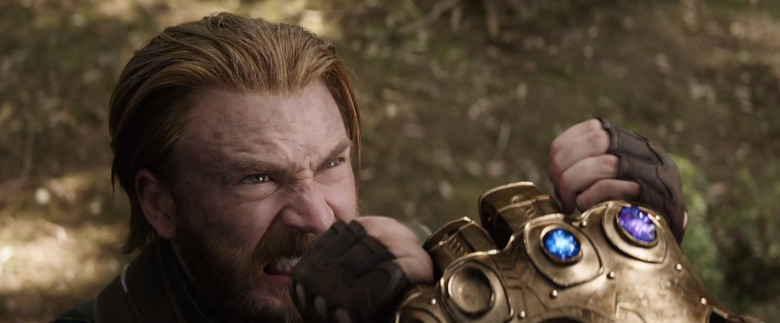 The brand new Avengers: Infinity War trailer debuted this morning, and it features a plethora of new footage of Earth's mightiest heroes and the galaxy's fiercest guardians coming face-to-face with their greatest threat yet: the Mad Titan known as Thanos (Josh Brolin).
The new trailer gives us a better vibe for how the action plays out in the movie, including showing plenty more footage from the battle in Wakanda, as well as the fight on Thanos' destroyed homeworld of Titan. But if you were patiently waiting for a shot of Hawkeye, you've come to the wrong place.
Let's dig in with our Avengers Infinity War trailer breakdown.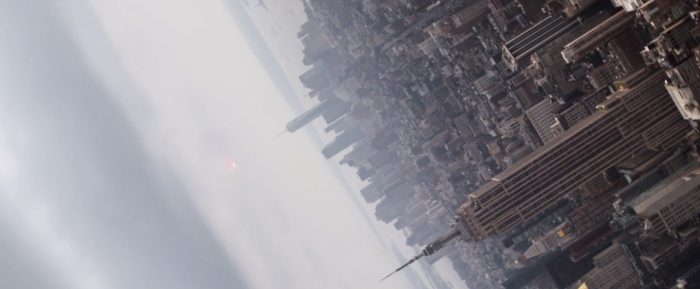 Our opening shot has New York City upside down, which seems appropriate since that's what the arrival of the latest threat to Earth's safety is going to do to the Marvel Cinematic Universe. In the distance you can see something glowing and coming towards us. It's very likely that this is the circular Q-Ship (as it's reportedly called) that appears above the skyline and creates some trouble for our heroes.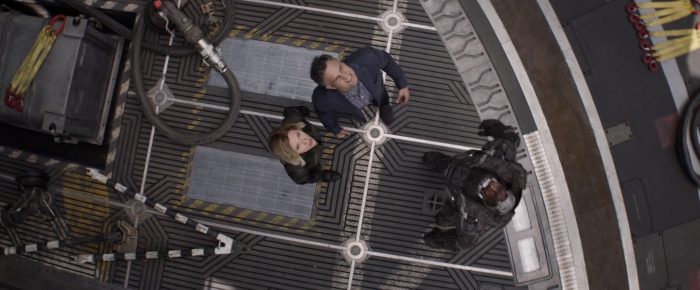 Natasha Romanoff (Scarlett Johansson), Bruce Banner (Mark Ruffalo), and James Rhodes (Don Cheadle) look up to the sky, the latter suited up in his War Machine suit. However, are they looking up at the arrival of the ship in New York City, perhaps from the old Stark Tower, or from the new Avengers headquarters in upstate New York instead? There might even be a chance that this is a shot from Wakanda since these characters end up there and could be looking to the sky at the Outrider invasion.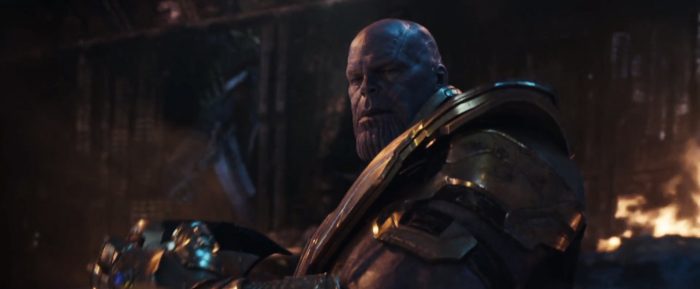 During the opening moments leading up to this shot, we hear Zoe Saldana as Gamora say, "The entire time time I knew him, he only ever had one goal: to wipe out half the universe." It looks like Thanos is on his way to doing so, since he has the Power Stone (purple) that was introduced in Guardians of the Galaxy in place on the Infinity Gauntlet in this scene. He's also decked out in his full armor, and that's the first time we haven't seen him sleeveless like he just got done at the space gym.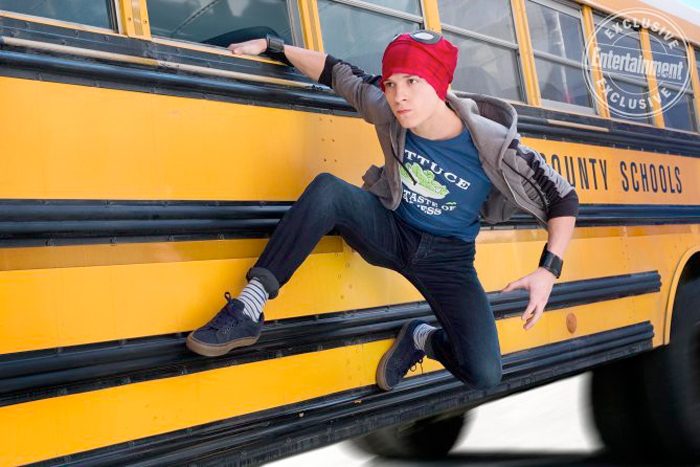 This isn't the exact shot from the trailer because the action happens too fast for a decent enough screenshot. But again, we're wondering how Peter Parker (Tom Holland) gets on the side of this school bus filled with his classmates heading to a field trip without anyone seeing him. After this, he swings off under a bridge and skips across the river, likely heading towards...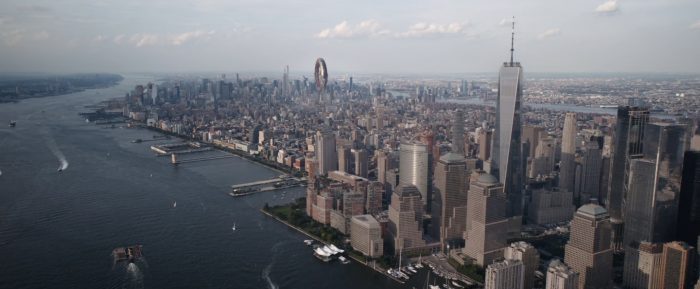 There's that Q-Ship we were talking about before. Most intriguing about this development to me is that considering the placement of this ship, is there really going to be any way that Marvel's street-level superheroes (aka all of The Defenders) don't have some kind of big reaction to these events when the time comes? But that's a conversation for another time.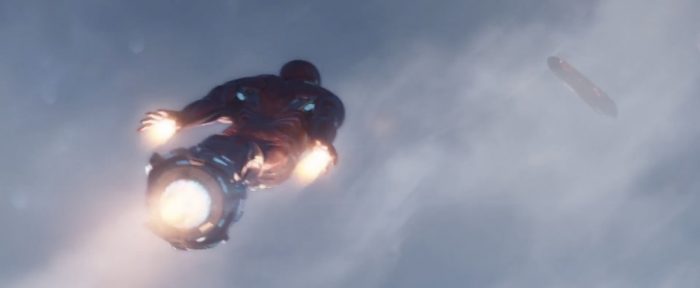 Eventually that Q-Ship takes off from Earth, and Tony Stark (Robert Downey Jr.) chases after it. At first, he's just using his normal repulsors to rocket after it, but then he activates an even bigger boost so he can keep up with it. Don't forget that Peter Parker is likely already on that Q-Ship since the Super Bowl spot previously showed him clinging to the side of it as it left the Earth's atmosphere.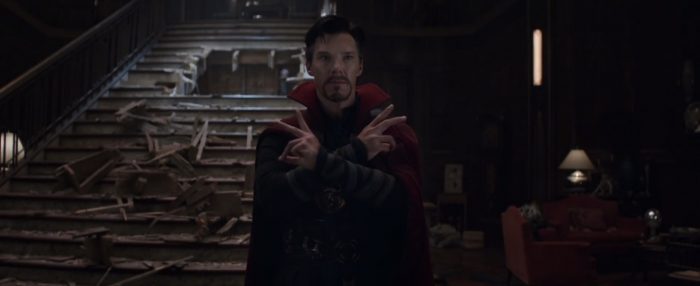 Doctor Strange (Benedict Cumberbatch) is ready to keep the Infinity Stone in his possession safe. The Eye of Agamotto is the Time Stone (green), and Thanos needs that to complete his universe-balancing collection.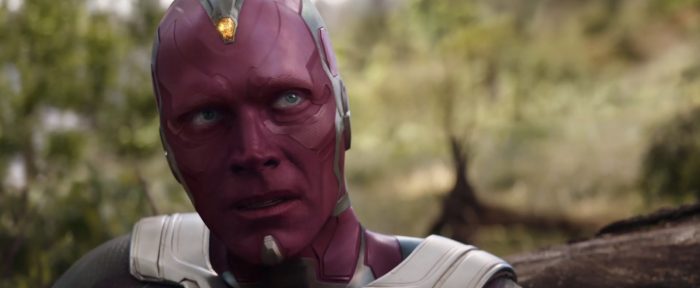 Meanwhile, the Mind Stone (yellow) lies not so safely on the head of Vision (Paul Bettany). It gave the artificial being life, and it also gives him his powers, including a beam he can blast from the stone itself. But if Thanos is going to need that to complete his collection, that doesn't bode too well for Vision. There might be hope, though.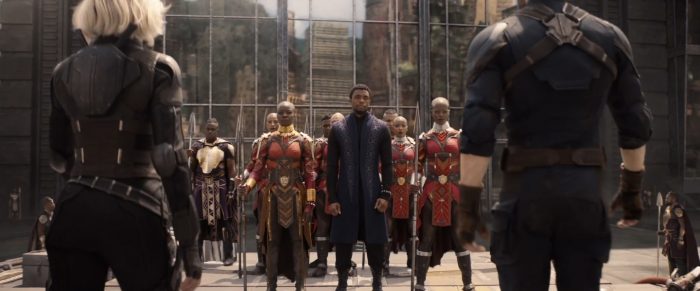 In an attempt to keep Vision safe from Thanos and his Black Order (after some of them attempted to pull the stone from his head earlier in the movie, as seen in the trailer), Captain America (Chris Evans) enlists the help of Wakanda and their king T'Challa, aka the Black Panther (Chadwick Boseman). Here's the proud king standing with the Dora Milaje, including Danai Gurira as Okoye by his side.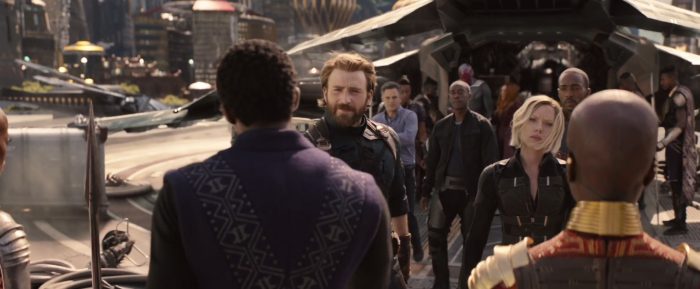 It looks like they've brought the whole crew with them to Wakanda too. In the back we see Bruce Banner and James Rhodes again, but you can also spot Sam Wilson, aka Falcon (Anthony Mackie), and Elizabeth Olsen, aka Scarlet Witch. They'll all be trying to defend Wakanda and protect Vision from Thanos and his army.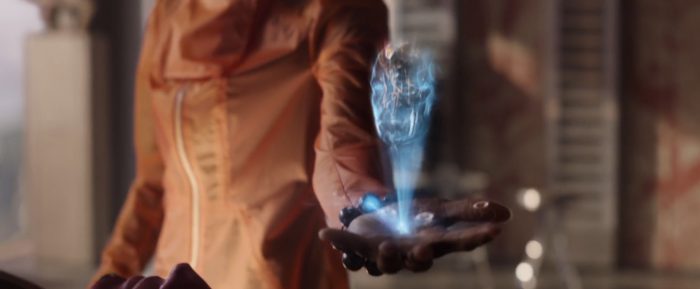 Furthermore, it looks like T'Challa's sister Shuri (Letitia Wright) is tasked with trying to figure out how to remove the Mind Stone from Vision without killing him. Is it possible? If anyone could figure it out, it would be Shuri.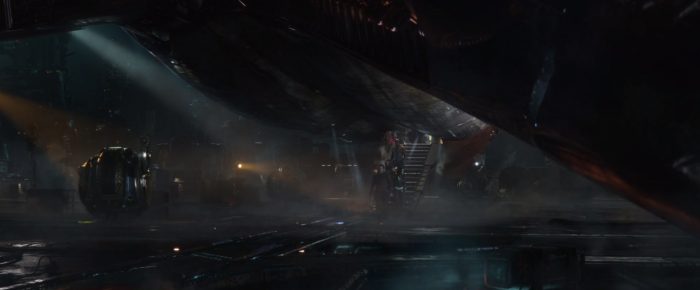 Meanwhile, back in space, it looks like the Guardians of the Galaxy have returned to Knowhere. Notice that mining vehicle Rocket Raccoon flew around in during the sequence when they had to escape Ronan and his minions? It looks like maybe the place has been abandoned. Or, perhaps more likely, destroyed. Why, you may ask? Well, don't forget that one of the Infinity Stones was put into the possession of The Collector by Asgard before the Guardians ever tried to sell him the Power Stone. It's the Reality Stone (red), or the Aether as it was referred to when it appeared in Thor: The Dark World. So they're probably trying to track it down before Thanos does. But are they too late? It looks pretty dead there.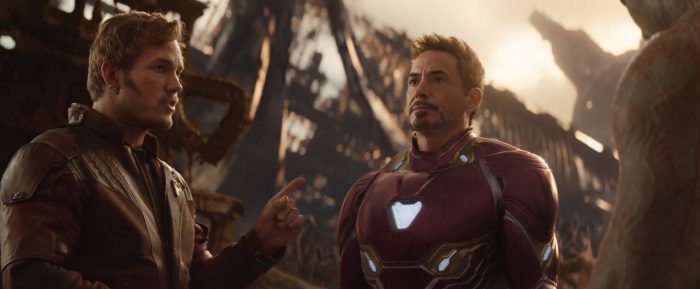 Over on Titan, Star-Lord (Chris Pratt) argues that Tony Stark's plan to fight Thanos on Titan is good, but it's pretty dumb. The clashing of these two personalities should be pretty funny. Also, notice that Drax the Destroyer is in this scene on the right, and his literal interpretation of words should be something that Tony Stark makes a smart ass remark that Drax doesn't get.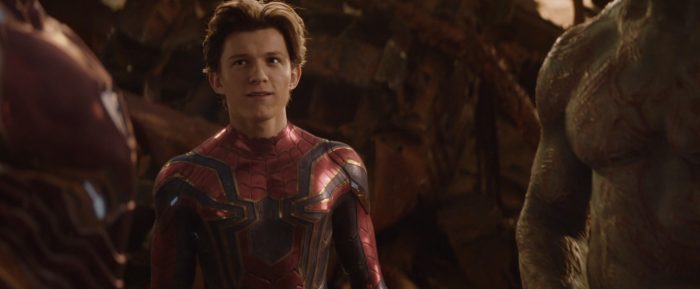 Peter Parker is present in this scene too, and the look he gives during this exchange almost has a "Who the fuck is this guy?" vibe. Since he's pretty loyal to Tony Stark, especially since he built his suit and everything, it's not likely that he'll be keen on whatever Star-Lord has to say.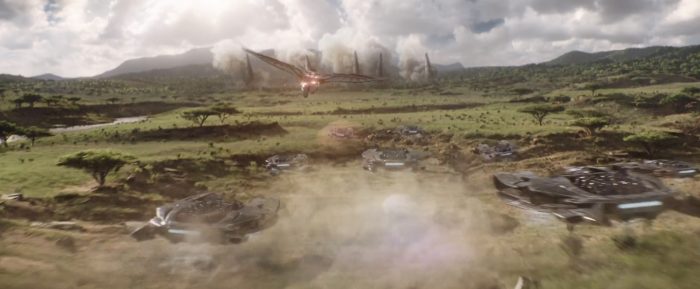 Back in Wakanda, the rest of the Avengers have their own trouble. Falcon is flying through the air with a bunch of Wakandan ships along with him. They're heading to those structures in the distance. We're not sure exactly what they are, but we'll get another glimpse as to what's going on over there a bit later in the trailer.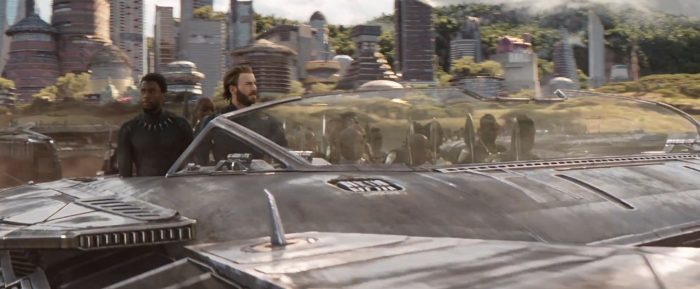 Black Panther and Captain America are riding together away from Wakanda and towards those structures. Whatever they are, that's where the huge battle is going to be taking place between all our heroes and Thanos' army of Outriders.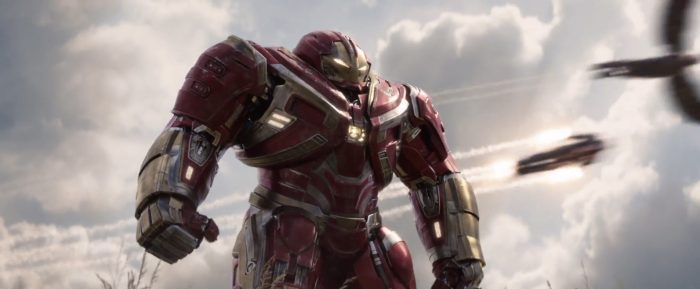 Joining the fight is none other than a new version of the Hulkbuster armor. But as the LEGO sets keyed us into a little while back, it's not Tony Stark inside the suit this time, but rather Bruce Banner. Also, look to the sky and you'll see Falcon flying with what is likely War Machine by his side. However, the streak that flies by appears to have a red color to it, so maybe it's Iron Man making a return to Earth after the fight on Titan didn't go so well.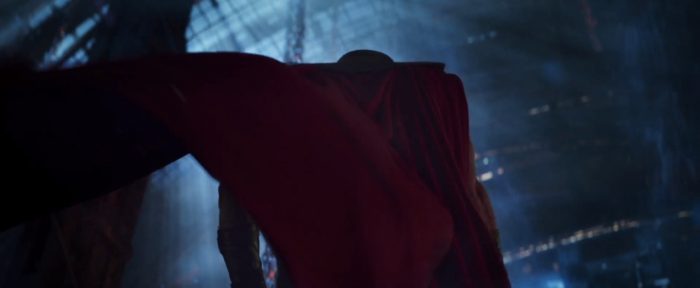 Hey, don't forget Thor (Chris Hemsworth) is in this movie too. Even though he was without his cape for most of Thor: Ragnarok, it looks like he's going to get it back for Infinity War. His long locks may be gone, but Thor definitely needs a cape for batter.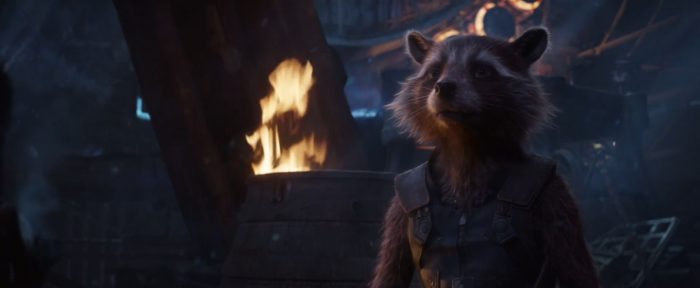 Rocket Raccoon appears to be in the same place as Thor as this shot, or at least that's what the aesthetic of each setting hints at. But Rocket could easily be on Knowhere in this shot too, since that setting also looked dark as well. We do know that Rocket is with Thor on his quest to get a new weapon in his hand after Mjolnir was destroyed in Thor: Ragnarok.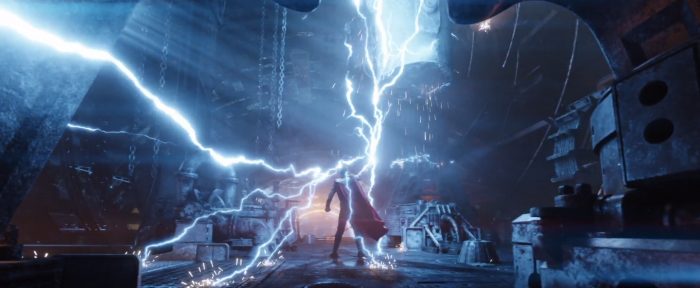 Speaking of which, it looks like that's exactly what Thor is trying to do in this scene. We're not sure what he's doing with his lightning here, but there doesn't appear to be a new weapon in his hand just yet. Then again, they could have removed it with visual effects to avoid spoiling it in the trailer.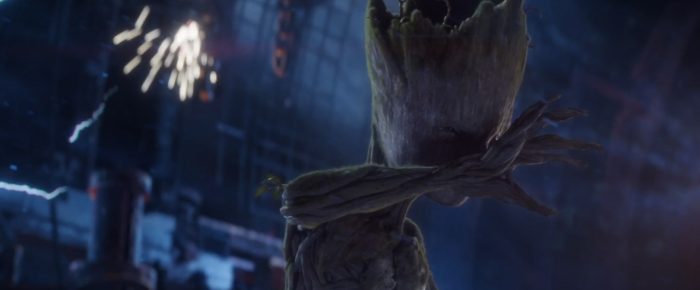 The lightning is a little too bright for teen Groot to handle, which is kind of funny since he's so used to looking at his mobile device all the time and should be used to it by now. During this sequence we also hear a voice we haven't before saying, "The end is near." It's not Josh Brolin as Thanos, but it's likely a member of the Black Order.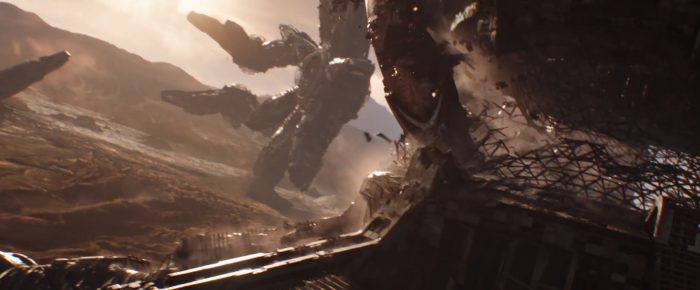 In another part of the universe, the Q-Ship is crashing down on Titan. Are Iron Man, Spider-Man, and Doctor Strange on board? Also, what's that starfish-like shaped structure in the background. Is that a ship? If so, whose ship is it?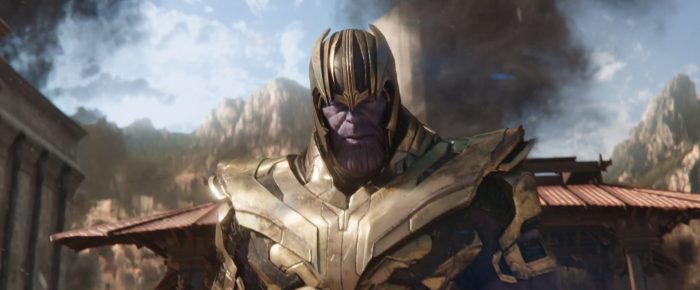 Here's another shot of Thanos in his full armor. But that's not any location we've seen before on Earth. At first glance, you might think it's Asgard, but we know that entire place got destroyed in Thor: Ragnarok. Perhaps this is Titan before it ended up getting destroyed. At the very least, it's easy to see this is a flashback to the past, because we see him looking down at a little head of colorful hair and then...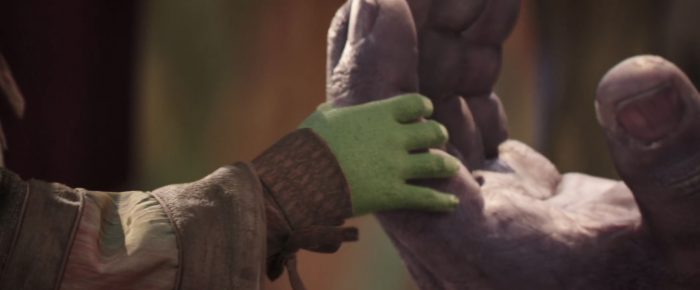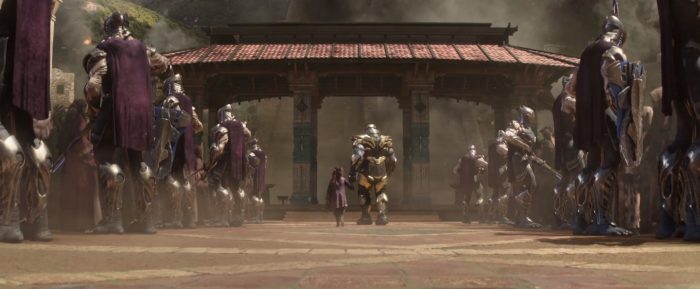 We see him embracing a little green hand and then turning and walking with this little girl, who undoubtedly must be his adopted daughter Gamora. It looks like there's smoke or dust in the background, so maybe this isn't Titan, but another planet Thanos brought destruction to – maybe even Gamora's home planet. Perhaps this is where he took her away from her home and trained her to be a weapon.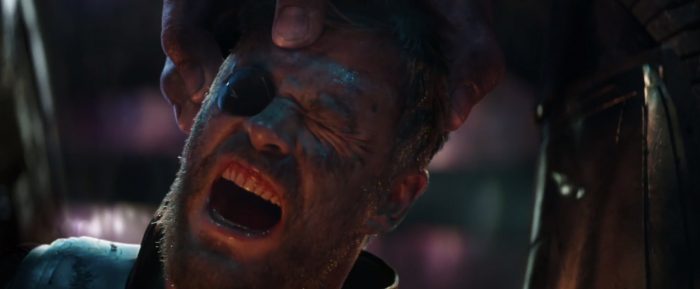 Anthony and Joe Russo have said some of our favorite characters won't come out of this alive, and in this shot things don't look too hot for Thor. Thanos is squeezing his head and it's clearly pretty painful, even for the god of thunder. Thor still has his eyepatch though, so this is likely from early in the movie, probably picking up where the Thor: Ragnarok mid-credits scene left off. Merchandise has shown Thor with his eye back at some point, so we know he lives through his first confrontation with Thanos, just like Bruce Banner, who is the one who has to tell everyone back on Earth about him.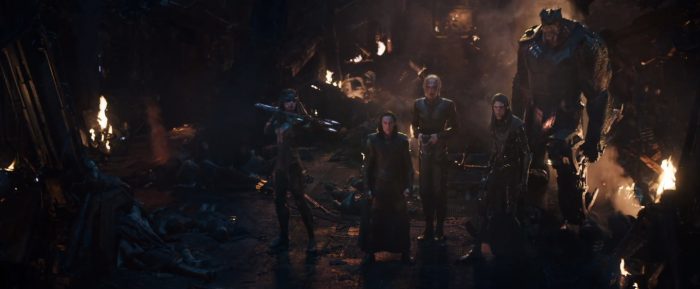 However, one Thor character who might not be so lucky to come out of this scene alive is Loki (Tom Hiddleston). Here he stands with all four members of Thanos' Black Order (it's the first time we've seen them all so clearly in footage). He offers up the Cosmic Cube to Thanos after he secretly stole it from Odin's vault in Thor: Ragnarok. Surely Thanos won't be too happy with Loki after he failed to carry out the plan he originally executed in The Avengers, and if Thanos is going to show that no character is off limits for death, killing Loki would send that message loud and clear early on.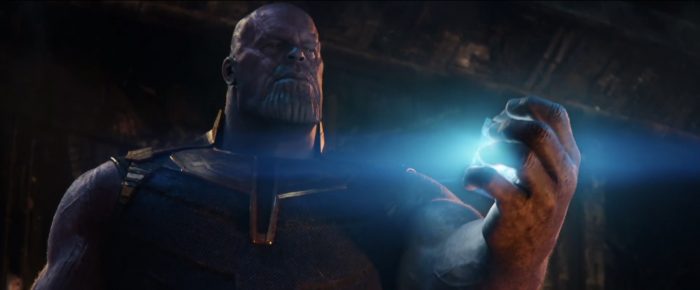 Here's Thanos standing with the Cosmic Cube, which he promptly smashes to take the Space Stone (blue) inside of it and place it on the Infinity Gauntlet. This will be the second Infinity Stone he collects since see him placing it on the metal glove with the Power Stone (purple) already in place.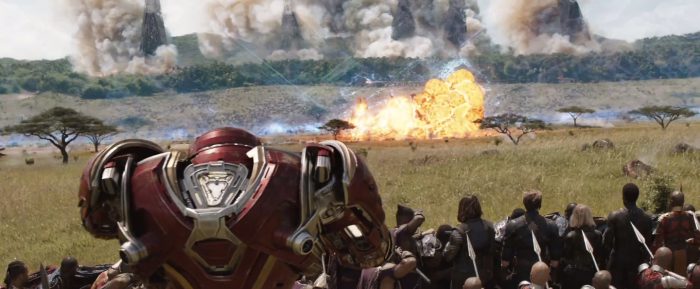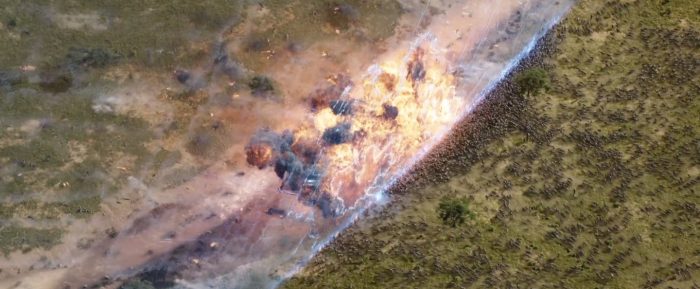 Here are those structures we saw in the distance before. Now it's clearer that these are the ships the Outriders arrive in on the outskirts of Wakanda. As you can see, the shield that keeps Wakanda hidden is currently doing its job, but that explosion shows that it won't keep them out for long, and that will give our heroes plenty of enemies to kick the crap out of.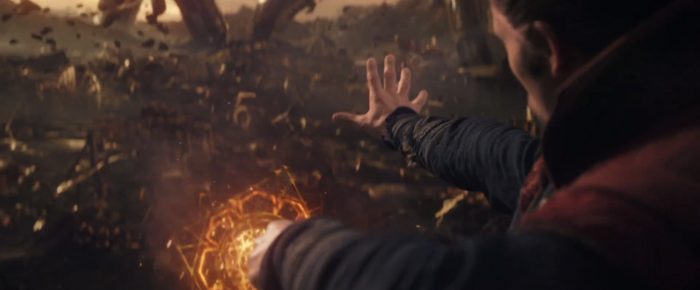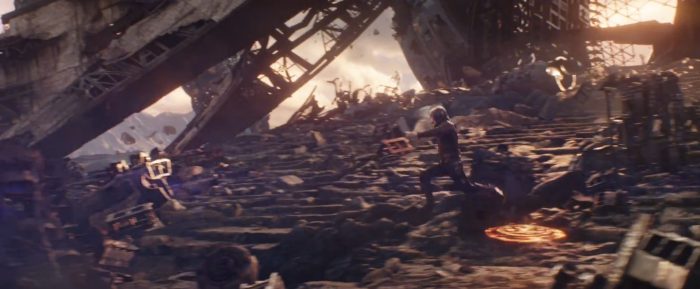 Here's a sequence that was included in the footage that was screened at both The D23 Expo and San Diego Comic-Con last year. Doctor Strange is using his magic to conjure up platforms for Star-Lord to leap across in a battle (presumably) with Thanos. Seeing how all our heroes use their powers to help each other and team up against this threat will be one of the most exciting things of the movie.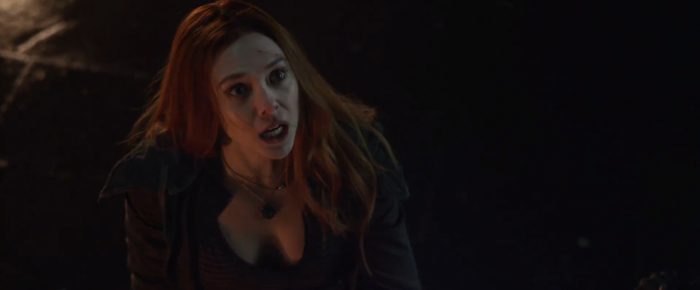 Scarlet Witch doesn't get much play in this trailer, and she looks fearful in both shots. We're not sure where she is or what's happening in this one, but my best guess is that it's from the first time the Black Order tries to take the Mind Stone from Vision in their first encounter.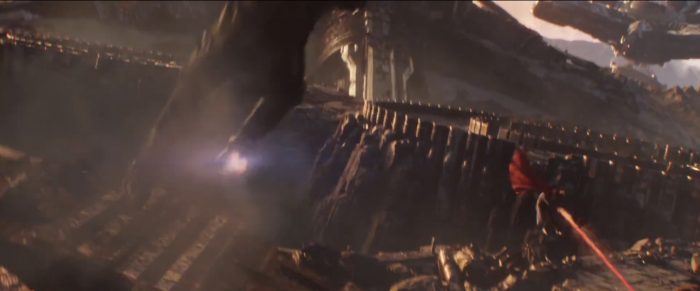 There are cuts back and forth between the action on Titan, including this moment of Star-Lord blasting off with his rocket boots as Doctor Strange levitates in the background and is using his magic, perhaps trying to restrain Thanos with whatever mystical weapon he's conjured up.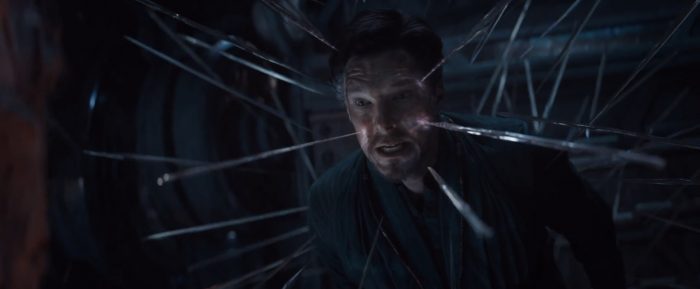 Speaking of Doctor Strange, we also get this shot of the Sorcerer Supreme looking not so great. There appear to be massive needles sticking out from his face and body, like some kind of giant acupuncture treatment. He's being tortured, and may end up losing the Time Stone (green) here. But to whom?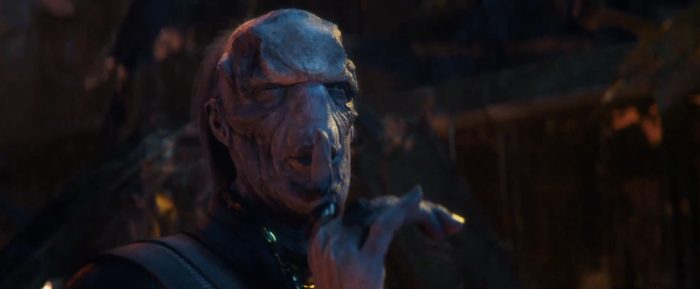 Could it be Ebony Maw? This is one of the members of Thanos' Black Order, but we're not sure he's on the opposite end of this torture shot. After all, the lighting is a bit different. I wonder if this might be back on the ship that all the Asgardians were on before Thanos showed up to wreak havoc on what was left of them.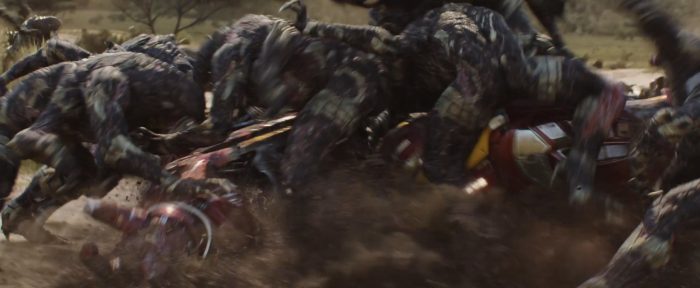 Here's a good shot of the Outriders in action as they've just knocked down the Hulkbuster armor. As we said before, that's Bruce Banner in there, and this would be a hell of a moment for Hulk to burst out of there and beat the hell out of these four-limbed monsters.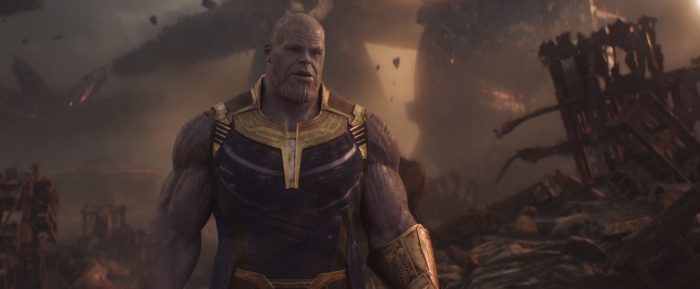 Thanos offers a haunting taunt when he says "I hope they remember you." Clearly the fight with Thanos on Titan didn't go very well, as evidenced by...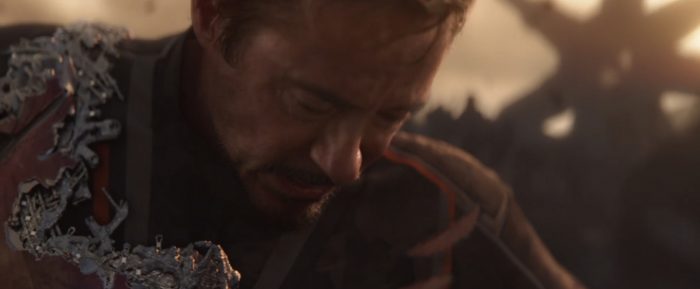 Tony Stark looks like he's lost hope. On top of that, his armor looks to have been nearly completely destroyed. Only part of it remains on his body. Will this be the movie where Tony Stark meets his end?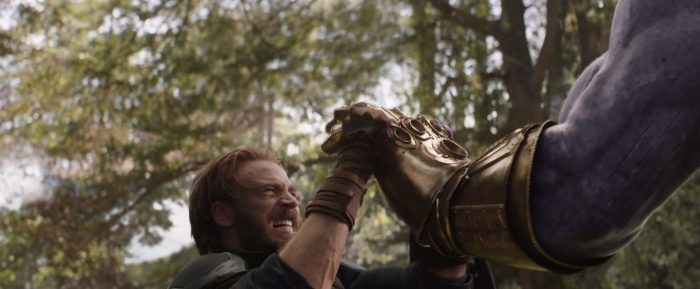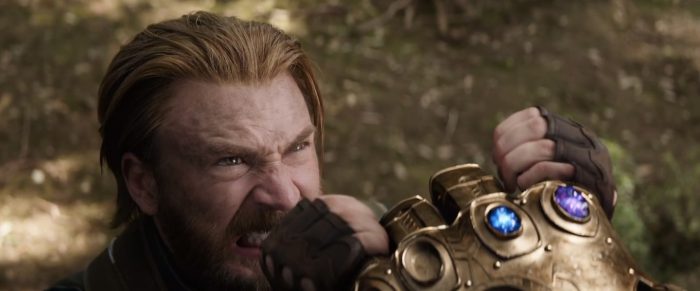 Captain America fans, eat your heart out. Look at this damn fine superhero. He's holding his own, pushing back against the Infinity Gauntlet of Thanos. The Power and Time stones are in place. How is these scene going to end? As we know, Steve Rogers can do this all day, but Thanos punches a bit harder than he might be used to.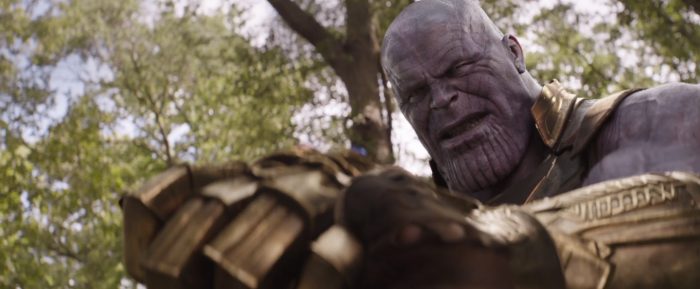 Even so, Thanos looks like he's surprised and even frustrated that Captain America is putting up this strong of a resistance against his strength. The forest would indicate that this is in Wakanda too, which is where the final battle takes place. Previous details revealed that pretty much everyone will be on hand for this fight, but considering how things look to have gone on Titan for Iron Man, Spider-Man, Doctor Strange and Star-Lord, they might not make it back down to Earth.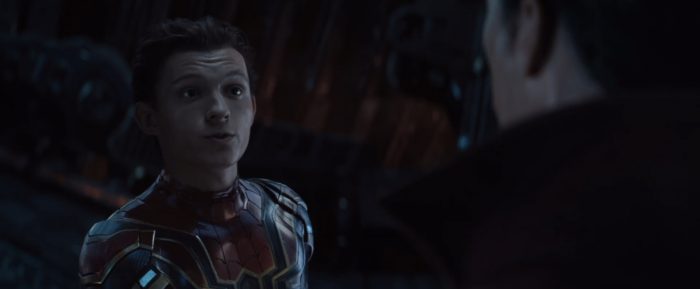 Finally, you've gotta love Peter Parker in this trailer tag gag. First of all, the Iron Spider suit looks badass on him. Second of all, I love that the joke of everyone being confused by Doctor Strange's names continued. Kaecilius was confused about it in the Sorcerer Supreme's debut movie, and now Peter Parker thinks that's his superhero name.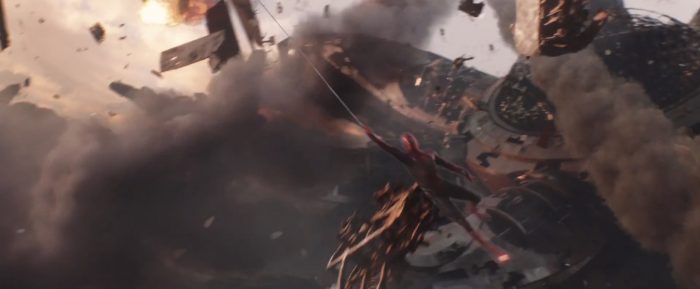 Then Spidey swings through the jagged, broken structures with ease on Titan as debris flies around him. We're still looking forward to seeing Spidey's new suit accessory on display in this movie.
***
That's all we could glean in our Avengers Infinity War trailer breakdown. There are likely plenty of secrets that haven't been revealed from the movie yet, and plenty of surprises in store. This is going to be the blockbuster event of the year, and we can't wait to see how it turns out when Avengers: Infinity War on April 27, 2018.