'Happy Anniversary' Trailer: Ben Schwartz And Noël Wells Fall In And Out Of Love In Netflix Rom-Com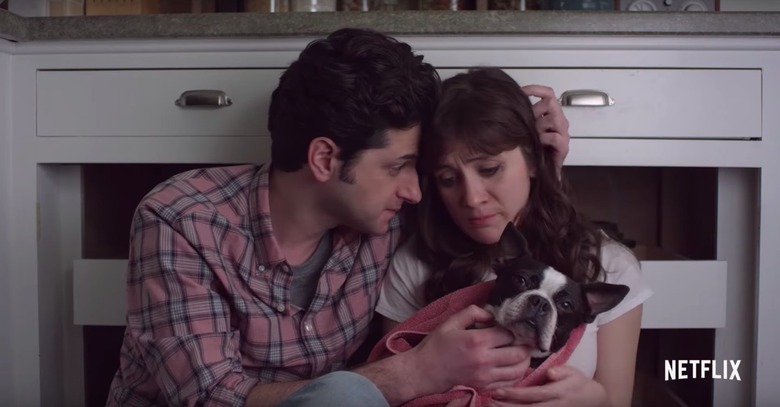 It's a phrase on billions of greeting cards, exchanged between millions of couples who may or may not mean it. "Happy anniversary." Now it's the title of a Netflix romantic-comedy starring Ben Schwartz and Noël Wells. But the story of a couple who grapple with their relationship on the day of their third anniversary may be more suited to tragicomedy.
Happy Anniversary Trailer
"I'm not happy," Molly (Wells) declares in response to Sam's tepid wish of "happy anniversary" on the third anniversary of their relationship. With that declaration, the couple are sent spiraling into a crisis, wondering if the next move is to settle down or break up.
Happy Anniversary takes the whimsical 500 Days of Sunshine approach to sad-hearted matters like these, showing the rise and fall of Sam and Molly's turbulent relationship through a series of "firsts": first date, first dog, first fight. It's a cute premise for the Netflix original comedy starring two talented comedians. Schwartz first stole the show as the meme-able Jean-Ralphio Saperstein in Parks and Recreation and has established himself as a reliable character actor, while Wells has become a Netflix original regular — appearing in Master of None and The Incredible Jessica James. She also made her directorial debut in the spirited comedy Mr. Roosevelt.
But there's more truth to the tale — director Jared Stern, who makes his directorial debut with Happy Anniversary, has admitted that it's a semi-autobiographical story. And it does deal with very real issues: Molly wants to start a family but is worried about repeating her parents' mistakes, Sam is neurotic and unreliable. The film takes place over the course of one day, and as the anniversary nears its end, the two of them must decide if this is what they really want in life.
The film also stars Annie Potts and Joe Pantoliano. It was produced by Marc Provissiero, Helena Heyman, and M. Elizabeth Hughes. Stern and Scott Fort serve as executive producers, and Bryan DeGuire serves as co-producer.
Here is the official synopsis for Happy Anniversary:
On their three-year anniversary, Molly and Sam are at a crossroads and need to decide whether to move forward or call it quits.
Happy Anniversary will premiere on Netflix on March 30, 2018.