'Pale Blue Dot' Enlists Jon Hamm To Star Opposite Natalie Portman In Astronaut Drama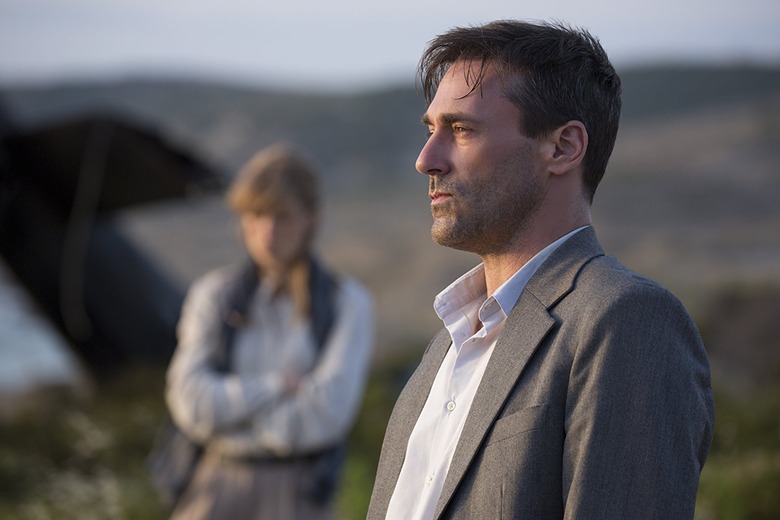 Jon Hamm will soon descend from the heavens as an angel in Good Omens, but he will also be heading skywards once again — this time into outer space.
The Baby Driver actor is in negotiations to star opposite Natalie Portman in Pale Blue Dot, an astronaut drama directed by Legion and Fargo showrunner Noah Hawley.
Variety reported that Jon Hamm is in talks with Fox Searchlight to join the cast of Pale Blue Dot. The project already stars Portman in the lead role as a successful female astronaut who slowly starts to lose touch with reality once she finishes her mission and tries to adapt to her regular life on Earth. Hamm will play Portman's fellow astronaut who she aggressively pursues after returning to Earth.
It's a great piece of casting on both parts. Portman has proven with Annihilation that she can deliver a powerfully introspective, unhinged performance, while Hamm is — well, have you seen him? He's a good-looking actor with charisma practically oozing out of him.
Hamm has been trying to rebel against his classically handsome image from Mad Men with offbeat, against-type supporting roles in films like Baby Driver and Unbreakable Kimmy Schmidt. But it sounds like Pale Blue Dot will be a return to that straight man role for him, unless Hawley and writers Brian C. Brown and Elliott DiGuiseppi manage to throw in an unexpected twist.
I have no doubt that in the hands of Hawley, this film will buck our expectations. Hawley has tested the limits of TV with his groundbreaking character work on Fargo and surreal mind-trips on Legion. But Pale Blue Dot is all the more exciting, as it will be his feature directorial debut.
Pale Blue Dot explores the theory that astronauts who spend long periods of time in space lose their sense of reality when they return home. The film was originally in the works at Fox Searchlight with Reese Witherspoon attached to star, but Portman stepped in to replace Witherspoon earlier this year. However, Witherspoon stays on as a producer.
The rest of the cast for Pale Blue Dot has not yet been announced. Hawley remains a busy man as well, with both Legion and Fargo currently airing on FX. However, with Legion season 2 coming next month and the fourth season of Fargo presumably not returning until 2019, Hawley could conceivably begin shooting Pale Blue Dot this year.