Taika Waititi Will Play An Imaginary Hitler In 'Jojo Rabbit'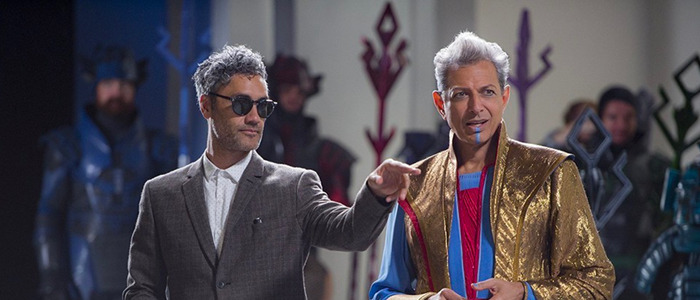 Taika Waititi has his next role lined up, and it's a doozy. The Thor: Ragnarok filmmaker will play an imaginary Adolf Hitler in the film Jojo Rabbit. Waititi also wrote and will direct the satire, which focuses on a young boy and his relationship with his imaginary friend – Hitler – set during the backdrop of World War II.
After ushering Thor: Ragnarok to blockbuster success, Taika Waititi is moving on to a quirky, strange-sounding indie satire. The Wrap reports Waititi will co-star in his upcoming film Jojo Rabbit, and his role is certain to turn some heads. Waititi will play an imaginary version of Adolf Hitler, conjured up by a lonely boy during World War II. Here's the film's synopsis.
JOJO RABBIT, by Taika Waititi (THOR, HUNT FOR THE WILDERPEOPLE), blends his signature humor, pathos, and deeply compelling characters in a World War II satire about a ten-year-old boy who, ridiculed by his peers and misunderstood by his mother, can't quite figure out how to fit in. As the naïve young German struggles to understand his place in an increasingly Fascist regime, he resorts to an imaginary friend who can offer advice and help him cope.
"It's my version of... a lonely boy's best version of his hero, which is really his dad," Waititi said.
This sounds wild, and while I'm sure it'll be controversial, I'm incredibly curious to see how Jojo Rabbit turns out. Waititi's Jojo Rabbit script previously appeared on the 2012 Black List – the annual survey highlights the hottest un-produced screenplays of the year, based on the votes of hundreds of executives. There, it had a slightly different synopsis than the one above:
After being severely hurt by a grenade at Hitler youth camp, a prideful and nationalistic ten-year old boy discovers that his mother is hiding a fifteen year old Jewish girl in their house.
Jojo Rabbit will produced by Fox Searchlight, and is expected to be one of Searchlight's first releases under Disney, per the recent Disney-Fox deal. "We believe in Taika as a filmmaker, and we felt like this was a movie where we can make it on our scale and the right way...He doesn't have to sand off the edges, doesn't have to change the humor," Matthew Greenfield, head of production for Fox Searchlight, told Vanity Fair.Ragnarok has made Waititi in high-demand, and he has a few potential projects in the works. One is Bubbles, a stop-motion movie about Michael Jackson's pet chimp. Waititi is also rumored to be on the shortlist to direct the live-action Akira.