'Avengers: Infinity War' Is A Direct Sequel To 'Civil War', Set Two Years Later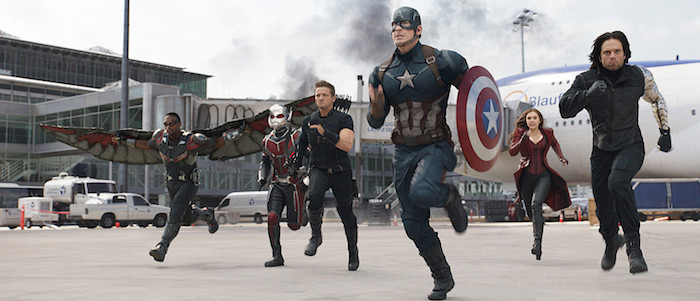 It's taken 10 years and 18 movies to get to Avengers: Infinity War. The culmination of the entire Marvel Cinematic Universe, Infinity War has the unenviable task of tying together dozens of storylines and 70-plus characters. But there are some Marvel movies that play a bigger role than others.
The last Marvel film to hit theaters was Black Panther — but the solo superhero movie has little to do with the rest of the MCU, residing in its own fantastic corner of the world. Instead, you'll have to go back two years to find the movie that will have the biggest impact on Infinity War: Captain America: Civil War.
Captain America: Civil War has been dubbed Avengers 2.5 thanks to its huge cast of characters and game-changing plot, which ended up breaking up the Avengers and turning half of the team into fugitives. So it's no wonder that Civil War is the direct lead-up to Infinity War and not the second Avengers film, Age of Ultron.
In /Film's visit to the Avengers: Infinity War set, directors Joe and Anthony Russo revealed that Infinity War and Civil War are thematically linked and that Infinity War essentially serves as a direct sequel. "It's a direct corollary to the end of Civil War, you're going into this film with the ramifications of that film at the forefront of this film," Anthony Russo said. He added:
"For us, since we entered the MCU as storytellers, and we picked up the story with Winter Soldier, we've been carrying a thread forward from that point, a narrative thread. And for us this movie is very much about, how do we move forward from Civil War in a big way, and what happens to that division between the Avengers and how does that affect them. What does that mean when the greatest threat they'll ever face comes to them, in that kind of a condition, in that kind of divided condition."
Infinity War takes place roughly two years after the events of Civil War. The 2016 film saw Steve Rogers (Chris Evans), Natasha Romanoff (Scarlett Johansson), Wanda Maximoff (Elizabeth Olsen), Sam Wilson (Anthony Mackie), and Clint Barton (Jeremy Renner) become fugitives from the law for their defiance of the Sokovia Accords by protecting Bucky Barnes (Sebastian Stan). Meanwhile, the once-mighty Avengers team is left a shell of its former self, with only Tony Stark (Robert Downey Jr.), Vision (Paul Bettany), and an injured James Rhodes (Don Cheadle) making up its members.
The Russo brothers directed Captain America: Civil War after making their MCU debut with The Winter Soldier. It makes perfect sense that the directing duo would draw primarily from their most recent Marvel film for their next one.
But Infinity War won't be a standalone film that only takes Civil War into account and ignores all other Marvel films like a certain other Avengers sequel (*cough* Age of Ultron). The Russo brothers read several other Marvel scripts between Infinity War and Civil War, and they'll be continuing storylines planted in other movies. Joe Russo told us:
"They all lead in in their own way, I think. As far as plot elements that actually drive towards the story, again, I think Marvel does a great job of segmenting the movies so that you can have your own experience in each film. I think from a plot standpoint, if there's any corollary, Ant-Man 2 probably has some elements that stitch in."
Interestingly, Ant-Man and the Wasp will be released two months after Infinity War. It might directly deal with the fallout of the third Avengers movie — even if Scott Lang is nowhere to be seen in the Infinity War marketing.
Looking Ahead to Avengers 4
The Russo brothers still have Avengers 4 next on their slate — a universe-changing movie that will be the true culmination of what the duo have been working toward since The Winter Soldier.
"[I]t's not only a culmination of the last ten years of Marvel storytelling, but for us, it's a culmination of our journey as directors to the Marvel universe," Joe Russo said. "I think having at our disposal all of those characters and allowing ourselves to refilter them through the way that we see the universe, the way that we feel about the characters, the themes that we really want to bring to the forefront, that's what these two movies are for us."
Avengers: Infinity War is set to hit theaters on April 27, 2018. Avengers 4 will be released on May 3, 2019.