Netflix Trailer Round-Up: '6 Balloons', 'Paradox', 'Sun Dogs'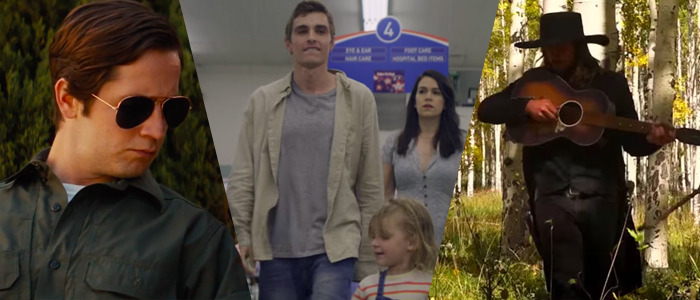 Since Netflix will be releasing a mind-blowing 700 original movies and TV shows this year alone, it's going to be increasingly difficult to keep track of all their content you should have on your radar. With all of those pieces of content to distribute, the streaming service has released a batch of new trailers, and you know what that means: it's time for another Netflix trailer round-up. Take a look at the trailers for films like 6 Balloons, Paradox, and Sun Dogs below.
6 Balloons Trailer
Abbi Jacobson (Broad City) and Dave Franco (Neighbors), two actors best known for their comedic work, wade into the deep end of drama in 6 Balloons, a story about a woman who tries to get her heroin-addicted brother to a detox clinic. But the problem is she's an enabler, and with his two-year-old daughter along for the ride, the brother's desperation seems to become unquenchable.
Both actors look as if they deliver strong performances here, and this seems like the type of movie that will be totally heartbreaking. It's also set during one night, so depending on its quality, it may end up joining the pantheon of great one-night stories set in Los Angeles. (Michael Mann's Collateral might be the king of that particular sub-genre.) 6 Balloons hits Netflix on April 6, 2018.
Paradox Trailer
The opening seconds had me a little worried about this one, but as soon as I realized it's essentially an experimental musical starring singer/songwriter Neil Young and Promise of the Real, it made a lot more sense. Bonus: Paradox is directed by Daryl Hannah, the star of Splash and Kill Bill. She's helmed a few shorts before, but this marks her feature directorial debut. It arrives on Netflix on March 23, 2018.
Sun Dogs Trailer
Daryl Hannah isn't the only actress taking her first swing at directing a feature in this round-up: enter Jennifer Morrison, the star of Once Upon a Time and House, who directed Sun Dogs. This one debuted at last year's Los Angeles Film Festival, where The Hollywood Reporter called it "a comic drama that deftly navigates a tricky line." It certainly seems to walk right up to that line in this trailer. A mentally challenged kid spying on people he perceives to be terrorists in the wake of 9/11 is tough subject matter, but it sounds like Morrison may have pulled it off. We'll see for ourselves when Sun Dogs lands on Netflix on April 6, 2018.