Stephen Hawking Dead At 76, Leaving Behind A Science And Pop Culture Legacy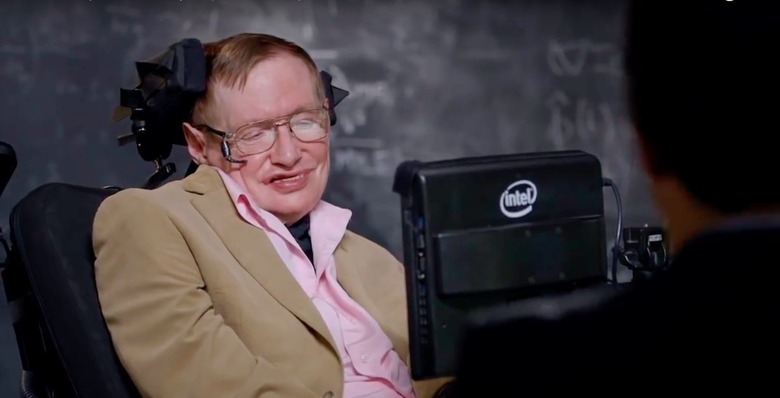 The world has lost one of its greatest minds.
Stephen Hawking, the renowned theoretical physicist who helped shape current thought on cosmology and the infinite possibilities of the universe, has died. He was 76.
Hawking died in his home in Cambridge, U.K., early Wednesday morning, his family confirmed in a statement (via
).
In a statement his family said:
"We are deeply saddened that our beloved father passed away today. He was a great scientist and an extraordinary man whose work and legacy will live on for many years. His courage and persistence with his brilliance and humor inspired people across the world. He once said, 'It would not be much of a universe if it wasn't home to the people you love.' We will miss him forever."
Hawking was best known for his acclaimed 1988 cosmology book A Brief History of Time, which pondered the origin and fate of the universe as well as theories about space and time travel. A Brief History of Time stayed on the Sunday Times of London's best-sellers list for an unprecedented 237 weeks, selling 10 million copies worldwide. It helped launch him to fame as one of the foremost scientists of our times.
Born in 1942 in Oxford, England, the brilliant physicist was diagnosed with ALS, a neurodegenerative disease, in 1963. Doctors at the time gave him a life expectancy of only two years, but Hawking would go on to live for 55 more years.
The disease slowly paralyzed his body and motor functions. But the advent of a motorized wheelchair and synthesized computer vocalizations in the 1980s allowed Hawking to communicate, and his image became synonymous with the tools he employed.
Hawking's unique and inspirational struggle against ALS as well as his groundbreaking theories were depicted in the award-winning 2014 biopic The Theory of Everything. Eddie Redmayne won an Oscar for his portrayal of Hawking in the feature film based off the memoir by Hawking's first wife, Jane Hawking. Benedict Cumberbatch also won a BAFTA for playing the scientist in the BBC TV film Hawking.
But those adaptations were not the only lasting influence that Hawking left behind on pop culture.
Stephen Hawking's Pop Culture Cameos
Though often seen as a serious scientist, Hawking had a mischievous side and an ardent love for pop culture. Most importantly, he wasn't afraid to poke fun at himself. Here are a few of Hawking's best (and silliest) pop culture cameos.
The Simpsons
"The Simpsons is the best thing on American television," the late astrophysicist 
 on BBC's The Culture Show after his cameo on the hit animated series in 1999.
Hawking appeared in the episode "They Saved Lisa's Brain" in 1999, saving Springfield from its crumbling utopian meritocracy. His appearance was so memorable that many people thought he was a character
. Hawking would go on to make three more appearances in The Simpsons, including an cameo where 
he trades barbs with the Flight of the Conchords stars.
 He also made several cameos on 
.
Star Trek: The Next Generation
Hawking played himself in a 1993 episode of Star Trek: The Next Generation where he played a poker game with Albert Einstein, Isaac Newton and Data. When Newton asks Data what the point of the game was, Data responds, "I was curious to see how three of history's greatest minds would interact in this setting."
Pink Floyd – "Keep Talking"
Pink Floyd sampled Hawking's voice in a track from the band's 1994 album, "The Division Bell." The sample was taken from a 1993 TV commercial 
for British telephone company BT
. Pink Floyd would use another clip of Hawking's unique synthesized voice in the 2014 track "Talkin' Hawkin'" on their final studio album "The Endless River."
The Big Bang Theory
Hawking played himself in the geeky sitcom in 2012, where he meets Jim Parsons' character Sheldon, a longtime fan.In the episode, "The Hawking Excitation," Mr. Hawking gives Sheldon feedback on a paper on the Higgs boson, telling him, "You made an arithmetic mistake on page two. It was quite the boner."
Last Week Tonight with John Oliver
One of Hawking's most beloved comedic appearances was his sit-down with British comedy host John Oliver on his "People Who Think Good" segment. The bit features Hawking tearing into Oliver, after the host asks, "You've stated there could be an infinite number of parallel universes. Does that mean that there is a universe out there where I am smarter than you?"
"Yes," Hawking shot back. "And also a universe where you're funny."
Monty Python Live
A brief, nearly-forgotten cameo took place in the 2014 Monty Python reunion show, "Monty Python Live (mostly) – One Down Five to Go." Hawking is enlisted to contribute to the "Galaxy Song" sketch, but the best part of the sketch is when he nearly runs down fellow physicist Brian Cox.