'Pope Francis – A Man Of His Word' Trailer: The Pope Gets His Own Documentary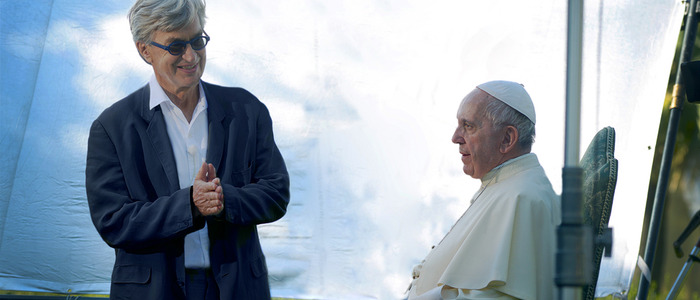 Not to be outdone by that randy Young Pope fellow, Pope Francis is taking to the screen in a new documentary from director Wim Wenders. Wenders was given unprecedented access into the life of Francis, a figure who has often been at odds with his predecessors. Watch the Pope Francis – A Man of His Word trailer below. Peace be with you.
Wings of Desire director Wim Wenders is tackling the pope – not literally; someone would stop him – with a new documentary, Pope Francis – A Man of His Word. The doc isn't meant to tell the story of Francis, but rather serve as a "personal journey" with the 266th and current Pope of the Catholic Church. I won't bore you with matters of theology and theocracy, but for the most part, Pope Francis has been a surprising, sometimes even liberal pontiff.  Here's the Pope Francis – A Man of His Word trailer.
Pope Francis – A Man of His Word Trailer
Wenders was given exclusive access to follow the pope around – but since this film has the seal and approval of Vatican News, the new information system of the Holy See, don't expect to see anything too surprising here. In short, this doc is probably closer to propaganda than exposé, but it's propaganda with an admittedly noble purpose. If that appeals to you and your faith, more power to you.
Who knows, perhaps this will launch Pope Francis into a successful film career. In a few years, we could be presented with Pope Francis Meets The Fast and The Furious. I would absolutely watch that, and so would you. Don't even try to deny it. Or maybe we can be blessed with a Pope Francis/Young Pope crossover, where Francis and Jude Law's Pius XIII battle for supreme religious dominancy. These things may never happen, but I can dream, folks.
Pope Francis – A Man of His Word will open in theaters on May 18, 2018, in honor of Francis' 5th Papal Anniversary.
"Pope Francis – A Man of His Word," is intended to be a personal journey with Pope Francis, rather than a biographical documentary about him. The pope's ideas and his message are central to this documentary, which sets out to present his work of reform and his answers to today's global questions. From his deep concern for the poor and wealth inequality, to his involvement in environmental issues and social justice, Pope Francis engages the audience face-to-face and calls for peace.