'Devs': Here's What Alex Garland's FX TV Series Is About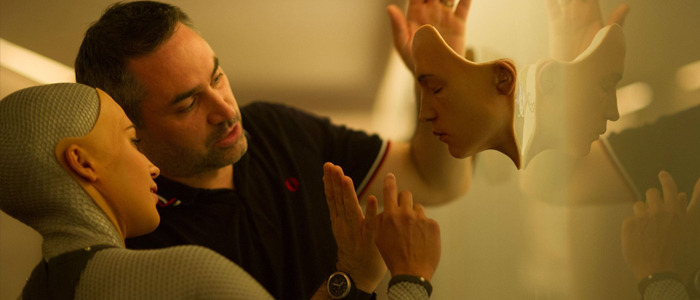 Writer/director Alex Garland left a huge mark with his 2015 directorial debut Ex Machina and sliced his way through our psyches in a much different way with this year's Annihilation. Last month, we heard he would be following that up with a new science fiction TV series for FX. Now the cable channel has officially ordered a pilot, and we know the show is called Devs. Read on to learn some plot details about Garland's new sci-fi show.
Deadline reports that FX has commissioned a pilot for Devs, which Garland wrote and will direct. Here's their description for the new show, which is being described as a "tech thriller":
In Devs, a young computer engineer, Lily, investigates the secretive development division of her employer, a cutting-edge tech company based in San Francisco, which she believes is behind the disappearance of her boyfriend.
Garland previously stated that this show would have more in common with Never Let Me Go (which he wrote) or Ex Machina than with the more hallucinogenic Annihilation, and after reading that breakdown, I'm getting a very Ex Machina vibe. That film centered on an enigmatic creator of a cutting-edge tech company that's responsible for some sketchy shit, and it seems as if Garland is using a similar framework here.
This also sounds like much more of a fast-paced thriller than anything Garland has handled before, which is exciting. And while that premise may seem traditional on paper, Garland's previous work proves that he's rarely's content to work on a project that's straight down the middle. He tends to fold cerebral, haunting messages into his work, and I expect Devs to be a bit more challenging than its description indicates.
We know Garland will write and direct the show's pilot, but will he have time to helm every episode of the series (assuming it gets picked up)? In an interview with Fandango, Garland explained that Devs would be an eight-part show and that while he'd like to direct each part, that's still up in the air. "It's already written [and] my plan at the moment is to direct the eight episodes, but for practical reasons that might not be possible," he said.
Be sure to check out Annihilation, which is still in some theaters and is available on Netflix outside of the United States right now. For more from Alex Garland, read our full interview with him here.