'The Director And The Jedi' Trailer: The 'Star Wars: The Last Jedi' Documentary Is Available Now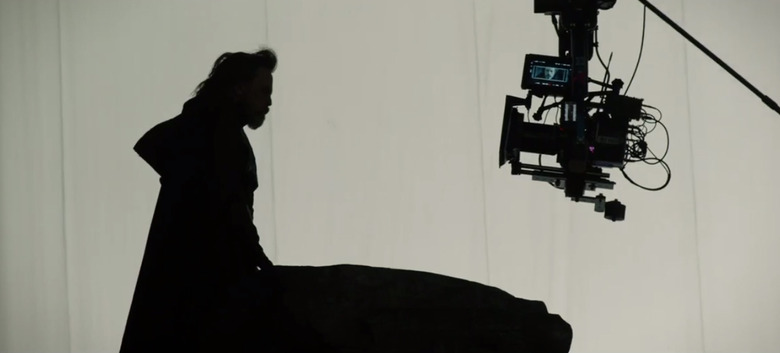 We may receive a commission on purchases made from links.
Today brings Star Wars: The Last Jedi home for everyone who likes buying their movies digitally (or those who just can't wait for the Blu-ray and DVD to arrive in a couple weeks). Along with that comes the feature-length documentary The Director and the Jedi, providing an extensive behind the scenes look at the production of one of the biggest movies ever made.  Yesterday, the first 12 minutes of the documentary were released, along with a couple other clips. But now an official trailer has been released as well.
Watch the Star Wars The Last Jedi Documentary Trailer
This documentary comes from filmmaker Anthony Wonke, who has previously helmed doc features such as The Battle for Marjah, Crack House USA, Gymnast, Fire in the Night, Being AP, and Ronaldo. But this is easily the most high profile project he's ever undertaken, and his experience behind the camera as a documentarian allowed him to expertly capture some amazing and intimate moments during the production.
In the assemble of footage seen above, there are some delightful candid scenes, such as John Boyega and Benicio del Toro hugging and laughing while shooting a scene. There's also a tender moment between the late Carrie Fisher and director Rian Johnson, the latter of whom even going so far as to show some moments of vulnerability, including a moment where he admits to being scared while talking to producer Ram Bergman.
This will easily be the best special feature on the home video release of Star Wars: The Last Jedi. The movie is now available on digital download, and it arrives on Blu-ray and DVD on March 27, 2018.
Here's the official synopsis for The Director and the Jedi:
An intimate documentary delving into Rian Johnson's process as he comes in as a director new to the Star Wars universe. A fan since childhood, he sets out to make the most powerful Star Wars movie he can. Navigating the mammoth production, the scale of which he's never directed before, we meet his cast and crew, see their individual challenges in bringing the film together, say goodbye to Carrie Fisher, and explore the significance of Rian's more surprising decisions. The documentary gives you a view of what it really was like to make The Last Jedi. As the team strive to do their best, what shines through is their passion and how memorable an experience it is for Rian as director.