'Tomb Raider' Clips: Lara Croft Has Meetings, Solves Puzzles, Fights Walton Goggins, Raids Zero Tombs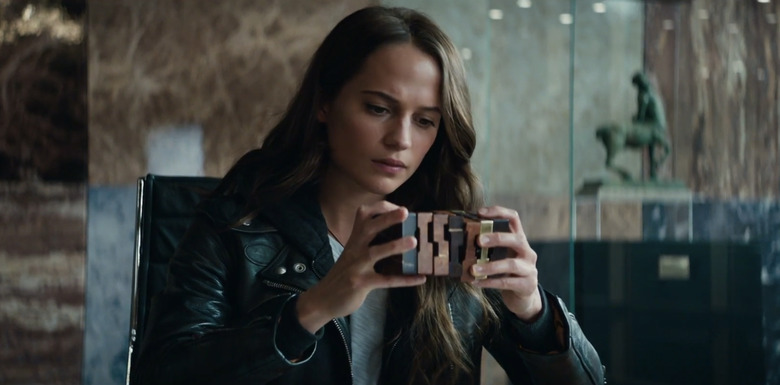 Hey, a new Tomb Raider movie is a thing that's happening this week. Alicia Vikander (Jason Bourne, Ex Machina) stars as Lara Croft, the main character from the long-running video game franchise that follows an explorer who always seems to get caught up in danger and intrigue among historical artifacts and ruins.
Four new Tomb Raider clips have surfaced online in a last ditch effort to get audiences interested in seeing the movie, which hits theaters this weekend. Unfortunately, they're all incredibly boring and don't do anything to pique interest in this latest video game adaptation at all. But maybe that's just me. See for yourself below.
Watch the Tomb Raider Clips
Here's a tender moment between Lara Croft and her mother, played by Kristin Scott Thomas. It seems Lara Croft holds a grudge against her father, though it's not clear for what. Her anger and bitterness is keeping her from signing the papers for what appears to be her inheritance. But if she doesn't accept what she's been given, then it will be destroyed, including her childhood home. Bummer.
Apparently having a change of heart, Lara Croft is signing the papers that will give her exactly what her father has left behind for her. One of those things is a Japanese puzzle box known as a karakuri. Of course, she solves it quickly (though it doesn't look all that difficult), and inside is both a memento and the key to an adventure she will embark upon.
Here, Lara Croft is solving a puzzle that will provide access to a tomb that Walton Goggins desperately wants to enter. Goggins plays Mathias Vogel, who has some kind of link to Lara's father, though it doesn't sound like it was a solid friendship. In fact, it wouldn't be surprising at all if Vogel was somehow responsible for the death of Lara's father.
Honestly, is this the best Tomb Raider can do? This scene feels so dreadfully bland, and the score is desperately trying to make Vikander spinning some stone wheels exciting somehow. It just feels like a complete waste.
Here's easily the most exciting scene from this round of clips. Walton Goggins and Alicia Vikander square off, and they do it on a ladder that acts as a bridge between two cliffs. That feels more than a little contrived and silly, but at least it's something, I guess? Hopefully the film has more to offer than just poor imitations of Indiana Jones scenes.
The video game adaptation is directed by Norwegian filmmaker Roar Uthaug (The Wave) and written by Geneva Robertson-Dworet and Alastair Siddons.
Tomb Raider hits theaters on March 16, 2018. Here's the official synopsis:
Lara Croft is the fiercely independent daughter of an eccentric adventurer who vanished when she was scarcely a teen. Now a young woman of 21 without any real focus or purpose, Lara navigates the chaotic streets of trendy East London as a bike courier, barely making the rent, and takes college courses, rarely making it to class. Determined to forge her own path, she refuses to take the reins of her father's global empire just as staunchly as she rejects the idea that he's truly gone. Advised to face the facts and move forward after seven years without him, even Lara can't understand what drives her to finally solve the puzzle of his mysterious death.
Going explicitly against his final wishes, she leaves everything she knows behind in search of her Dad's last-known destination: a fabled tomb on a mythical island that might be somewhere off the coast of Japan. But her mission will not be an easy one; just reaching the island will be extremely treacherous. Suddenly, the stakes couldn't be higher for Lara, who – against the odds and armed with only her sharp mind, blind faith and inherently stubborn spirit – must learn to push herself beyond her limits as she journeys into the unknown. If she survives this perilous adventure, it could be the making of her, earning her the name tomb raider.