Jeff Goldblum Wants The Grandmaster And The Collector To Star In Their Own Spin-Off Movie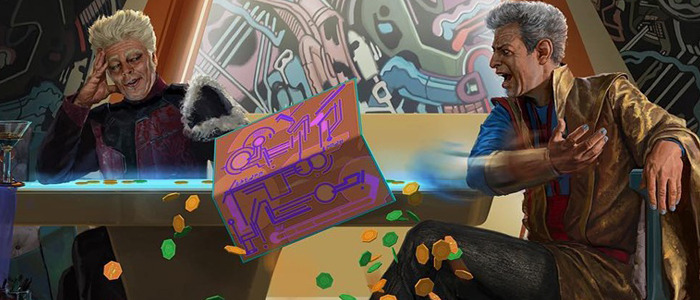 Thor: Ragnarok bestowed many gifts upon the world: Cate Blanchett vamping it up as a villain, that priceless "get help" gag, the hilarity of Korg, and a Chris Hemsworth superhero performance that finally capitalizes on his comedic talents. But one of my personal favorite contributions was The Grandmaster, played by the always-entertaining Jeff Goldblum. The character's fate is left hanging in the balance when the film comes to a close, but if Goldblum has his way, he'd love to see a Grandmaster Collector spin-off that teams him with Benicio del Toro's wonderfully weird character from Guardians of the Galaxy.
Right up front, I want to clarify that this is not an official project in development at Marvel Studios – it's simply the musings of one of America's most treasured actors. But it's fun to think about, and there's a slight chance something like this might happen one day. We'll get to that in a minute – first, let's look at Goldblum's actual quote.
The Toronto Sun asked the actor which Marvel character he'd like to see the Grandmaster meet up with in the future, and Goldblum responded:
"Oh, that's an interesting idea. Well, I overlapped with one day of Cate Blanchett's shooting and she's so spectacular as Hela. I keep wanting to have scenes with her. We worked together on a Wes Anderson movie awhile ago — The Life Aquatic with Steve Zissou — and I sure would love to do anything with her. But, in the comic books, the character of the Grandmaster is the brother of The Collector, played by Benicio del Toro, who I adore. So I would enjoy doing something with him. That would be fun."
Could This Spin-Off Actually Happen?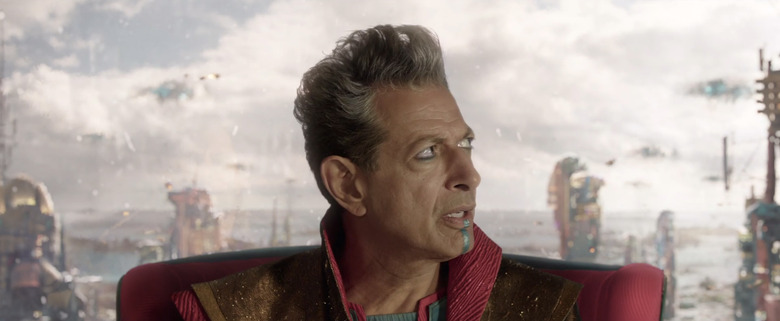 Marvel Studios president Kevin Feige used to announce his slate of movies in big batches years ahead of time, but he's playing things much closer to the vest with Avengers: Infinity War and Avengers 4 on the horizon. Announcing a solo movie about a character means that character will survive those movies, and part of the hook for these films is that, theoretically, anyone could die at any time. But we do know that the Marvel Cinematic Universe is going to focus on more cosmic offerings in the years to come, and both The Grandmaster and The Collector meet that requirement.
Goldblum mentioned that the two characters are brothers in the comics, and he's kind of right about that: along with Ego the Living Planet (as portrayed by Kurt Russell in Guardians Vol. 2), they're members of the Elders, an ancient group who are the last survivors of otherwise extinct races. (The group members all refer to themselves as "brothers.") The characters haven't interacted on the big screen, but they do appear in the painting (seen above) that can be found at Disneyland's Guardians of the Galaxy – Mission: BREAKOUT!
So while Goldblum's comments are speculative at best, I wouldn't be surprised to see The Grandmaster and The Collector team up in one of the more cosmic-focused movies coming in Marvel's Phase 4. Giving them an entire film may be a bit much (I'd love it, but I'm not sure how bankable that concept would be), but as a pair of supporting players in a more substantial space story? That seems very plausible.