'Avengers: Infinity War' Trailer: Earth's Mightiest Heroes Assemble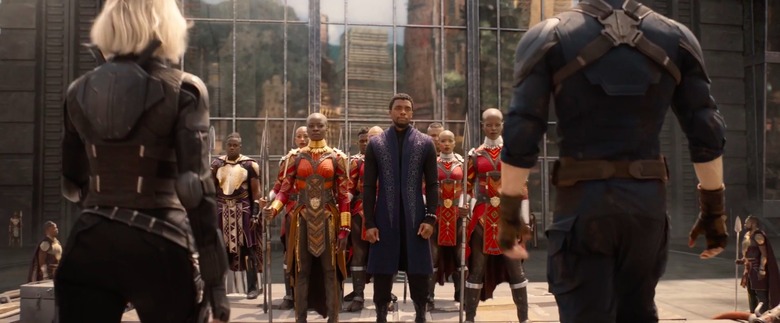 While Captain America: Civil War gathered a large portion of Marvel Studios' superhero squad in the same film and pitted them against each other, it's been nearly three years since we've seen an official Avengers movie. (Age of Ultron came out in the summer of 2015.) And while almost every Marvel film arrives with descriptors like "Marvel's biggest movie yet," there's no doubt their newest endeavor is actually going to live up to that hype. Check out the latest Avengers Infinity War trailer below.
Avengers Infinity War trailer
At this point, Avengers: Infinity War is less of a movie and more of a gambling opportunity. *Carnival barker voice* "Which heroes will die as Thanos finally wields his superhuman powers? Step right up, ladies and gents! Place your bets!"
We know the first five minutes of this movie will clearly establish why Thanos is the biggest and baddest villain in the Marvel Cinematic Universe. It's about time, since the big purple lug has been basically useless ever since his first appearance in the post-credits scene of 2012's The Avengers. And according to Thor actor Chris Hemsworth, the film includes a staggering 76 characters – so we're really hoping directors Joe and Anthony Russo and writers Christopher Markus and Stephen McFeely were able to find a way to do them all justice.
Over the past few weeks, plenty more information has come to light about this movie, thanks to a slow drizzle of coverage from Entertainment Weekly. We covered all the highlights on /Film: Thanos will be different than his comics counterpart but will be the smartest character in the film, we know why the battle comes to Wakanda and who joins in that particular fight, how the final Infinity Stone may have been hidden in plain sight, and we heard Marvel Studios president and mega-producer Kevin Feige talk about the future of the MCU characters who survive the events of this movie.
Avengers: Infinity War arrives in theaters on April 27, 2018, and you can pre-order your tickets right here.