'Ready Player One' SXSW Early Buzz: A Hugely Enjoyable Crowd-Pleaser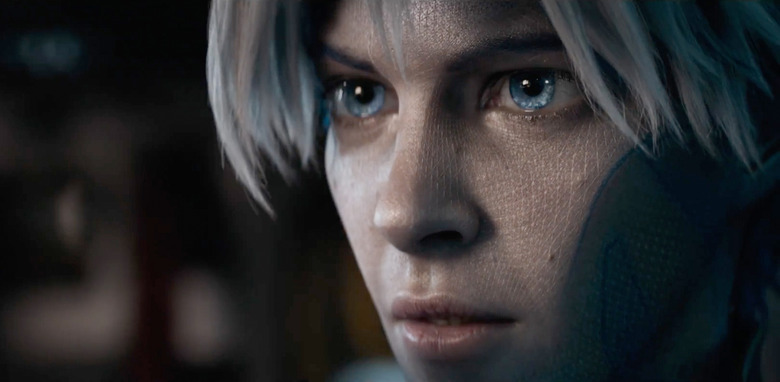 Ready Player One premiered at the 2018 South by Southwest Festival to heavy anticipation. Would it be as tacky as the marketing made it appear or would director Steven Spielberg live up to his legendary reputation?
It turns out that fans of the '80s nostalgia vehicle had nothing to worry about. Movie critics and geek bloggers are over the moon in their praise of Spielberg's adaptation of the 2011 Ernest Cline novel, calling it a joyous visual spectacle. After the film premiered — with a few technical hiccups — in Austin, Ready Player One received a standing ovation.
Here is what early critics thought of Ready Player One.
Based off of Ernest Cline's 2011 novel of the same name, Ready Player One follows Wade Watts (Tye Sheridan), a poor teen gamer who, like the rest of the world, has retreated into a VR-like video game world called the Oasis. But when the game's deceased creator James Halliday (Mark Rylance) announces a world-wide treasure hunt for his hidden fortune, Wade eagerly joins in. Because of Halliday's obsession with '80s pop culture, the treasure hunt and Oasis itself are replete with the visual homages and nods to the era.
Ready Player One is the apotheosis of '80s nostalgia that has taken over Hollywood. And that's why the critics love it.
I don't know if I have ever seen a #SXSW crowd cheer on a movie the way they just cheered on #ReadyPlayerOne. We haven't seen this Spielberg in a long time – it's just pure entertainment and it's hard not to watch it without a dorky smile on your face the whole time

— Erik Davis (@ErikDavis) March 12, 2018
I didn't think I would like #ReadyPlayerOne, but I liked it a WHOLE LOT. I think people cheered and laughed every 2 mins and dang this film was entertaining. So many references, I can't wait for everyone to see it so we can all talk about it! #sxsw

— Beatrice Verhoeven (@bverhoev) March 12, 2018
So yeah, I LOVED Ready Player One. It's perhaps the geekiest movie ever made. So so so happy right now!

— Eric Vespe (@EricVespe) March 12, 2018
Spielberg just said he makes many films, like The Post, from behind the camera. He made Ready Player One from the audience. That's the perfect summation of this experience.

— Eric Vespe (@EricVespe) March 12, 2018
"Ready Player One" is basically the opposite of "The Post." It's big fun and ridiculous and feels like Spielberg is having a great time of his life playing with epic pop culture toys. #ReadyPlayerOne

— Omar L. Gallaga (@omarg) March 12, 2018
READY PLAYER ONE: So so so much movie. Sometimes too much but what I kept thinking over and over again was "my kids are gonna LOVE THIS." It is joyous and thrilling for the people who it's designed to joy and thrill.

— Brian Tallerico (@Brian_Tallerico) March 12, 2018
READY PLAYER ONE feels like Spielberg watched a ton of Luc Besson movies and decided to outdo them. In terms of pure spectacle, it's the most astonishing thing he's done. Never underestimate Steve. #SXSW

— erickohn (@erickohn) March 12, 2018
I mean I got Stripe, Chucky, Freddy, and Jason all in the same movie so that's...something? Plus fans of THE SHINING – you'll be treated to an entire set piece. Horror fans, this is kind of a ridiculous collection of cross-franchise ridiculousness. #ReadyPlayerOne #SXSW

— Matt Donato (@DoNatoBomb) March 12, 2018
Even director Robert Rodriguez got in on the love.
#ReadyPlayerOne is classic Spielberg fun! What a blast, can't wait to see it again. Rewards repeat viewings. Tons of great references, visuals and heart. So kick ass it blew the speakers!

— Robert Rodriguez (@Rodriguez) March 12, 2018
Nerdist's Scott Weinberg and The Verge's Tasha Robinson both acknowledged the negative backlash that the Ready Player One marketing was attracting online, in addition to the renewed hatred for its source material, Cline's 2011 book. The book was criticized for its shallow pastiche of '80s cultural references and poor treatment of female characters. But both Weinberg and Robinson assured that Spielberg's film improves on these problems immensely.
Ready Player One is a whole lot of fun. Those who are stuck in pre-release hate mode better prepare to be disappointed. #sxsw

— Philly M. Nerd (@PhillyMovieNerd) March 12, 2018
Went into READY PLAYER ONE skeptical as hell. Came out largely as a joyous convert. I have a handful of issues with the structure and characters, but it improves on the book in important ways, the action is riveting, and I really bought the humor. #readyplayerone

— Tasha Robinson (@TashaRobinson) March 12, 2018
Not All Critics Loved It
Others were a bit more skeptical. Vulture's Emily Yoshida gave a cryptic reaction to the film, predicting that Ready Player One will be a huge hit, but avoiding giving her own criticisms. Meanwhile, Screencrush's Britt Hayes and /Filmcast host Kristy Puchko were much harsher in their judgments, with Puchko calling Ready Player One "a cacophonous eyesore" that is "no love letter to pop culture. It's a crass play to nostalgia; it offers nothing new or exciting."
literally my face during every second of Ready Player One. pic.twitter.com/dqZTNeN81r

— britt hayes (@britthates) March 12, 2018
A cacophonous eye-sore. #ReadyPlayerOne #sxsw

— Kristy Puchko (@KristyPuchko) March 12, 2018
Just. These movies matter so much to people. To just slap on iconography and references like they are stickers on a bedroom door. It's such shallow use. It exploits your love for these things instead of earning it.

— Kristy Puchko (@KristyPuchko) March 12, 2018
Despite skepticism that Ready Player One could stand alongside Spielberg's other film classics — many of which are referenced themselves — it seems that the sci-fi movie is far from a disappointment. But it should be noted that festival hype can easily warp public opinion. So take every glowing tweet with a grain of salt.
Our full review of Ready Player One will be up later today.
Ready Player One hits theaters on March 29, 2018. It stars Sheridan, Rylance, Olivia Cooke, and Ben Mendelsohn.