'Sorry To Bother You' Trailer: All Hail One Of 2018's Strangest (And Best) Films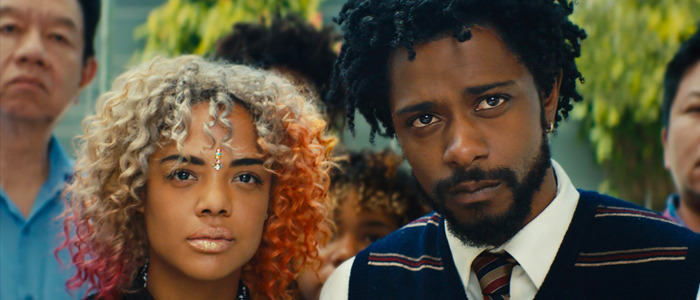 You may think you're ready to see Boots Riley's sensational Sorry to Bother You. But I assure you, you are not ready for some of the bizarre ideas and off-the-wall imagery this film has in store for you. Annapurna Pictures wisely scooped up Riley's much-discussed debut movie after it premiered at this year's Sundance Film Festival, and now they've released the first Sorry to Bother You trailer. Strap in, because things are about to get weird.
Sorry to Bother You Trailer
Lakeith Stanfield (Atlanta) plays Cassius Green, a lackadaisical telemarketer who realizes he has the power to speak with a "white voice" (played by Arrested Development's David Cross). Armed with this new skill, Cassius (aka "Cash") becomes a rising star at his company – much to the chagrin of his activist girlfriend, Detroit (Tessa Thompson). At the top of the corporate ladder, Cash encounters the over-the-top personality of Steve Lift (Armie Hammer), a coke-snorting CEO who has a few disturbing secrets of his own. The film itself is hilarious, fanciful, occasionally unsettling, creepy, and most importantly, a searing social satire that actually makes you think. And at the risk of overhyping it, this is more than just a movie: it's a true piece of art.
Here's an excerpt from my Sundance review, which refers to the movie as "a mind-bending story that's overflowing with WTF moments":
There's a lot going on here: it's a story about pushing back against corporate greed, about the sacrifices we're willing to make for money, and about things getting so nuts that we end up just accepting it as our new normal. (That last aspect feels especially relevant in our current political climate, even though Riley wrote an earlier version of this story years before the chaos of the Trump administration.) But ultimately, this is a story about the sickening feeling of commodification – the commodification of black people, specifically, but the scope widens even further as the extent of Steve Lift's master plan becomes clear.
I can say with confidence and without hesitation that you've never seen anything like this before. That originality is bursting forth in nearly every frame of this film, immediately marking writer/director Boots Riley as a filmmaker to watch very closely in the years to come. I'm so excited for you all to see this movie.
Sorry to Bother You is currently slated to hit theaters on July 6, 2018.