Steven Spielberg Might Direct A Biopic About Composer Leonard Bernstein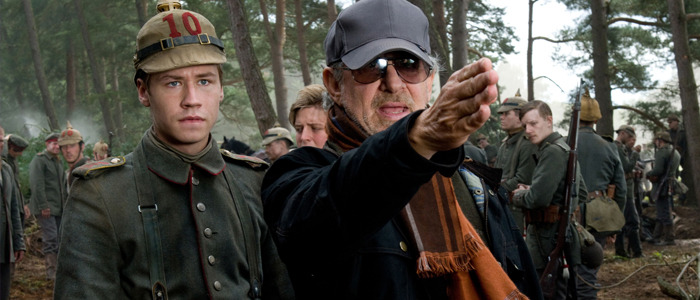 With Ready Player One slated for release this month, what's next for director Steven Spielberg? We know he's planning to direct Indiana Jones 5 for a 2020 release, and he's already in the casting process for his remake of West Side Story. But a new report indicates that an entirely new project might jump in front of Spielberg's first musical – a biopic about iconic composer Leonard Bernstein. Read more about the possible Spielberg Leonard Bernstein biopic below.
Variety reports that on Wednesday night, Spielberg held a secret table read for a new project with "some of [Hollywood's] top talent." No one is sure who participated, but the outlet claims the project "is an untitled biopic on iconic composer Leonard Bernstein." Bernstein, who passed away in 1990 at the age of 72, wrote the music for films like On The Town, On The Waterfront, and most famously, West Side Story. Josh Singer (Spotlight, The Post) has a script about Bernstein's life set up at Paramount, but strangely, the script read at this week's table read was reportedly not Singer's. At this point, we don't know who wrote it.
Spielberg apparently does read-throughs like this on a regular basis to feel out upcoming projects, but Variety relays that a source close to Spielberg's Amblin Entertainment cautions that "it doesn't mean the director is committing to anything."
Spielberg has been on the hunt for actors of Puerto Rican descent for his planned West Side Story remake, but because that casting process has proven difficult, he may be looking for another project to direct beforehand. We know he wants to direct two movies in 2019, and Indiana Jones 5 will be next up for him. But it's unclear whether this Bernstein biopic will serve as an in-between project, similar to how The Post hopped the line after Spielberg had trouble casting the young boy in another planned biopic, The Kidnapping of Edgardo Mortara.
In recent years, Spielberg has proven to be interested in telling smaller-scale stories about real people, whether it's Katherine Graham in The Post, James Donovan in Bridge of Spies, Abraham Lincoln in Lincoln, and most famously, The Big Friendly Giant in The BFG. (Kidding, kidding.) A biopic about Bernstein – assuming this all just isn't some big cover-up for a table read of West Side Story under a fake title – would fit right in.
Bernstein was an incredible musician who wrote for ballet, opera, theatre, and more. He was a closeted gay man growing up when revealing that information could cost him his livelihood. And he was an activist who was sympathetic to the Black Panther movement and who spoke out against the wealthy disparity between the working class and the upper class. There's a lot to dig into with his life story, so we'll just have to wait and see if it's a story Spielberg thinks is worth telling.